Congressional Black Caucus chair arrested at D.C. voting rights march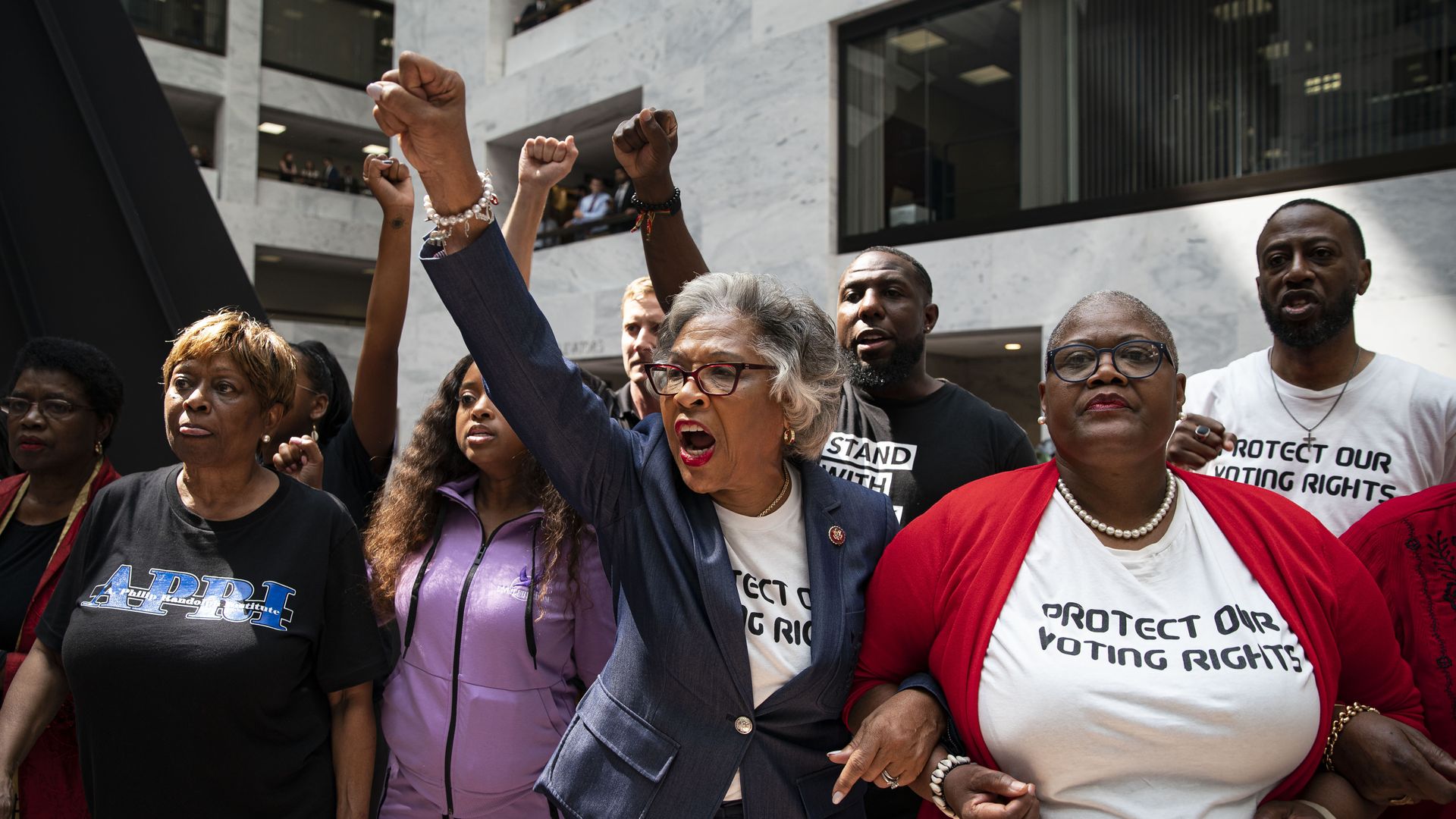 Rep. Joyce Beatty (D-Ohio), the chair of the Congressional Black Caucus, was arrested Thursday along with eight people in a voting rights demonstration in D.C.
Driving the news: Dozens of Black woman leaders marched to the Senate to demand passage of the federal For the People Act and the John Lewis Voting Rights Act, amid a slew of state-level legislation restricting voting access. Civil rights groups say the laws will disproportionately impact voters of color, especially Black Americans.
The backdrop: The House passed the For the People Act in March, but a Republican filibuster in the Senate blocked the sweeping voting protections bill from progressing last month.
As Republican-controlled state legislatures increasingly limit voting access, demands to amend the filibuster have grown.

The federal legislation, if passed, would create national standards for early voting and voter registration, end partisan gerrymandering, and build on campaign finance and ethics laws, among other provisions.

Advocates have also called on Congress to pass the John Lewis Voting Rights Act, which would restore and strengthen certain parts of the landmark 1965 Voting Rights Act, to stay the GOP's assault.
What they're saying: On Thursday, Black leaders and community organizers spoke briefly to the crowd, referring to the civil rights movement when white people committed violence against Black people in an effort to halt the fight for equality.
"We might as well still have the dogs and the hoses because we don't have the Voting Rights Act," Beatty said in her speech. "That's why we need to march in these streets."
"We will continue to come and to stand up to protect our voting rights," she told the crowd. "We will do this until we pass the John R. Lewis Voting Rights Act. ... We have everything to lose, and we need you."
Protesters, led by Beatty, marched to and entered the Capitol chanting, "End the filibuster!" per footage from NBC News.
U.S. Capitol Police officers arrived at the scene shortly after receiving reports of an "illegal demonstration," according to a statement from the USCP. Police warned protesters to stop three times before making arrests.
Beatty was zip-tied and led out of the building. "We have come too far and fought too hard to see everything systematically dismantled and restricted by those who wish to silence us," she said in a statement after her arrest.
"Be assured that this is just the beginning. This is Our Power, Our Message."
Go deeper