Heat wave to send temperatures in northern Rockies, Canada soaring 40 degrees above average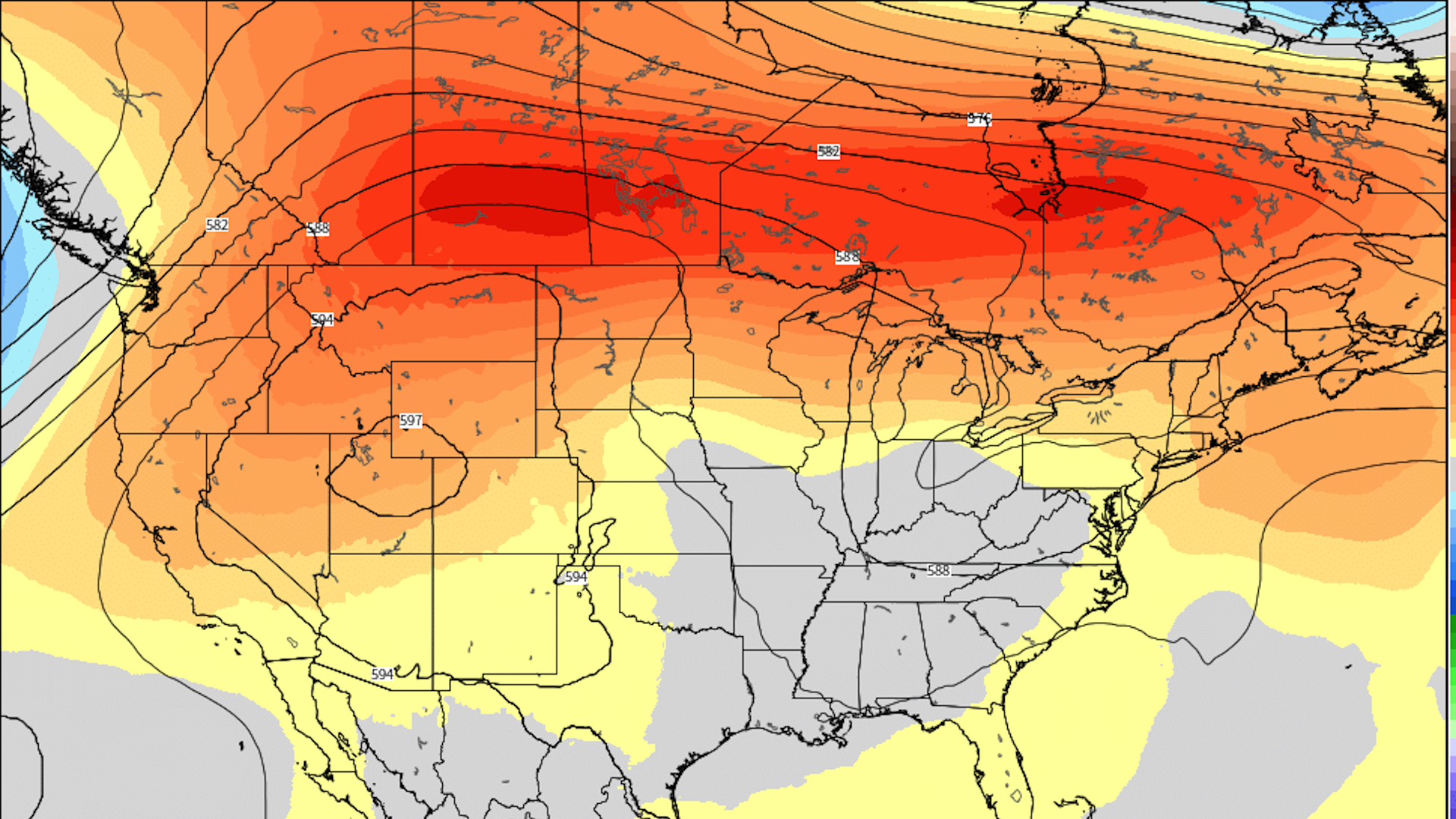 The next in a series of relentless heat waves is taking shape across parts of the West and northern Plains, with temperatures set to vault into the triple-digits once again from Idaho and Montana north into Alberta and Saskatchewan.
Why it matters: The West has already been extremely hot so far this summer, with a series of heat waves of unparalleled intensity for some regions.
The heat waves have combined with drought conditions to yield massive, rapidly spreading wildfires from Washington state to California and eastward into Idaho. A staggering 64% of the West is mired in "extreme" to "exceptional" drought conditions, the top two worst categories, per the U.S. Drought Monitor.
Though the next event won't be as far-reaching in scope as the previous heat waves, it has the potential to significantly escalate the West's wildfire woes.
How it works: With extreme drought conditions firmly in place across the West, the region is locked in a positive feedback where the dryness helps heat the atmosphere, which only dries conditions out more, thereby adding to the heat.
During June and July, a series of strong upper level high pressure areas, colloquially known as heat domes, have set up in different positions of the West. First, one took up residence over the Southwest, sending temperatures soaring well into the triple digits in Phoenix and Las Vegas.
Then in late June into early July, an extraordinarily strong and persistent heat dome became anchored over the Pacific Northwest, drifting slowly across southwestern Canada over time.
That heat event yielded highs of 116°F in Portland, 108°F in Seattle, and a Canadian record of 121°F in Lytton, British Columbia. The day after that temperature was recorded in Lytton, the small town was destroyed by a wildfire.
A study concluded that heat wave was "virtually impossible" without human-caused global warming spurred by the burning of fossil fuels, deforestation and other factors.
In between, other heat domes have come and gone across California, keeping hotter-than-average temperatures in place. As river and reservoir levels drop in the state, water temperatures are heating up, killing fish species.
The California Department of Fish and Wildlife has said it expects that nearly all young chinook salmon in the Sacramento River could die this summer due to unusually hot temperatures.
What's next: Over the weekend, the next heat dome is forecast to develop over the northern Rockies, extending its influence northward into southern Canada.
In Billings, Mont., an excessive heat watch is in place for "dangerously hot conditions with temperatures climbing from near 100°F Saturday to 103 to 106°F by Monday." Nighttime lows won't provide much relief there, either, with temperatures only sliding to near 70°F.
The typical high temperature for Billings on July 15 is about 88°F with a low near 60°F.
Similarly, temperatures in Idaho are predicted to climb into the triple digits, along with Utah and North Dakota.
Canada may see the most extreme temperatures, however, with highs up to 40°F above average for this time of year.
Of note: The heat wave may be prolonged in some areas, particularly in British Columbia, Alberta, Saskatchewan and Manitoba, where triple-digit highs could be seen through next weekend.
From time to time, the thickness of wildfire smoke could hold temperatures down a few degrees below projected levels.
What they're saying: "Most of the West is a tinderbox right now and if dry lightning or human actions lead to even more fires, the potential for explosive growth is seriously concerning," said Steve Bowen, head of catastrophe insight at Aon, highlighting the likelihood for the next heat wave to instigate more blazes.
Go deeper