Surgeon general urges social platforms to crack down on COVID misinformation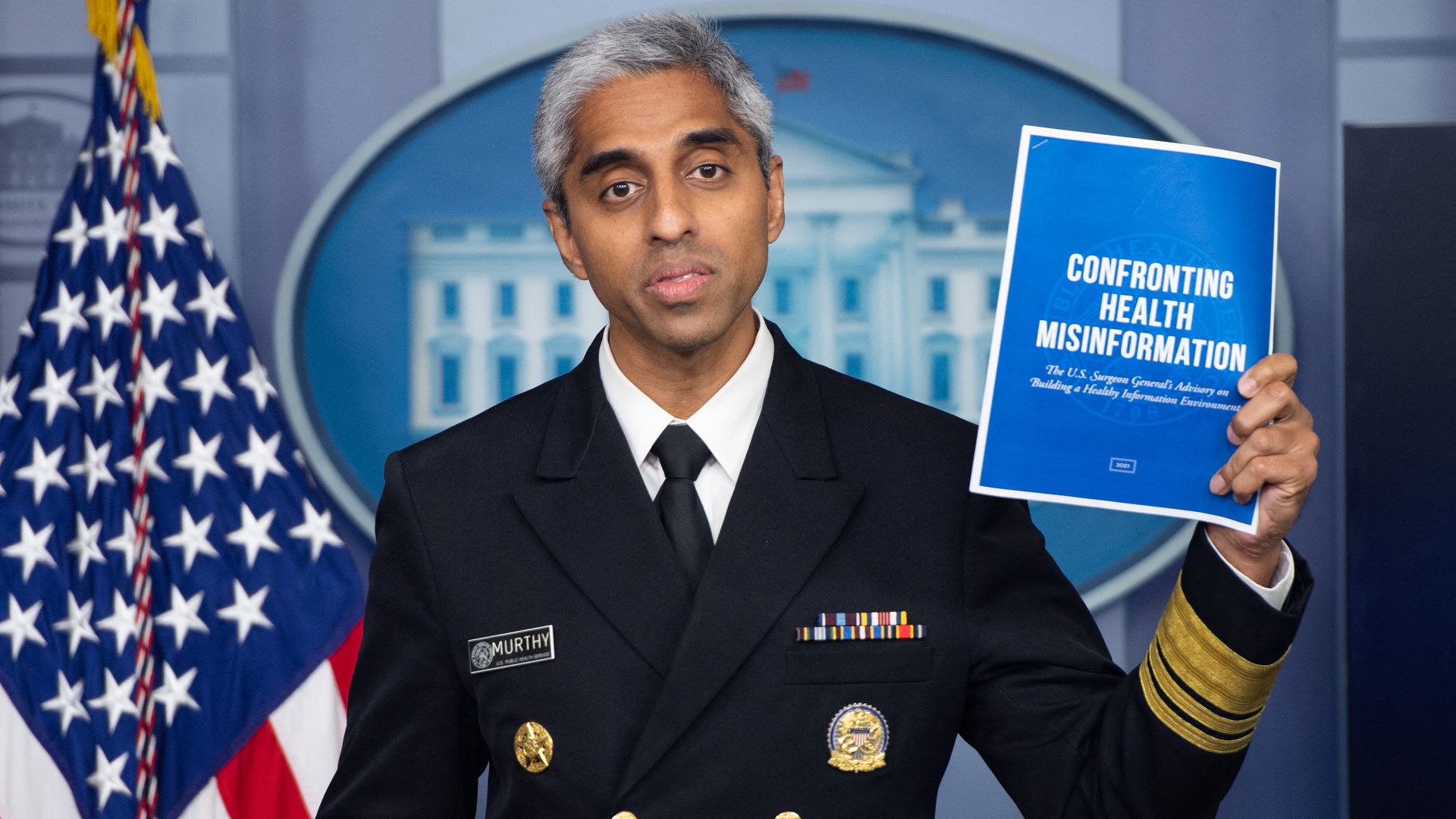 Surgeon General Vivek Murthy called on social media companies Thursday to curb misinformation related to the coronavirus pandemic and vaccines in his first health advisory since being confirmed to the position.
Why it matters: Murthy said vaccine misinformation is a factor in the country's slowing vaccination rates. More than 40% of American adults are not fully vaccinated against the virus, and new cases have slightly increased in part because of the rise of the Delta variant.
Surgeon general health advisories are typically issued for physical products people consume deemed urgent public health threats, though Murthy said health misinformation now falls under that category.
Coronavirus hospitalizations and deaths remain far lower than their peaks this January.
What they're saying: "Health misinformation is false, inaccurate or misleading information about health according to the best evidence at the time," Murthy said. "Misinformation takes away our freedom to make informed decisions about our health and the health of our loved ones."
"During the COVID-19 pandemic, health misinformation has led people to resist wearing masks in high-risk settings. It's led them to turndown proven treatments and to choose not to get vaccinated. This has led to avoidable illness and death," he added.
"Now, health misinformation didn't start with COVID-19. What's different now though is the speed and scale at which misinformation is spreading."
"Modern technology companies have enabled misinformation to poison our information environment with little accountability to their users."
The big picture: The surgeon general said mechanisms that platforms use to keep people scrolling — including likes, share buttons and algorithms that tailor content for specific users — have also allowed misinformation to proliferate.
Murthy called for an "all of society" approach to tackling misinformation, recommending community leaders to promote factual information and educators to improve health literacy.
He said the Biden administration expects social media platforms to operate with more transparency and accountability and to step up efforts to monitor for false information.
Go deeper: Coalition calls on Biden to form disinformation task force
Go deeper