Study reveals extraordinary scope of urban heat disparities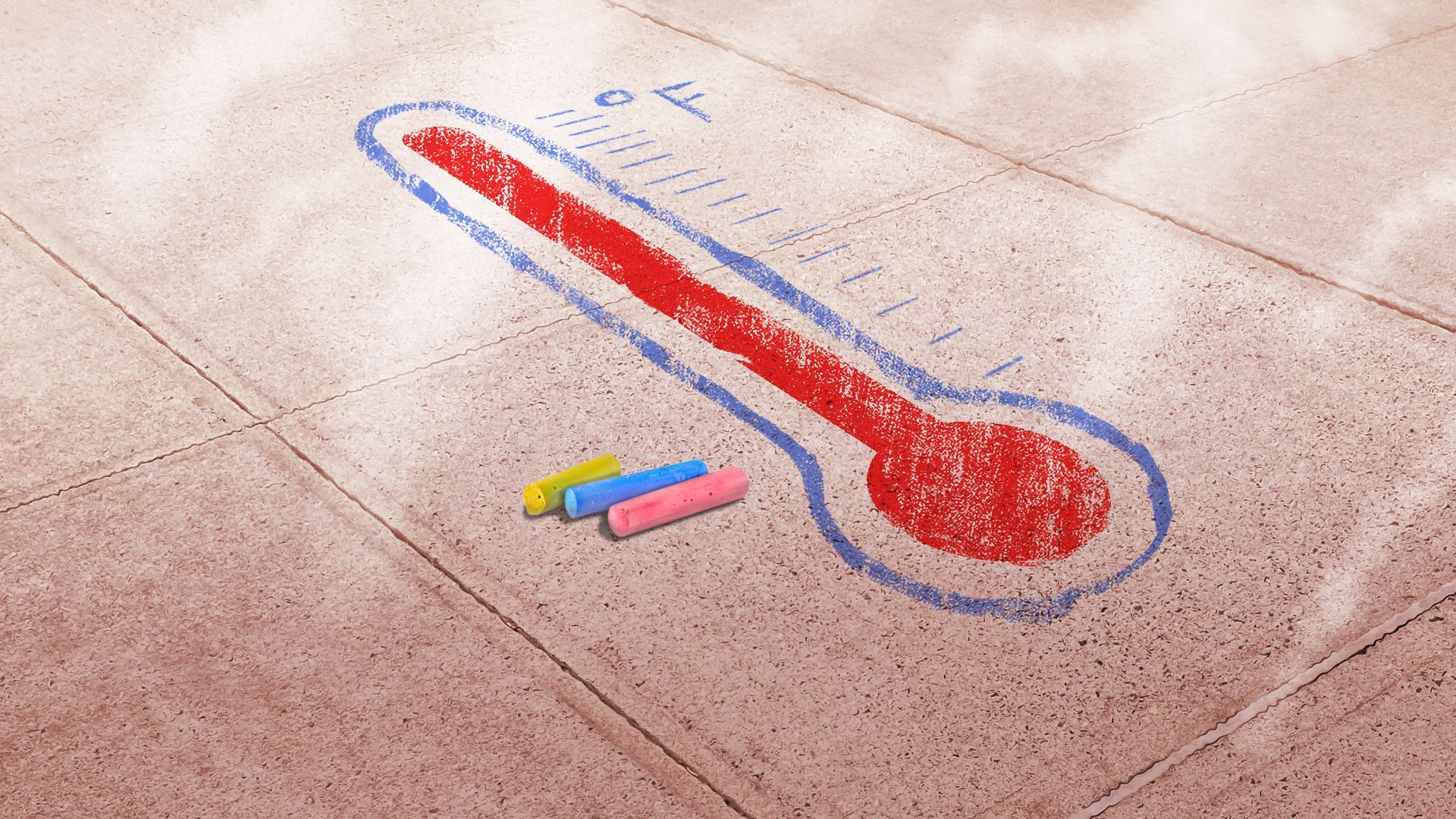 Low-income residents and communities of color in the U.S. face much higher and more dangerous urban heat extremes than people living in richer and whiter city neighborhoods, new peer-reviewed research shows.
Driving the news: Areas with higher rates of poverty can see summer land surface temperatures up to a whopping 4°C, or 7°F, higher than the richest areas, the paper in Earth's Future finds.
"[W]e also find that neighborhoods with higher Black, Hispanic, and Asian population shares are hotter than the more White, non-Hispanic areas in each county," the paper states.
The exact temperature disparity between the census tracts with the most minorities and "the most non-Hispanic White census tracts" was up to more than 2.7°C, or 4.9°F, the study found.
Overall, the University of California-San Diego researchers found statistically significant disparities in summer heat extremes in over 70% of 1,056 urban counties nationwide, indicating this is a pervasive feature of the modern American landscape.
They find racial disparities are present in that share of the counties even when controlling for income.
Why it matters: Extreme heat is deadly, and even short of acute health risks, very high temperatures can sap productivity.
The paper comes amid record-setting heat in the western U.S. that shows how climate change is worsening already dangerous temperature extremes.
The findings add highly detailed and geographically sweeping data to existing scientific literature on disparities in heat exposure.
It shows one of many ways the poor and minorities face greater environmental burdens. Trying to address these gaps is part of the Biden administration's climate policy agenda.
The big picture: The analysis said the disparities tend to have a common set of drivers despite vast geographical differences in the many areas examined.
These are "driven by high population densities, more built-up areas, and less vegetation in the most affected communities," the paper finds.
The disparities, if unaddressed, could affect cities far into the future as climate change-influenced heat waves worsen, according to study co-author Jennifer Anne Burney.
"These kinds of urban heat disparities threaten the future functionality of our cities — hotter neighborhoods will feel more health impacts, will require more electric power for cooling, etc.," Burney told Axios.
"The present environmental injustice here would be expected to beget future environmental injustices because heat is so detrimental to our health and productivity," she said.
How it works: The paper examines urban heat anomalies, or the difference between extreme urban summer temperatures compared to rural regions.
Researchers looked at counties with at least 10 developed Census tracts, and synced that with demographic and socioeconomic data from Census surveys.
Yes, but: The authors acknowledge some limitations of the findings.
For instance, they note that land surface temperature readings are not precisely the temperatures experienced by urban residents but are, nonetheless, a good proxy for air temperatures.
What they're saying: "Right now, two people living in the same city are experiencing wildly different heat waves from the moment they wake up," said Jeremy S. Hoffman, chief scientist at the Science Museum of Virginia, to Axios.
Hoffman, who was not involved in the new study, said some individuals can adapt through air conditioning and driving a car to their workplace inside an office building. Others have to "walk from their poorly ventilated houses through treeless neighborhoods to exposed bus stops."
The bottom line: "[U]nderstanding who is affected by urban heating and what drives exposure disparities is therefore critical for crafting just and effective policy responses, particularly under warming climate conditions," the authors state.
Go deeper: Welcome to our hellscape summer
Go deeper