Over 160 more unmarked graves found in Canada, Indigenous group says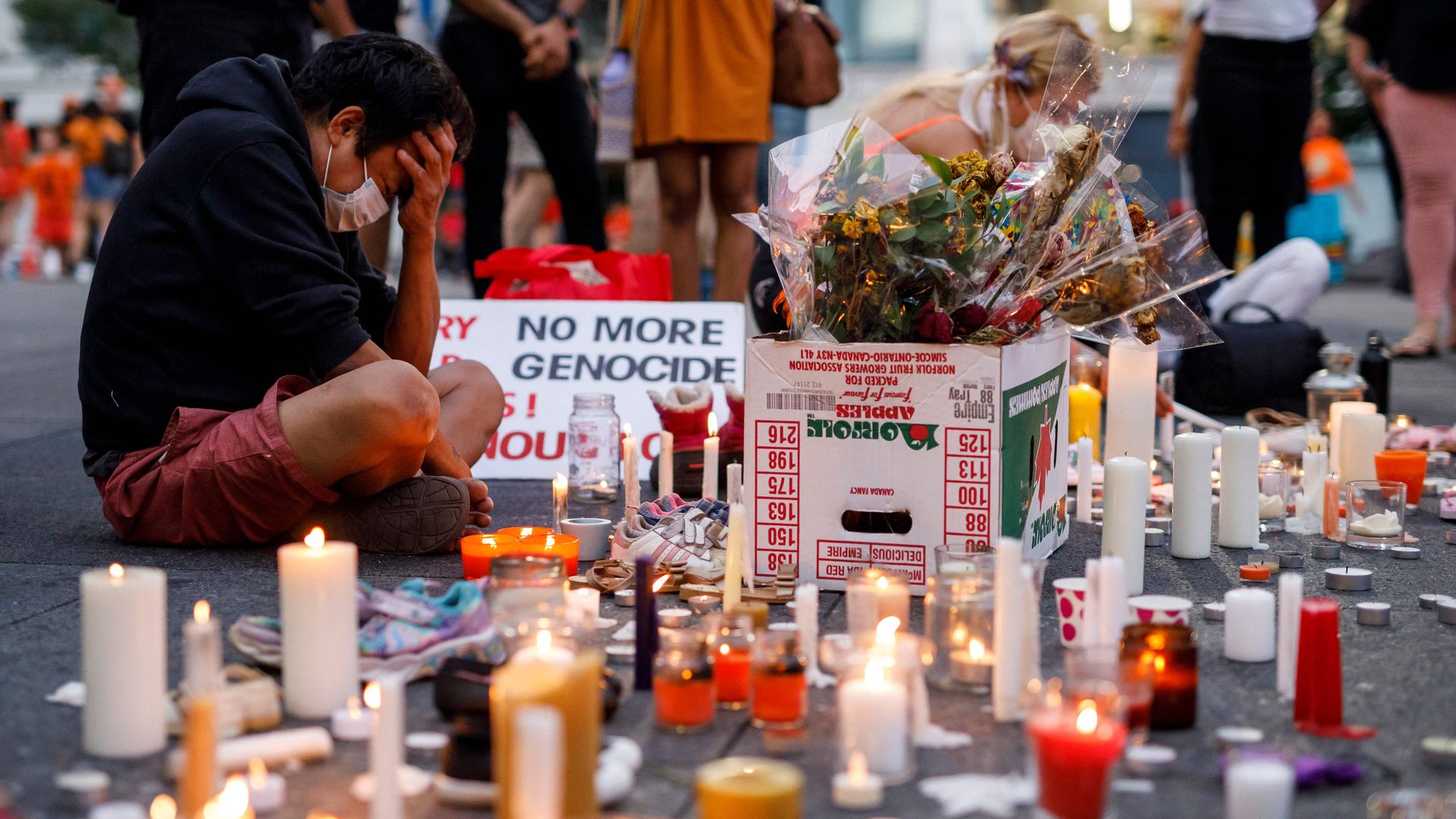 More than 160 "undocumented and unmarked graves" have been discovered near the site of a former residential school in British Columbia, Canada, the Penelakut Tribe announced Monday.
Why it matters: It's the latest in a series of grim discoveries announced by other Indigenous groups across Canada in recent months.
The big picture: About 1,000 unmarked graves have recently been discovered at former residential school sites in British Columbia and Saskatchewan, AP notes.
Nearly 150,000 Indigenous children are believed to have passed through about 150 residential schools, which the Catholic Church ran from the 19th century until the 1970s.
Canada's Truth and Reconciliation Commission has described the operation as nothing short of "cultural genocide."
The graves announced Wednesday were found near the site of the former Kuper Island Indian Industrial School, which was run by Catholic Church from 1890 until 1969, when the federal government took it over, per AP. The school was closed in 1975.
What they're saying: "It is impossible to get over acts of genocide and human rights violations. Healing is an ongoing process, and sometimes it goes well, and sometimes we lose more people because the burden is too great," the Penelakut Tribe said in a statement.
"We are at another point in time where we must face the trauma because of these acts of genocide. Each time we do, it is possible to heal a little more. Courage is not the absence of fear, courage is acting in spite of fear," it continued.
Canadian Prime Minister Trudeau said Tuesday that his "heart breaks" after the discovery of the unmarked graves, per AP.
"I recognize these findings only deepen the pain that families, survivors and all Indigenous peoples and communities are already feeling as they reaffirm truth that they have long known," he added.
"To members of the Penelakut Tribe we are here for you. We cannot bring back those who are lost but we can and will continue to tell the truth."
Go deeper: Indigenous groups in Canada report 182 human remains found in unmarked graves
Go deeper