Amid vaccine scandal, Bolsonaro threatens to reject election results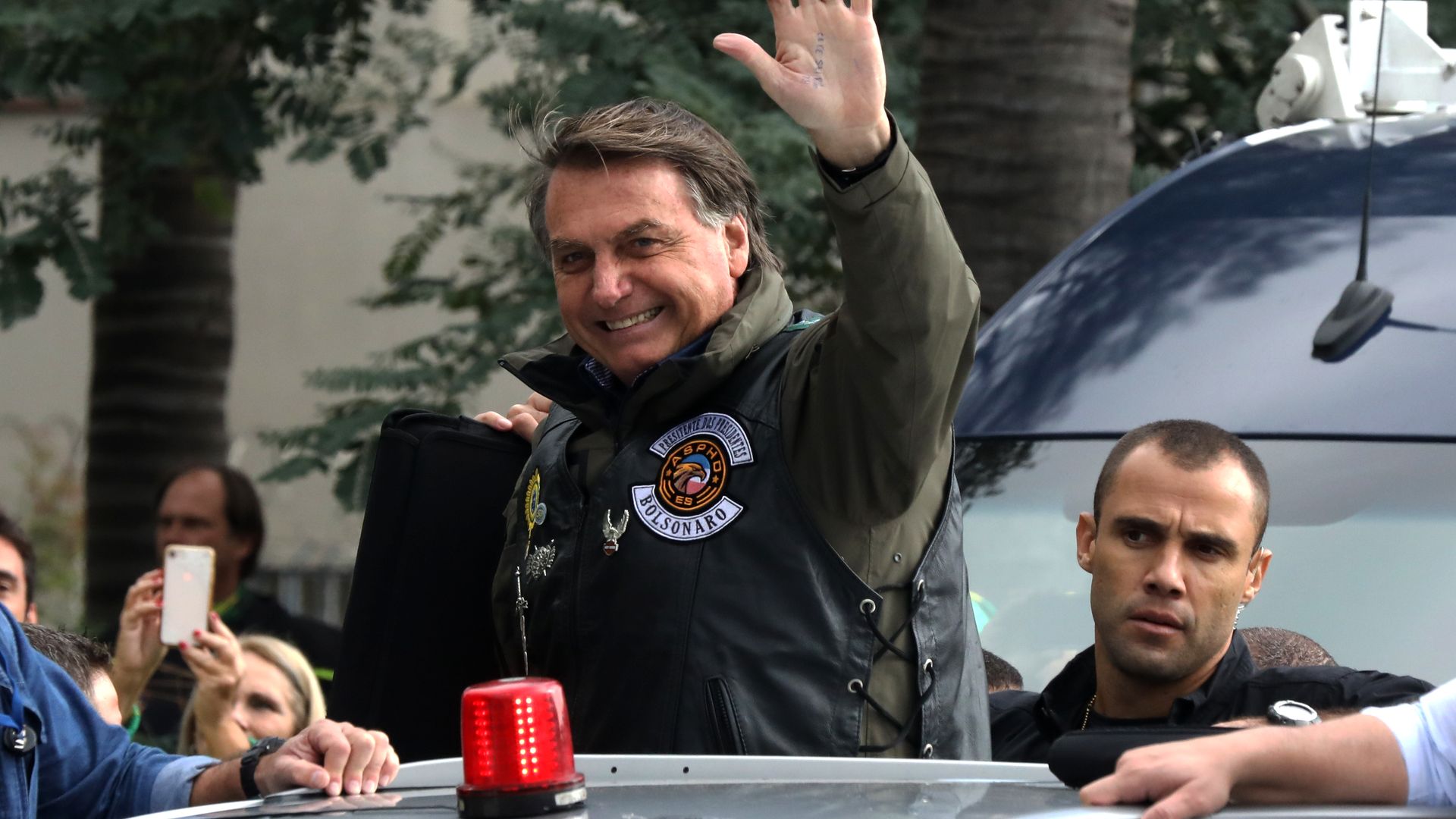 Under pressure over a deepening vaccine scandal and watching his approval ratings slide to new lows, Brazilian President Jair Bolsonaro is lashing out at his critics and threatening to reject the results of next year's elections.
Driving the news: Brazil's Senate has been holding televised hearings on the government's handling of the pandemic, during which it emerged that Bolsonaro's government ignored repeated offers to purchase vaccines, including from Pfizer.
More explosive still was one witness's claim that, despite being warned that a proposed vaccine deal was padded with extra cash for corrupt officials, Bolsonaro turned a blind eye.
Bolsonaro denies that, but a Supreme Court justice recently approved an investigation into the matter.
The big picture: Although Bolsonaro's dismissive approach to the pandemic has long polarized Brazilians, his base remains loyal and his approval ratings ticked upward last year due to a popular pandemic relief program for poor families.
But frustrations have mounted over a slow vaccine rollout that has been further tainted by corruption claims.
State of play: Bolsonaro has faced weeks of street protests, and a Datafolha poll suggests that, for the first time, most Brazilians now support his impeachment, though it's unlikely for now.
Polls also show him trailing his likely rival in the October 2022 presidential election: former President Luiz Inácio Lula da Silva.
A polarizing figure in his own right, Lula was barred from running in 2018 due to a corruption conviction but cleared to challenge Bolsonaro next year.
But while some 40% of Brazilians disapprove of Lula, that number recently surpassed 50% for Bolsonaro — making him more unpopular at this point in his presidency than any recent incumbent who sought re-election, said pollster Mauricio Moura, founder of IDEIA Big Data.
Breaking it down: Bolsonaro remains beloved by evangelicals, those nostalgic for military rule, and many in agricultural areas where the economy is booming despite a slump elsewhere in the country, Moura said.
But he has been bleeding support in metropolitan areas amid high inflation and slow vaccinations. Clear evidence of corruption could make that decline irreversible, Moura's polls suggest, but only if he's implicated directly, rather than his sons or close associates.
The flipside: "Bolsonaro is facing an uphill battle, but it remains far too early to rule him out of contention," Gustavo Ribeiro, founder of the Brazilian Report, said via email.
"More than anything, presidents in Brazil are judged based on the economy," Ribeiro added. He reports that government officials believe an economic growth rate of 4–5% this year and 3% next year would be enough to secure re-election.
"Vaccination is progressing in Brazil, and while that is not thanks to Bolsonaro, he could reap the benefits," Ribeiro continues, noting that Bolsonaro is also planning to extend the popular cash transfer program.
What to watch: A matchup between Bolsonaro and Lula would bitterly divide the country.
That makes Bolsonaro's efforts to sow doubt about Brazil's electoral system — particularly his threats last week to cancel or reject the results of the election unless paper ballots are used — all the more dangerous, Moura said.
Go deeper