Racist attacks on Black England players spark widespread backlash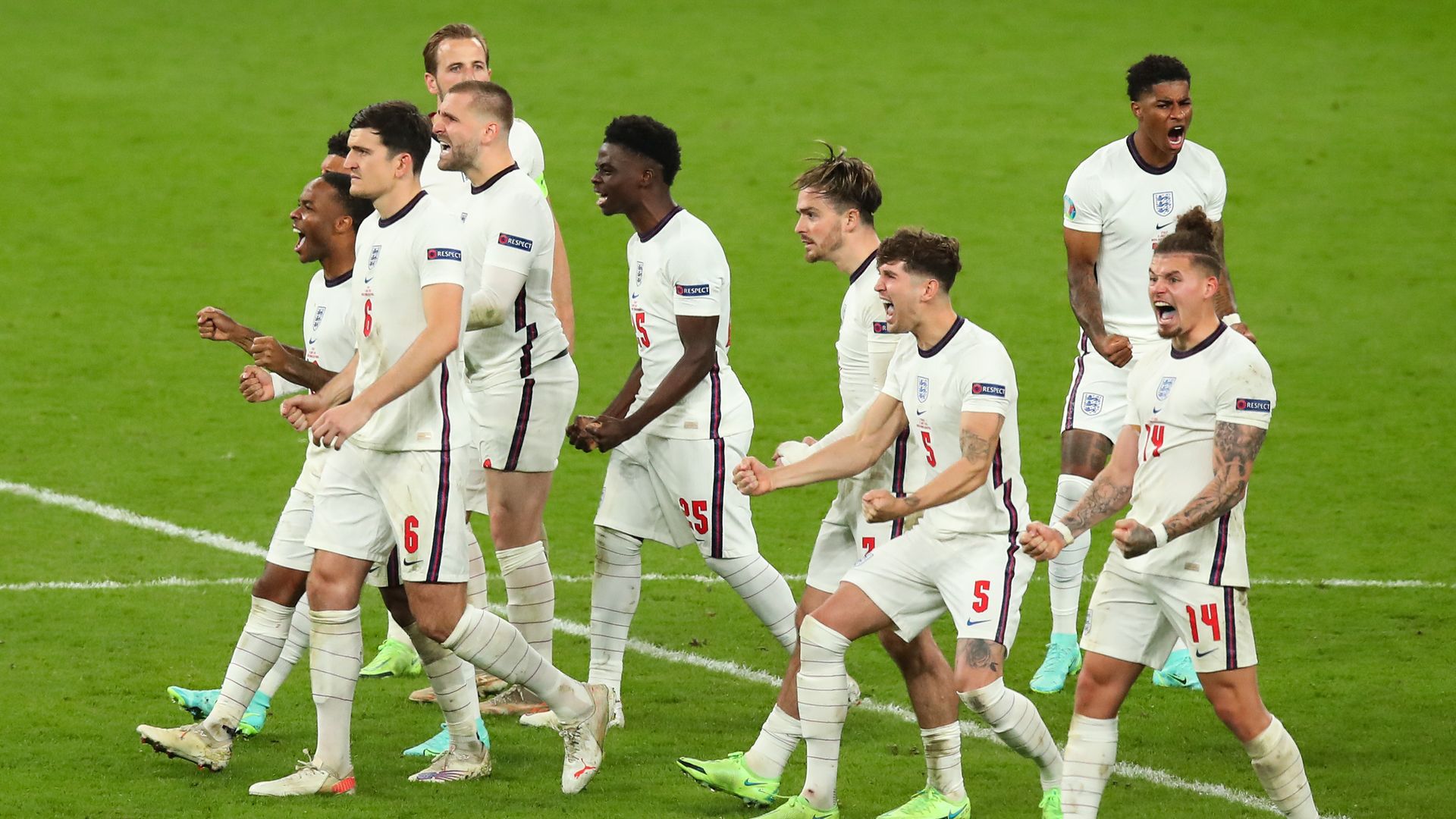 The racist online abuse directed at the England soccer team's three Black players after Sunday's European Championship final against Italy has invited widespread condemnation from various sectors of the public.
Catch up quick: Italy defeated England in a 3-2 penalty shootout Sunday night, and the three Black players who missed penalty kicks were subjected to racist attacks on social media after the game.
The big picture: Various prominent public figures have spoken out against racist posts targeting the three footballers, Marcus Rashford, Bukayo Saka and Jadon Sancho.
British Prime Minister Boris Johnson condemned the attacks Monday morning, saying at a briefing that those responsible should "crawl back under the rock from which you emerged."
England team manager Gareth Southgate said the abuse directed at the three players was "unforgivable," the BBC reports.
Prince William tweeted that he was "sickened by the racist abuse," adding that it is "totally unacceptable that players have to endure this abhorrent behaviour."
Of note: Rashford, 23, posted a statement online sharing his thoughts on the penalty kick and paying tribute to his teammates, family, community.
"I can take critique of my performance all day long, my penalty was not good enough, it should have gone in but I will never apologize for who I am and where I come from," Rashford wrote.
"For all the kind messages, thank you," he added. "I'll be back stronger. We'll be back stronger."
The moment has proven to be a reckoning for political figures who did not support Team England's taking the knee before games to protest racism.
Labour Party leader Keir Starmer called the abuse "absolutely appalling" and said Johnson should have acted more strongly to condemn fans who booed players for taking a knee before games.
Former England defender Gary Neville highlighted Monday Johnson's history of making racist and xenophobic remarks in a newspaper column — in which he described Black people as "piccaninnies" with "watermelon smiles." Addressing racism "starts at the very top," Neville said.
Interior minister Priti Patel had previously dismissed the team's kneeling as "gesture politics" but on Monday denounced the abuse against the players.
In response, England defender Tyrone Mings wrote: "You don't get to stoke the fire at the beginning of the tournament by labelling our anti-racism message as 'Gesture Politics' & then pretend to be disgusted when the very thing we're campaigning against, happens."
State of play: London's Metropolitan Police said late Sunday it would investigate into "offensive and racist" online posts.
Twitter and Facebook responded Monday to criticism that they failed to act against the racist posts, saying they had removed posts and suspended accounts that had violated their policies.
Editor's note: This article has been updated with comment from Rashford and Neville.
Go deeper