Heat wave roasts the West as wildfires explode in size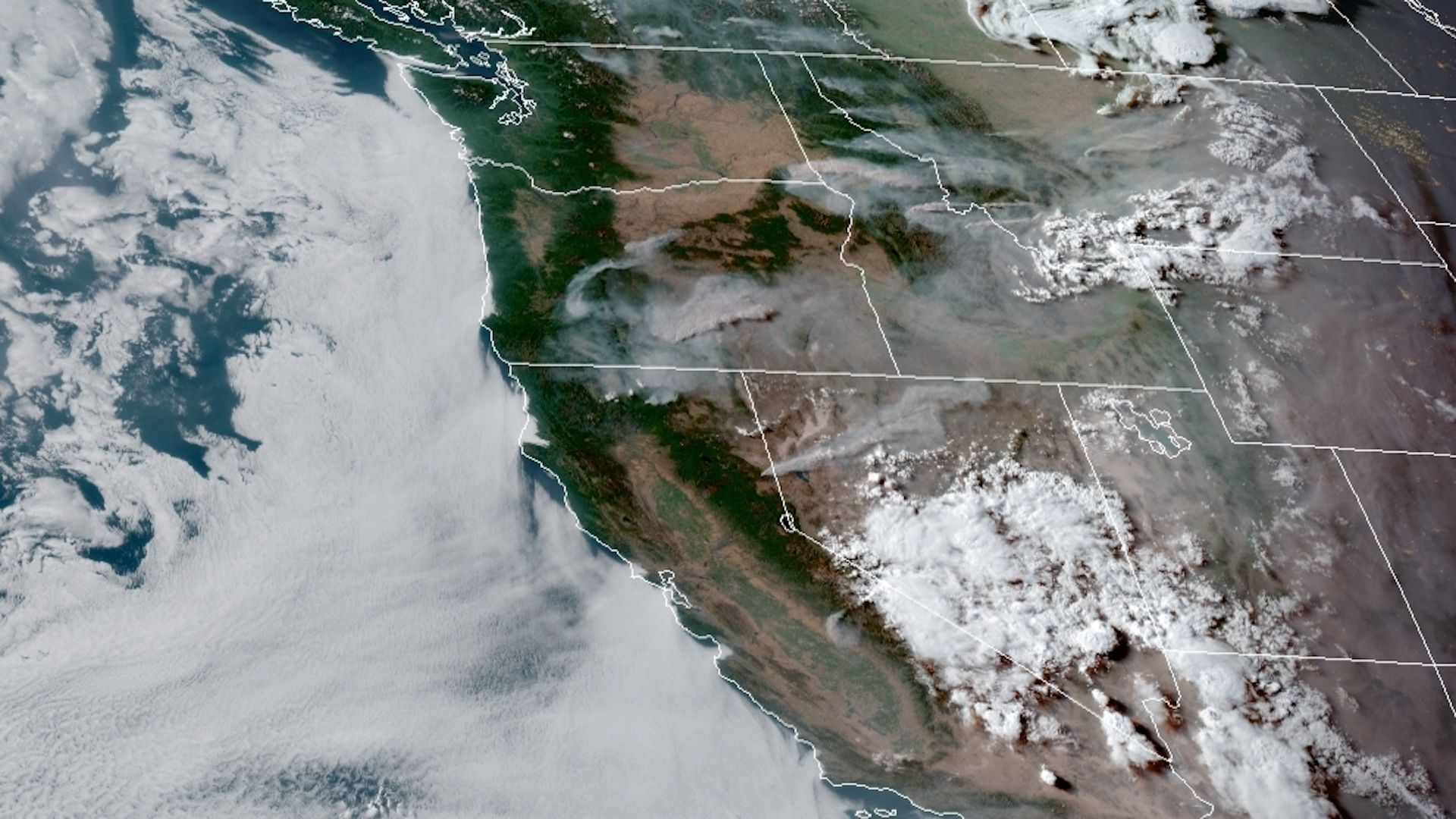 The latest in a series of severe heat waves to affect the West continues Monday, although conditions are not expected to be quite as extreme as they were during the weekend.
The big picture: The heat, combined with a deepening drought and lightning strikes, has set more than 1 million acres of land in California, Oregon, Washington, and Canada ablaze, with smoke obscuring the skies thousands of miles away.
By the numbers: Another in a series of strong high-pressure areas, colloquially known as "heat domes," has set up across the West. While not quite as strong as the event in late June and early July, it has still led to record-shattering temperatures.
107.7°F: Warmest daily low temperature on record for the U.S., set Sunday at Stovepipe Wells, California.
117°F: All-time high temperature record at Las Vegas McCarran International Airport, which was tied on Saturday, per a National Weather Service statement.
107°F: All-time high temperature record set July 9 at Grand Junction, Colorado, where records date back to 1893.
150,812 acres: Size of the Bootleg Fire in Oregon as of Sunday, after the fire doubled in size on three consecutive days. The fire was forecast to see "extreme" rates of growth as temperatures climbed on Sunday afternoon.
4,000 acres: Size of the fast-growing River Fire in Mariposa and Madera Counties in California, forcing evacuations late Sunday.
Threat level: On Sunday, Canada's Interagency Forest Fire Center elevated its readiness level to 5 — the top of the scale, noting "active agencies may take emergency measures to sustain incident operations."
Dozens of wildfires are burning in diverse ecosystems ranging from temperate rainforests to the boreal region that rings the Arctic.
The fires in Canada erupted when a massive, slow-moving heat dome stalled over southwestern British Columbia in late June into early July, shattering all-time heat records and killing hundreds.
Firefighting agencies in the U.S. are at a high state of readiness due to large wildfires burning in multiple states. On Saturday, two firefighters working with the Bureau of Land Management to conduct aerial reconnaissance of the Cedar Basin Fire in northwest Arizona died when their plane crashed.
The Bootleg Fire continues to threaten a key conduit of power between the Pacific Northwest and California. Known as Path 66, the high voltage power lines supply a total of 4,800 megawatts of electricity to the heat-stressed California grid.
The fire reduced that flow of electricity on Friday and Saturday and could do so again. Gov. Gavin Newsom signed an executive order to relieve some of the grid stress, and a "Flex Alert" to conserve power is in effect for Monday.
Context: Drought conditions have created tinderbox dry conditions throughout the West, including high elevation forests, extending the length of the peak wildfire season.
In California, twice as many acres have burned so far this year than had burned by this point last year — and 2020 was California's worst wildfire year on record.
"The fire behavior we are seeing on the Bootleg Fire is among the most extreme you can find and firefighters are seeing conditions they have never seen before," Al Lawson, an incident commander for the fire, said in a statement on Sunday.
Between the lines: Human-caused global warming is a major factor behind the severity, longevity and frequency of the heat waves in the American West and other parts of the world.
In addition, studies show that the West is seeing more frequent and larger wildfires as climate change alters precipitation patterns and the timing of the wet and dry seasons.
Climate change is also leading to more days with extreme fire weather conditions that feature unusually high temperatures, strong winds, and extremely low humidity values.
What's next: Heat advisories and warnings in effect for the Central Valley of California, where farm workers have been laboring in lethal temperatures, continue on Monday — but temperatures are forecast to be a few degrees lower than they were over the weekend.
Other parts of the West are under heat warnings as well.
Records that fall are likely to be daily records, rather than all-time milestones.
No end to the hot and dry weather pattern across the West, however, is in sight.
Go deeper