TV star's party takes poll lead ahead of Bulgaria's election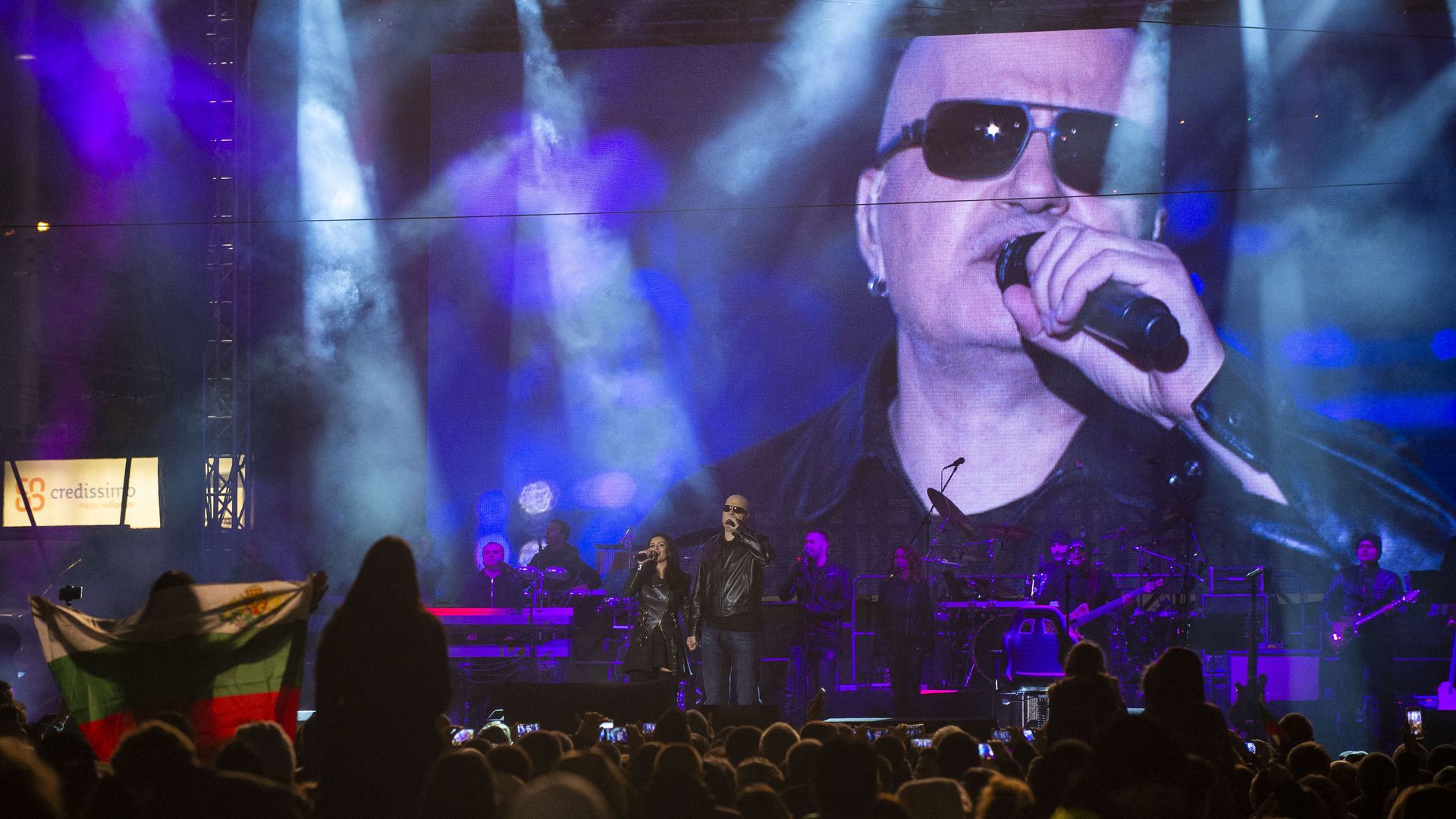 Sunday's snap parliamentary elections in Bulgaria pit the man who has dominated the Balkan country's politics for a decade against an insurgent party led by a popular TV host.
The big picture: Former longtime Prime Minister Boyko Borissov failed to form a government after an inconclusive election in April, which followed massive protests last year over corruption and Borissov's alleged mafia ties.
Since the election, the Biden administration has sanctioned three Bulgarian power brokers for corruption, denting Borissov's support further.
The other side: That has left a major opening for political newcomers like Slavi Trifonov, sometimes referred to as the Bulgarian David Letterman.
Trifonov's "There is Such a People" party now has 21.8% support versus 21.5% for Borissov's GERB party, according to a poll released Thursday by Alpha Research.
Known to Bulgarians simply as "Slavi," the 6.6-foot showman is a folk-pop musician, producer and actor, but he's best known for his late-night program "Slavi's Show."
Before previous elections, Trifonov interviewed all the leading candidates, including Borissov. Now he is using his own cable channel, launched in 2019, as a platform to criticize other politicians and promote his own party.
He became a major political player in 2016 when he spearheaded a referendum campaign to reform Bulgaria's electoral system. The reforms won a clear majority of voters but fell 12,000 votes short of the threshold to make the result binding — an outcome Trifonov denounced as a "monstrous fraud."
He's now set to become the latest TV star to parlay his fame and outsider appeal into political power, following former President Donald Trump and Ukrainian President Volodymyr Zelensky.
Borissov is a colorful figure in his own right.
A former bodyguard to Bulgaria's last communist leader, he projects the image of a man of the people.
But he has had to fend off a number of scandals, including when photos surfaced last year appearing to show him sleeping next to a handgun, stacks of cash and gold bars. He claimed the photos may have been staged or doctored.
What's next: Despite leading the two top parties, Borissov and Trifonov have both said they won't serve as prime minister if their party wins. Both are considered likely candidates for the presidency in the fall, though that role is less powerful.
Some observers fear another inconclusive election could further strain Bulgaria's democracy.
Go deeper