In Las Vegas, "driverless" cars arrive via remote control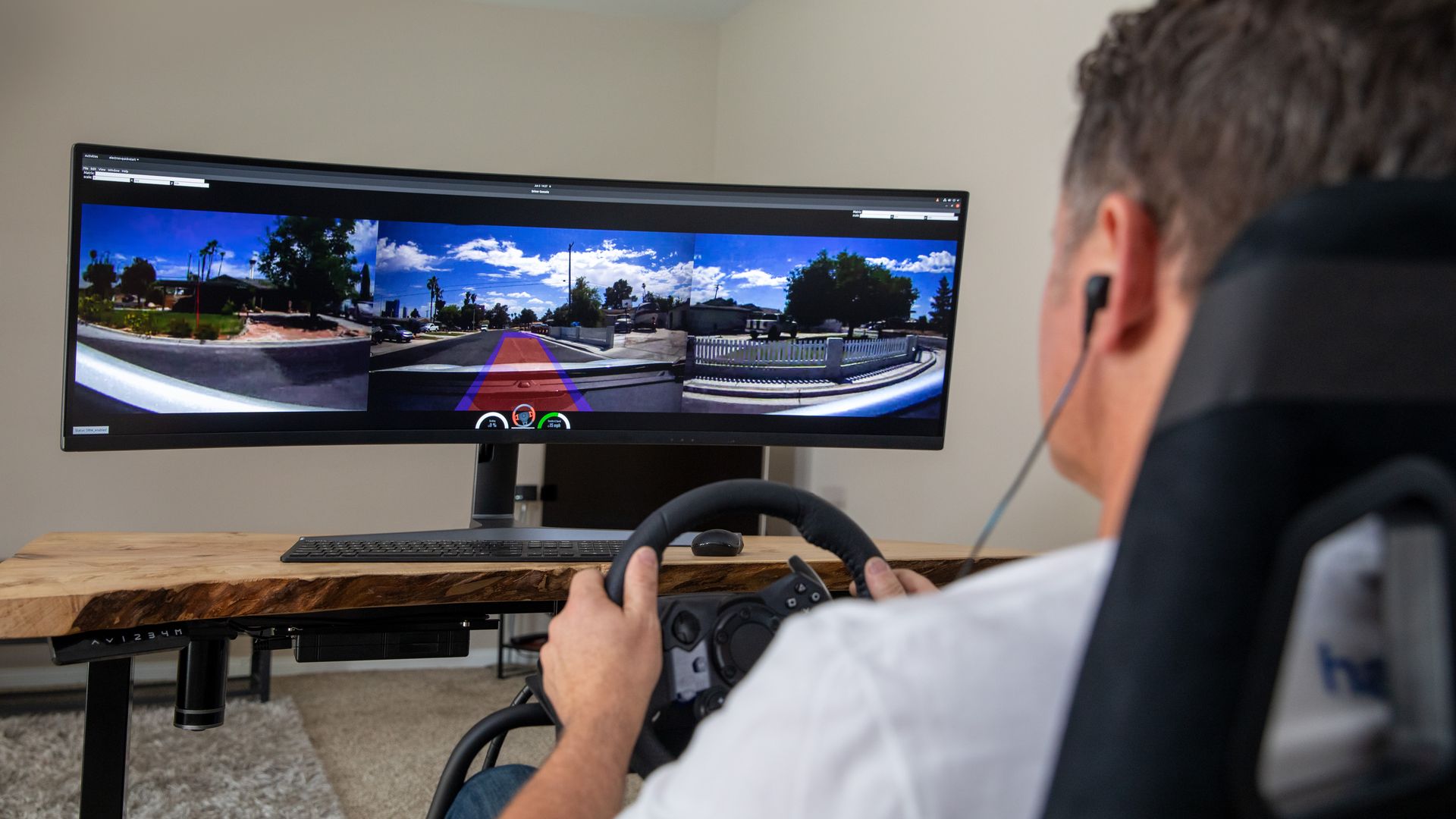 A new ride-hailing service in Las Vegas is targeting people who are curious about autonomous vehicles but aren't yet ready to climb into the back seat and let a robot drive.
Why it matters: Electric AVs promise to make urban transportation safer, more affordable and more accessible, potentially easing congestion and cutting carbon emissions.
But earning the public's trust is a challenge, so a handful of cities like Las Vegas are tiptoeing toward the robotaxi era.
What's happening: In the Phoenix suburbs, people can summon a driverless Waymo minivan, but only in certain neighborhoods. Within a year or so, other companies, including Cruise and Argo AI, could have limited robotaxi services operating in parts of San Francisco and Miami.
And in Las Vegas, one lesser-known company called Halo will deliver a car by remote control, then let users drive it away.
How it works: Riders use the Halo app to summon electric Kia Niro SUVs.
Driverless Halos arrive at pickup locations and riders hop in the driver seat and drive to their destination.
When they arrive, there's no need to park; they just exit the vehicles and the Halos move on to their next pickup location.
Between the lines: Halo's "driverless" cars in fact have a human driver — they are tele-operated by specially trained operators sitting miles away behind a computer screen, using a steering wheel, foot pedals and other controls.
Tele-operation hinges on a strong 5G network to ensure there are no signal interruptions that could delay the operator's response to real-world situations.
Halo worked closely with T-Mobile in Las Vegas to build out a reliable 5G network to support its driverless cars.
"Imagine a remote pilot driving virtually," says Halo founder and CEO Anand Nandakumar. "The video should be seamless, with no freeze frames. Every packet we push from the car has to be reliably received on the car's console, really fast."
Reality check: Halo lags behind most other AV companies. But its unique business model could help it catch up.
"Full autonomy is a massive challenge from both a technical and social trust perspective that won't be solved for years to come," said Nandakumar.
Halo's plan is to build automation over time, starting with a service that consumers can feel comfortable using today.
Using artificial intelligence, the cars will train themselves by learning from real customers' driving decisions.
"Every mile the customer drives, the AI is learning in the background," he says.
The bottom line: AAA found that 54% of drivers are afraid to ride in a self-driving car — and another 32% are unsure about it.
As with most innovations, real-world experience could eventually win them over.
Go deeper