What Bezos and Branson's billionaire space race means for the industry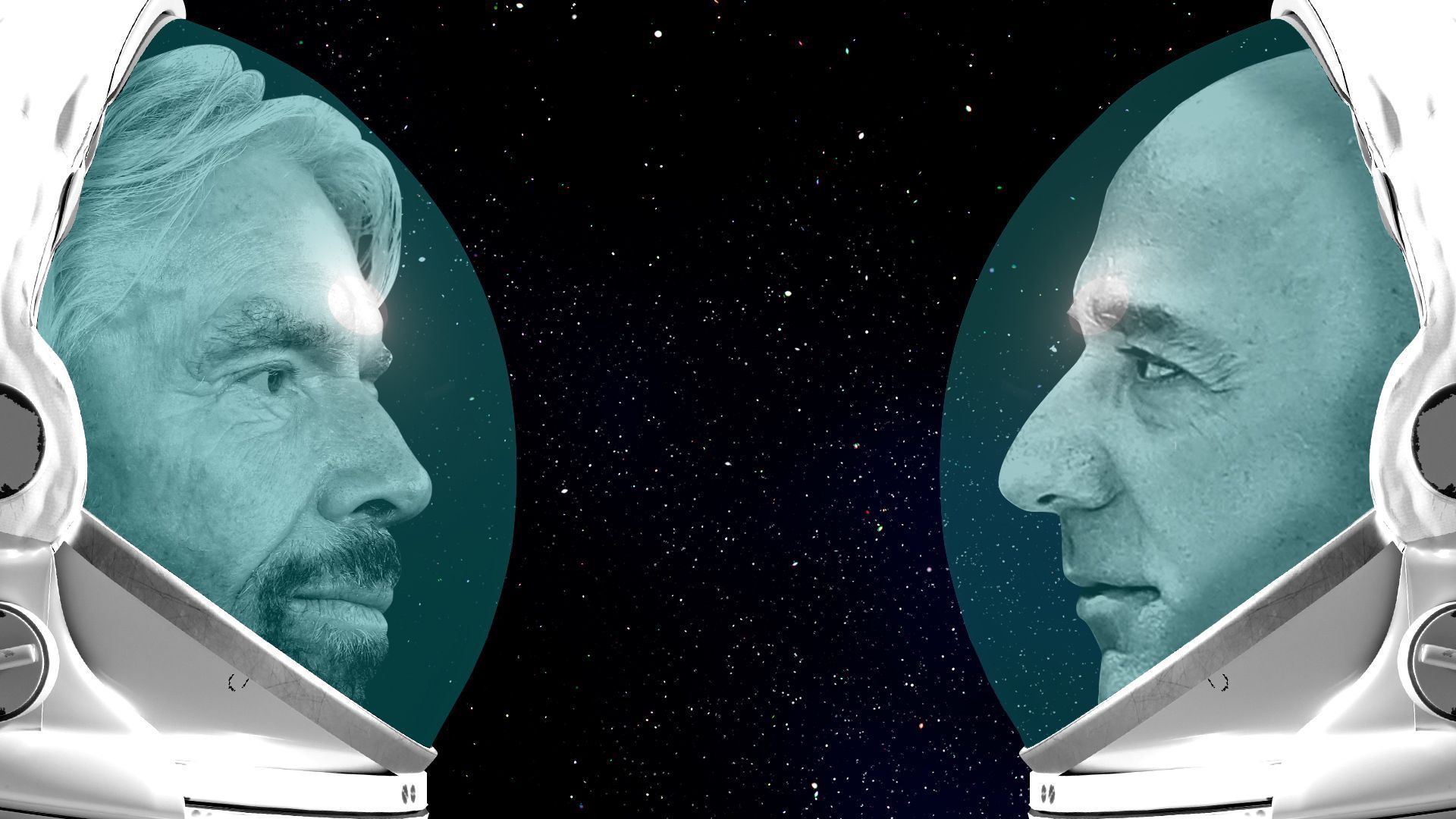 Richard Branson is scheduled to blast off this Sunday on a test flight for Virgin Galactic, the space tourism company that went public in 2019 via SPAC, beating Jeff Bezos to sub-orbit by just nine days.
Why it matters: There's a lot more riding on these rockets than rival billionaires.
Venture capitalists invested around $4.5 billion into 77 space-related companies in Q1 2021, according to Space Capital. Over the past decade, the figures rise to $187 billion into nearly 1,500 companies (most of which are U.S.-based).
Few of these companies focus directly on space tourism, as it's not nearly as lucrative as satellite launches, but the Branson/Bezos flights are about to become the entire industry's public face. Were anything catastrophic to occur, it could have massive ripple effects on everything from regulation to investment interest.
Conversely, successful trips could increase investment interest, including by airlines or other sorts of aerospace companies that so far have kept their flight sights within the atmosphere.
Axios Space editor Miriam Kramer told me yesterday on the Axios Re:Cap podcast that the billionaire space race, while unimportant in terms of who launches first, has sparked more attention than ever before on the private space industry:
"If you look at these companies that are taking what was once purely the purview of governments and bringing it on themselves, I think that is wildly influential and will be on par with sort of the revolution that happened with the Soviet Union and U.S. fighting for space supremacy … And it could have longer lasting effects than the Apollo program did for the U.S., because that ended and we haven't sent people to the moon since 1972."
The bottom line: Companies in emerging industries often build on each other's successes, and can be harmed by each other's failures. The difference in this case is that the whole world will be watching.
Go deeper