The high stakes of Branson and Bezos' race to space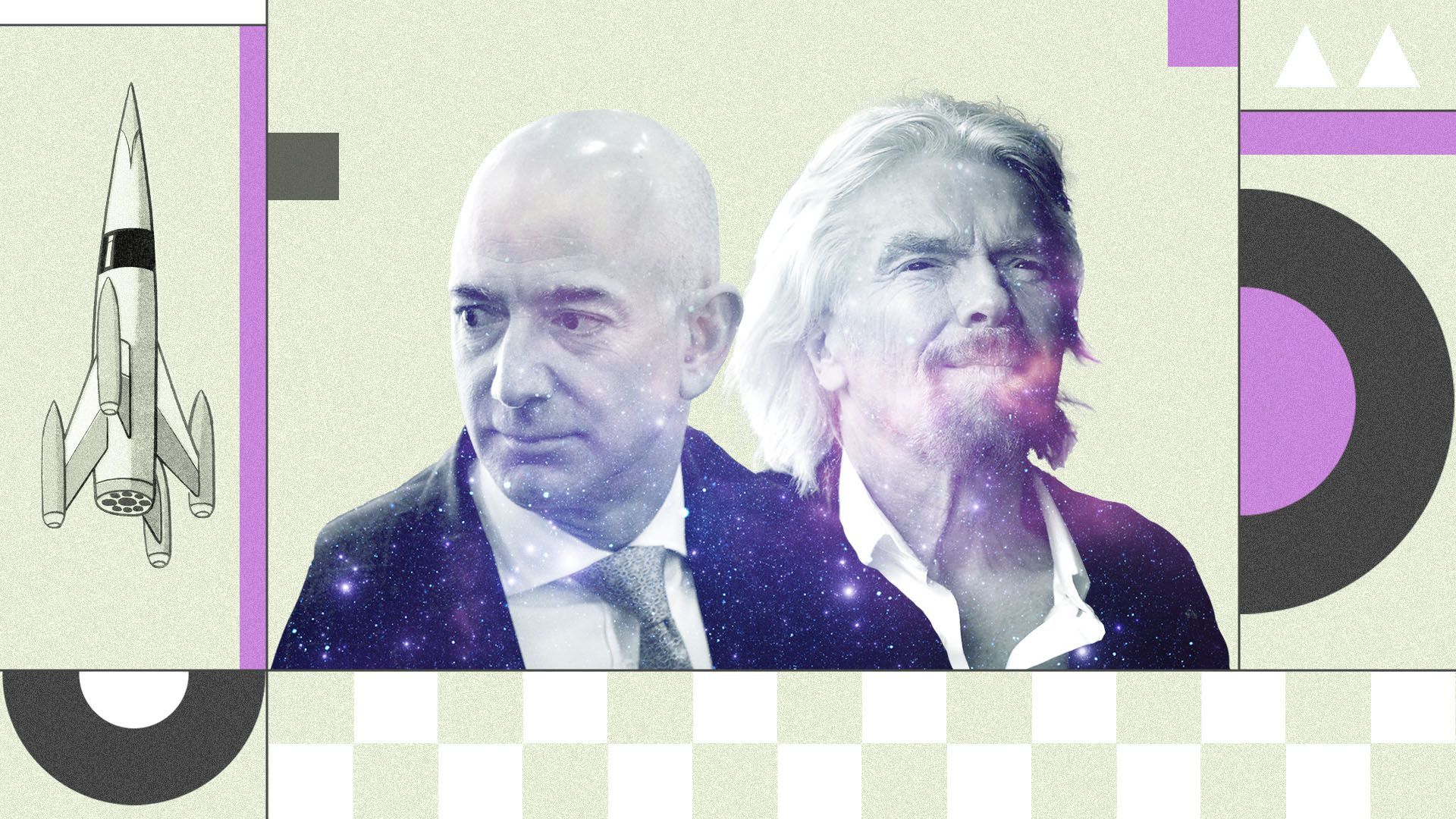 When Jeff Bezos and Richard Branson take flight aboard the rockets their companies built, the hopes and dreams of a burgeoning industry will be flying with them as well.
Why it matters: Accidents or errors on these high-profile flights from Virgin Galactic and Blue Origin could derail their plans — and possibly affect others' plans — for commercial space tourism and travel.
Driving the news: Last week, Virgin Galactic announced that it would push to fly Branson and others on a fully crewed test flight on July 11, just ahead of Blue Origin's first flight with Bezos, scheduled for July 20.
There has been a low hum of animosity brewing between the two companies in public since it was revealed Bezos might fly before Branson.
That rivalry spilled over last week after the Branson announcement, with Blue Origin CEO Bob Smith saying the two companies aren't after the same prize in these first flights.
"We wish him a great and safe flight, but they're not flying above the Karman line and it's a very different experience," Smith said of Branson and Virgin Galactic in a statement via the New York Times. (The Karman line is the unofficial altitude at which space begins, about 62 miles up.)
The big picture: Launching and building satellites is a big moneymaker in the space industry, but suborbital space tourism is seen as a means of getting more people interested in the space industry in the long term.
In theory, these flights should be more affordable and available to a large group of people who will only need to train for a day or two before going to the edge of space.
If something were to go wrong with one of these high-profile, early flights, it could threaten the companies' business plans going forward and cast doubt on whether suborbital space tourism could serve as a boon for the rest of the industry.
Flashback: An accident during a Virgin Galactic test flight in 2014 left one pilot dead.
After the crash, Branson considered stopping development of the company's space plane altogether.
Yes, but: The company did continue on, and public support for it has been steady.
It's possible an accident from either of the companies wouldn't hurt public opinion of the endeavor as a whole.
Depending on why an accident occurred, "I don't think you would see a mass exodus of Virgin Galactic reservation holders or a noticeable drop in interest in flying on Blue Origin," space historian Robert Pearlman said.
What to watch: A major failure or problem could also put pressure on Congress to start pushing for more regulation of private human spaceflight, which some argue could stifle the space travel industry just as it is beginning.
At the moment, the FAA is not allowed to regulate the safety of "spaceflight participants" — Bezos, Branson or anyone else who would fly on one of these vehicles — until at least 2023.
Instead, the crews today fly under a regime known as "informed consent" where they must agree to and be told of the risks before launch.
That moratorium on regulation was put in place in order to allow the industry to launch before restrictions were placed on it.
Go deeper