Updated Jul 5, 2021 -

World
Tajikistan bolsters border after Afghan troops flee Taliban offensive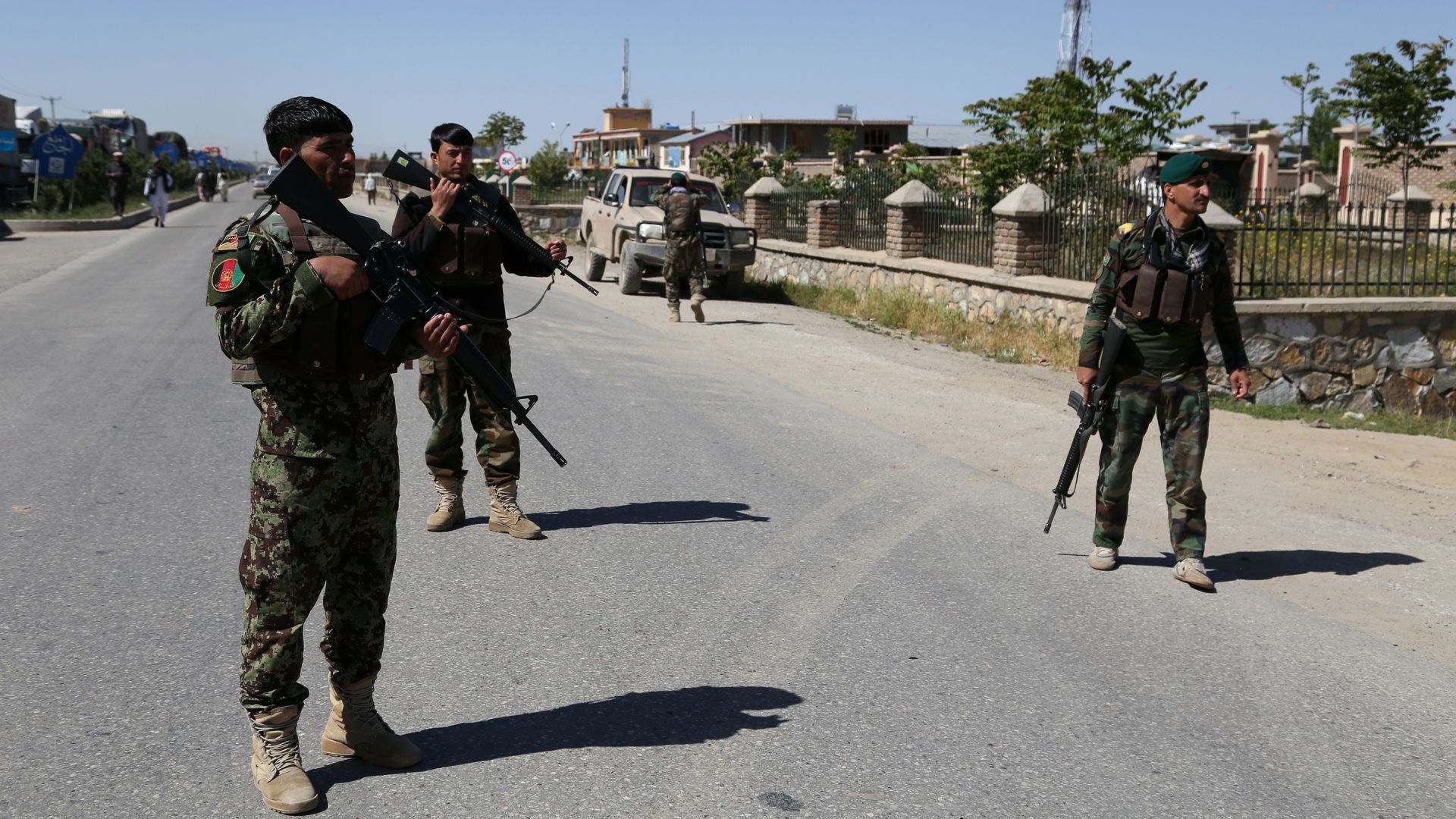 Tajikistan called in 20,000 military reservists on Monday to strengthen the border after 1,037 members of Afghanistan's security forces fled to the country and dozens more were taken captive by the Taliban, per Reuters.
Why it matters: The crossings, which were permitted by Tajikistan, came after the Taliban took over at least six key districts in the northern province of Badakhshan, which borders Tajikistan.
Sunday's retreat was the largest confirmed by the Afghan government since the Taliban began its northern offensive, according to Reuters.
What they're saying: Tajik President Emomali Rakhmon received assurances during a phone call with Russian leader Vladimir Putin that Moscow was ready to "provide Tajikistan with the necessary support" to the former Soviet republic at the border, the Kremlin said in a statement, per Russia's Tass news agency.
Afghan President Ashraf Ghani spoke with Tajikistan President Emomali Rakhmon on Sunday to discuss the escalating conflict in northern Afghanistan and Rakhmon's concerns with the crossings.
Driving the news: Tajikistan is looking into setting up camps for potential refugees from Afghanistan, according to Reuters.
The Taliban seized the main trade gateway into Tajikistan in June. Instead of shutting down the dry port, the insurgent group has started collecting customs revenues on goods moving in and out of Afghanistan, according to the Wall Street Journal.
"We informed [Tajikistan and Uzbekistan] and assured them that the routine work of the border, the customs, will be running as before," a Taliban spokesperson told the Journal.
The big picture: The Taliban has rapidly gained territory in Afghanistan since the United States began its military withdrawal, which is expected to be fully completed by Sept. 11.
The U.S. military departed Bagram Airfield, which was the center of its war to oust the Taliban and search for the al-Qaeda perpetrators of the 9/11 terrorist attacks, on Friday.
U.S. intelligence community has warned that the Afghan government could collapse as soon as next year as the Taliban's battlefield offensive grows.
Go deeper: Biden cuts off questions about Afghanistan amid growing Taliban concerns
Editor's note: This article has been updated with details of the army reservists being called in and of Putin's pledge.
Go deeper