Sha'Carri Richardson's weed suspension says a lot about mental health in sports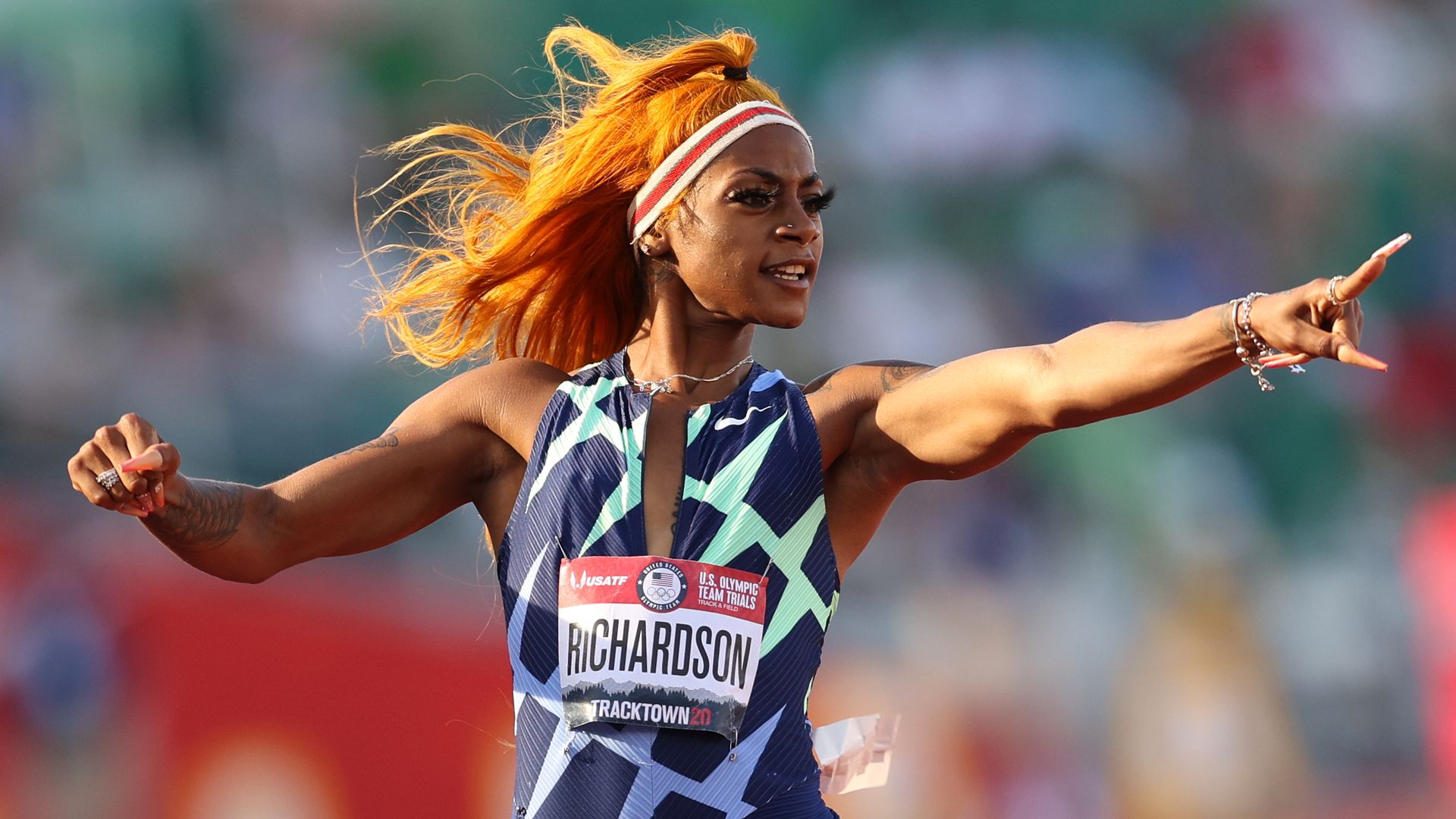 America's best shot for Olympic gold in the women's 100 meters won't be competing, after testing positive for marijuana.
Driving the news: U.S. favorite sprinter Sha'Carri Richardson has been suspended after testing positive for marijuana that she said she used to cope with her biological mother's death, which had put her in "a state of emotional panic."
"Don't judge me because I am human," Richardson told Savannah Guthrie on the "Today" show. "I'm you — I just happen to run a little faster."
The big picture: Several athletes have spoken out about their mental health struggles, including names such as Olympic gold winner Michael Phelps — who was suspended in 2009 for being pictured smoking from a bong — and tennis star Naomi Osaka. Many are addressing the fact that leagues lack any sort of accommodations for mental health.
"U.S. leagues have said within the last few years they would embed a better infrastructure for players to readily have mental health professionals," Axios' Marisa Fernandez writes.
While research on the role of marijuana in mental health is still inconclusive, patients have reported it has been beneficial for helping them treat mental illness, including post-traumatic stress disorder.
What she's saying: "We all have our different struggles, we all have our different things we deal with, but to put on a face and have to go out in front of the world and put on a face and hide my pain," Richardson said.
"Who are you? Who am I to tell you how to cope when you're dealing with a pain or you're dealing with a struggle that you've never experienced before or that you never thought you'd have to deal with. Who am I to tell you how to cope? Who am I to tell you you're wrong for hurting?," she added.
"If I'm allowed to receive that blessing [compete in the Olympics] then I'm grateful for it. But if not, right now I'm just going to focus on myself."
Nike released a statement following the reports of Richardson's failed drug test, saying that she would remain as part of the company: "We appreciate Sha'Carri's honesty and accountability and will continue to support her through this time."
Other pro-athletes came out in support, including Olympic gold medalist Michael Johnson: "I don't know why marijuana is banned. Maybe a good reason. Maybe not. I know how it feels to lose a parent. Indescribable pain!"
NFL player Myles Garrett pointed out that "[w]hat's really crazy is this probably won't even be [an] issue by the next [O]lympics," considering the continued destigmatization of the drug.
Between the lines: Richardson took the drug in Oregon, where the substance is legal. However, the U.S. Anti-Doping Agency is required to adopt the policies from the World Anti-Doping Agency, which has it listed as prohibited to use in competition.
Cannabis poses a health risk to athletes, has the potential to enhance performance and violates the spirit of sport, according to WADA.
WADA says it is an enhancing drugs because it "reduces anxiety, allowing athletes to better perform under pressure and to alleviate stress experienced before and during competition."
"Richardson's period of ineligibility was reduced to one month because her use of cannabis occurred out of competition and was unrelated to sport performance, and because she successfully completed a counseling program regarding her use of cannabis," the U.S. Anti-Doping Agency said.
What's next: While Richardson won't be allowed to participate in the 100-meter race, she could still run the 4x100-meter relay if selected for Team USA, ESPN reports.
Go deeper