Welcome to our hellscape summer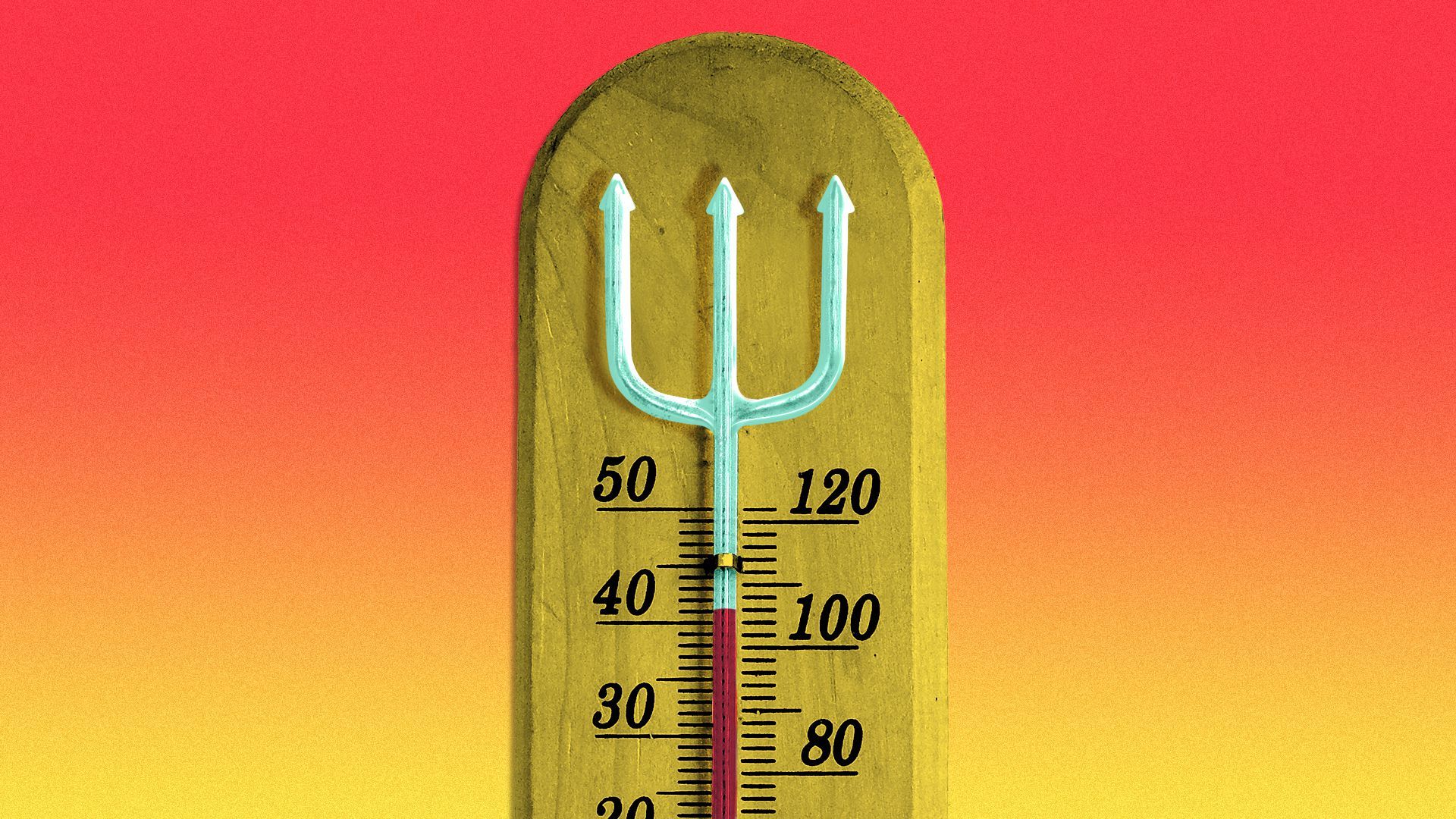 Deadly heat waves. An epic drought. More than a million acres in the West gone up in smoke before the end of June. And the earliest fifth-named Atlantic tropical storm on record.
Why it matters: The calamities playing out across the country may have repercussions in Washington as lawmakers debate potentially huge investments for the country's aging infrastructure.
Depending on its provisions, the eventual legislation could make or break America's ability to sharply cut greenhouse gas emissions in the near term, thereby affecting how disastrous future extreme weather events become.
The big picture: The deadly heat waves, which are ongoing in portions of the Northwest and Canada, constitute a public health crisis. This is partly because they're hitting a region where air conditioning is uncommon.
The heat waves — along with overly thirsty California crops, and electric rail systems that cease operations at high temperatures, and highways that have buckled in the heat — demonstrate the limitations of our current infrastructure.
Everything from our roads and bridges to our buildings, mass transit and water treatment facilities were built for a climate that no longer exists.
By the numbers: Some of the temperature records set during the past week have shaken even climate scientists, despite the projections of exactly these outcomes in study after study.
In the past 10 days, record-shattering temperatures have killed dozens in Oregon and Washington, as the thermometer hit 116°F in Portland, Ore., and 108°F in Seattle, both all-time highs for those locations.
The heat has killed nearly 500 in British Columbia.
And Lytton, a small about 95 miles town northeast of Vancouver, was wiped out when a fast-moving wildfire swept through on Wednesday evening. The fire followed an unnerving national all-time high temperature record set there just the day before: 121°F.
Across British Columbia, the heat wave led to an eruption of wildfires on Wednesday into Thursday, many of them resembling explosions on satellite imagery and from the ground.
The blazes were so intense that they manufactured their own weather, generating about 710,000 lightning strikes, some of which started new fires.
Prior to the destructive blaze, Lytton shattered Canada's national high temperature record three days in a row.
"It's warmer in parts of western Canada than in Dubai. I mean, it's just not something that seems Canadian," Environment Canada senior climatologist David Phillips told CTV News on Saturday.
State of play: Top White House climate adviser Gina McCarthy said at a Punchbowl News event Wednesday that the Biden administration views the Pacific Northwest heat wave, as well as the drought and other extremes, as newly urgent reasons to take action on climate.
"These are things that remind us that time is running out here. We have to get moving," McCarthy said.
Between the lines: Studies show clear links between upticks in wildfire intensity and acreage burned in the West and human-caused climate change.
Similarly, research has pointed again and again to how the warming climate dramatically increases the odds, severity, extent, and longevity of extreme heat events.
Of note: The heat hasn't been exclusive to the West and Canada. Boston saw its second-hottest June day on record Wednesday.
Residents of New York City received emergency alerts on their phones, urging them to cut power use or risk citywide outages due to surging demand for cooling.
The bottom line: With new forecasts calling for continued warmer and drier than average conditions in the West amid the worst drought of the century, and a hurricane season that is already in hyperdrive, don't bet on much of a reprieve.
Go deeper