Ferocious wildfires destroy British Columbia town amid historic heat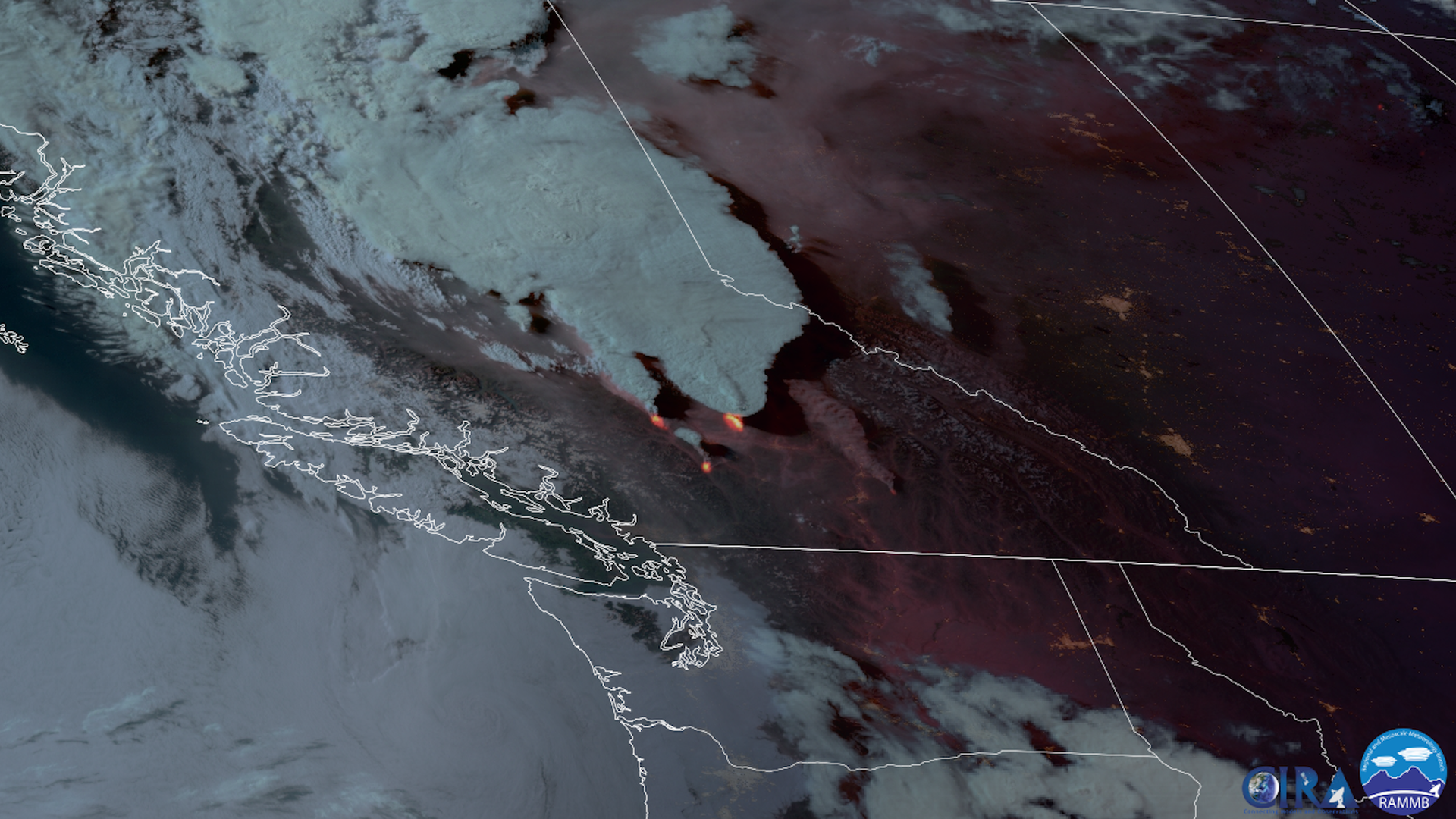 A record-shattering heat wave has triggered a spate of massive wildfires across British Columbia and the U.S. West, with one blaze roaring through parts of Lytton, Canada, on Wednesday night. The fire occurred just a day after the town set a national high temperature record of 121°F.
Why it matters: The unprecedented heat is leading to other deadly threats as residents hastily evacuate areas in the path of quickly-advancing flames, including deteriorating air quality.
Climate change plays a key role in heightening the severity of both heat waves and wildfires.
Driving the news: The long-lasting heat wave has toppled dozens of all-time temperature records across the Pacific Northwest and British Columbia — the result of an unusually powerful area of high pressure, colloquially known as a "heat dome," sitting over the region and forcing air to stagnate.
The extreme heat, which climate scientists say would have been virtually impossible to achieve without human-caused global warming, helped dry out soils further in an area that was already unusually parched for this time of year, leading to dangerous wildfire conditions.
Zoom in: Based on news reports, satellite imagery and social media posts, most of Lytton, British Columbia, was seriously damaged when a wildfire erupted, quickly expanded in size and swept through the community late Wednesday and into Thursday.
Lytton, about 95 miles northeast of Vancouver, received international headlines when it set all-time national heat records on three straight days, culminating in the 121°F reading on Tuesday.
According to CBC News, about 1,000 people in and around Lytton were given a mandatory evacuation order at 6 p.m. local time Wednesday, but the fire moved swiftly across the community. People were evacuating while homes and businesses were burning.
"I noticed some white smoke at the south end of town and within 15 to 20 minutes, the whole town was engulfed in flame," mayor Jan Polderman told CBC British Columbia.
The frantic evacuation led to scenes reminiscent of the past few horrific fire seasons in California, with people fleeing past burning homes and cars on the side of the road.
Citing a local member of Parliament as well as Royal Canadian Mounted Police, CBC reported that at least 90% of Lytton had been damaged or destroyed.
Wildfires are also burning in Northern California, where drought and heat has left forests fire-prone far earlier in the fire season than usual. In fact, the entire western U.S. is mired in drought conditions, and the wildfire threat this season is so severe it was the subject of a White House summit on Wednesday.
Details: The heat wave is the worst on record to hit the Pacific Northwest, British Columbia, and the Northwest Territories. One location in the Northwest Territories reached a high temperature of 103°F on Wednesday, the hottest on record for any location above 60 degrees North.
More than a dozen large blazes erupted on Wednesday across British Columbia, northern California, and other parts of the West, touched off by erratic winds, high heat, and dry, combustible vegetation.
By the numbers: The death toll from the heat wave itself has risen into the hundreds in Canada alone, with dozens dead in the U.S. as well.
On Wednesday, British Columbia's chief coroner reported about 500 deaths so far, with a significant number believed to be related to the heat. About 60 heat-related deaths have been recorded in Oregon, as well.
The heat wave set all-time highs in Portland, Ore., at 116°F and Seattle, at 108°F, among other locations. Both Oregon and Washington may have tied or set all-time state records.
Excessive heat warnings remain in place in parts of the Northwest, and the heat continues in parts of Canada as well.
Go deeper: Pacific Northwest heat wave, Canada temperature record shock experts
Go deeper