Illuminarium promises "VR without the glasses"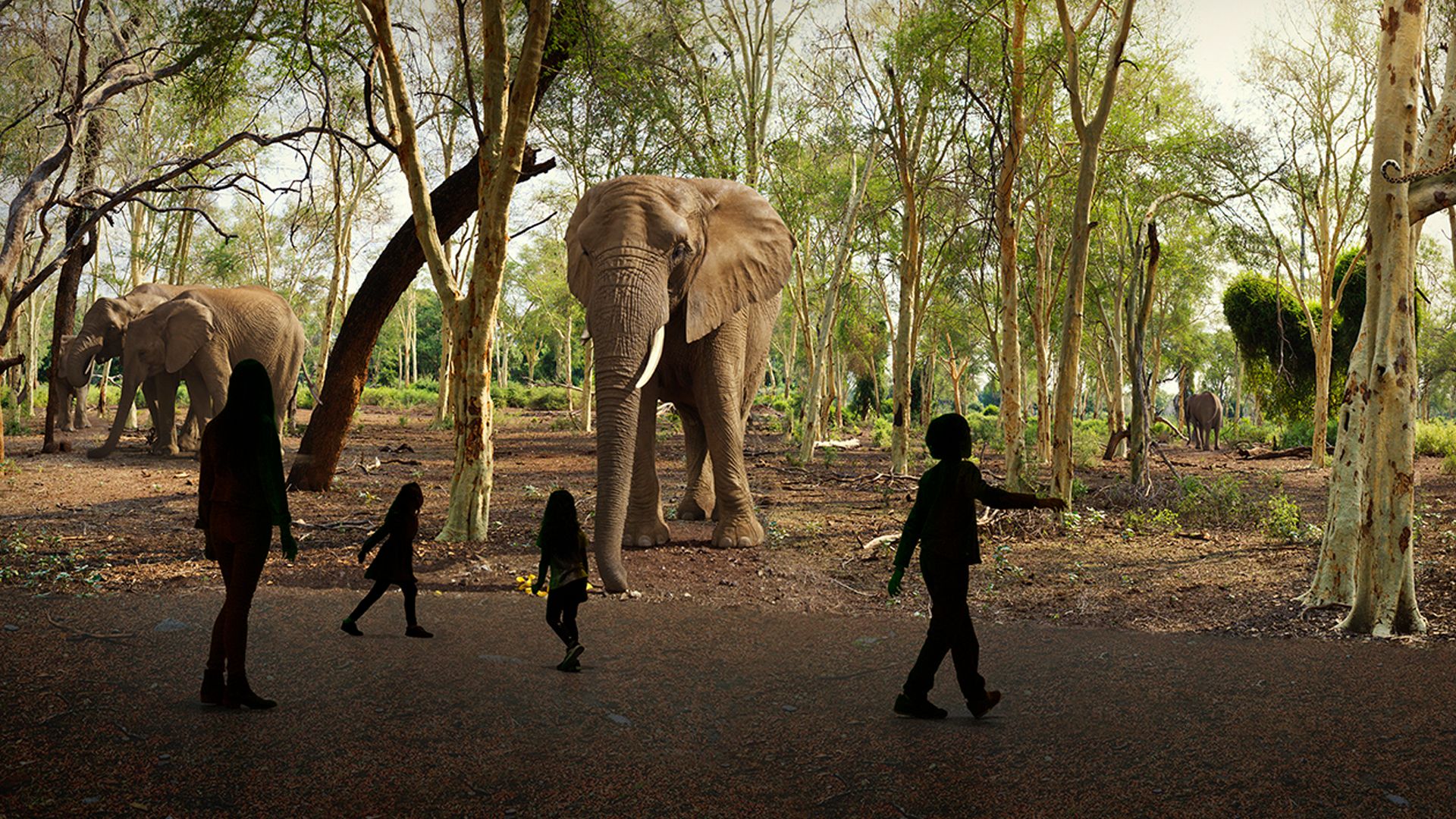 A new, high-tech consumer entertainment experience opening today in Atlanta promises to transport users to exotic destinations with the aid of immersive video, touch feedback and more.
Why it matters: Illuminarium — which is set to expand to other cities in coming months and years — is a bet that consumers are ready to come back for in-person entertainment, and that the latest in visual technology can come close to replicating some of the experience of traveling to some of the world's most remote locations.
What's happening: Visitors who come to Atlanta's Illuminarium will enter a 7,500-square-foot space ringed by screens as high as 22 feet, where they'll be enveloped in video and sound recorded on location for the center's first show, WILD Safari.
Throughout the 50-minute show, says Illuminarium Experiences founder Alan Greenberg, "you are going to see it as if you are there, hear it as if you are there, feel in your bones through the haptic system in the floor, even smell it in the air."
A lidar system can track the movement of audience members throughout the show, "allowing us to track people throughout their journey but also permitting them to affect the content as the content plays out," says Brian Allen, executive vice president of technology and content at Illuminarium.
This is VR without the glasses.
— Alan Greenberg, Illuminarium
Between the lines: Greenberg — a serial entrepreneur who served as publisher of Esquire in the 1980s — believes Illuminarium will benefit from the pent-up demand for in-person experiences in the post-COVID age.
But he also argues that hybrid virtual experiences like what Illuminarium offers "democratizes access to extraordinary experiences" at a moment when international travel, at least, is still far from cheap or easy.
"Instead of getting on an airplane for 20 hours, you can be in Nashville or Charlotte and drive down to Atlanta to do safari," he says.
What's next: The company has already begun building its second Illuminarium in Las Vegas, with plans to open there by around the end of the year, and has further expansion plans in Miami, Chicago and Mexico City.
The bottom line: As technology improves and the real world gets harder to navigate, expect to see more energy in the hybrid virtual space.
Go deeper