Northwest heat wave demonstrates world's growing cooling needs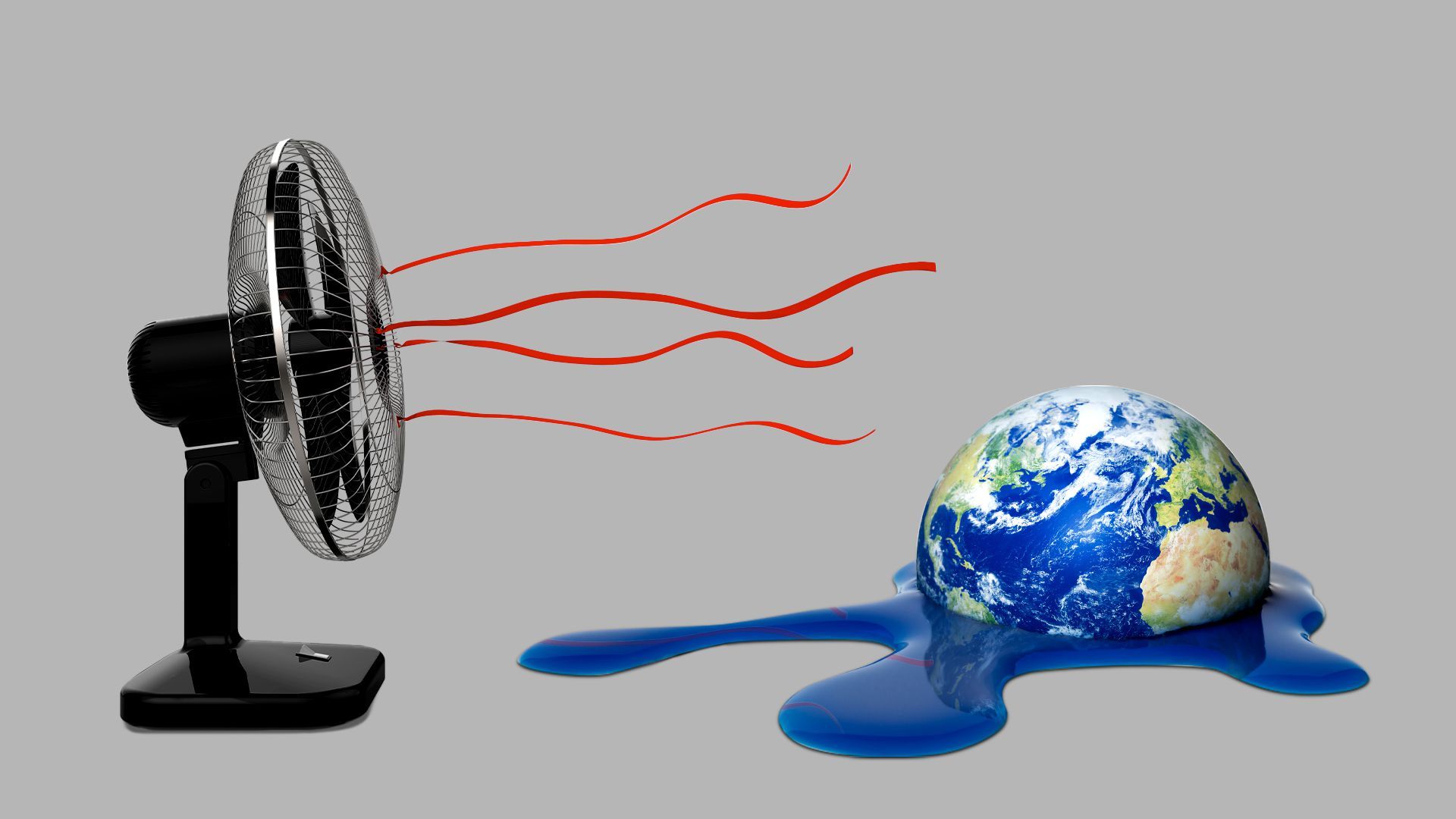 Record-breaking Pacific Northwest heat offers a window into the global need for more air conditioning as climate change makes heat waves more extreme.
Why it matters: Extreme heat is the deadliest weather hazard in the U.S. and many other countries, and with average temperatures climbing due to climate change, the risks and severity of heat waves are escalating even faster.
Driving the news: The recent extremes — which saw Portland, Oregon, hit a staggering 116 degrees and the obliteration of many other all-time records — caused a run on air conditioning units in Seattle, Portland, British Columbia and other areas.
The big picture: The regional sales are small compared to the surge of global cooling equipment needed in the years ahead, in industrialized countries but especially the developing world.
That's driven by higher standards of living that enable more people to buy amenities widely available in richer nations.
But it's also a matter of life or death as some regions see heat and humidity extremes that will teeter on the edge of what humans can survive.
Yes, but: Inefficient air conditioners use a lot of energy. Especially in places where electricity doesn't come from clean sources, it'll be a challenge to deal with the heat caused by global warming without adding even more greenhouse gas emissions.
By the numbers: Roughly 2 billion air conditioning units are in operation worldwide, per a 2020 International Energy Agency (IEA) report. The global number of units installed could rise by two-thirds by 2030, per IEA.
35% of the world's population lives in countries where the average temperature is 77°F — extremes can vastly exceed this — and only 10% of that group own air conditioners.
A 2017 study in Nature Climate Change found that 30% of the world's population is currently exposed to climatic conditions exceeding a deadly threshold for at least 20 days a year.
By 2100, this percentage is projected to increase to about 48% even under a scenario with drastic cuts in greenhouse gas emissions, or about 74% with growing emissions.
Threat level: The group Sustainable Energy for All estimates there are 1.1 billion people among the rural and urban poor at "high risk" from lack of cooling across 54 "high-impact" nations.
However, its report last month also estimates that another 2.34 billion lower-middle-income people will soon be able to obtain air conditioning and refrigeration.
The catch: "Price sensitivity and limited purchasing options mean they favor devices that are likely to be inefficient, threatening energy systems and resulting in increased GHG emissions," the report finds.
What we're watching: How much of the world's growing global cooling needs will be met with highly efficient units and buildings, use of heat pumps, low-impact coolants and systems plugged into grids with high amounts of zero-carbon power remains to be seen.
A separate IEA report last month, which models a global energy system that achieves "net-zero" emissions by 2050, finds it's possible to massively expand cooling in an emissions-friendly way.
In that scenario, the number of air conditioning units in emerging and developing economies specifically rises by 650 million by 2030 and another 2 billion by 2050.
But under their hugely ambitious model — not a prediction! — a basket of clean technologies nonetheless helps to cut CO2 emissions from the world's buildings by 95% by 2050.
Of note: "The answers to cooling go beyond air conditioning. Building design, city design, cooling strategies all have to work to ensure the A/C doesn't have to work so hard," Rachel Kyte, dean of the Fletcher School at Tufts University, told Axios.
What they're saying: "The first thing that needs to be reckoned with is that even in the current climate, too many people die of extreme heat for lack of air conditioning and because a few relatively simple, low-cost approaches are not effectively implemented by governments or individuals," Michael Oppenheimer, a climate scientist at Princeton University, told Axios.
Cities that establish cooling centers, Oppenheimer said, may not be placing them in the most accessible areas.
He noted that in Chicago, about one-third of cooling centers are located in police precincts. "Think about that in [the] context of the populations least likely to have air conditioning," he said.
Go deeper