United bets on travel with the biggest airplane order in its history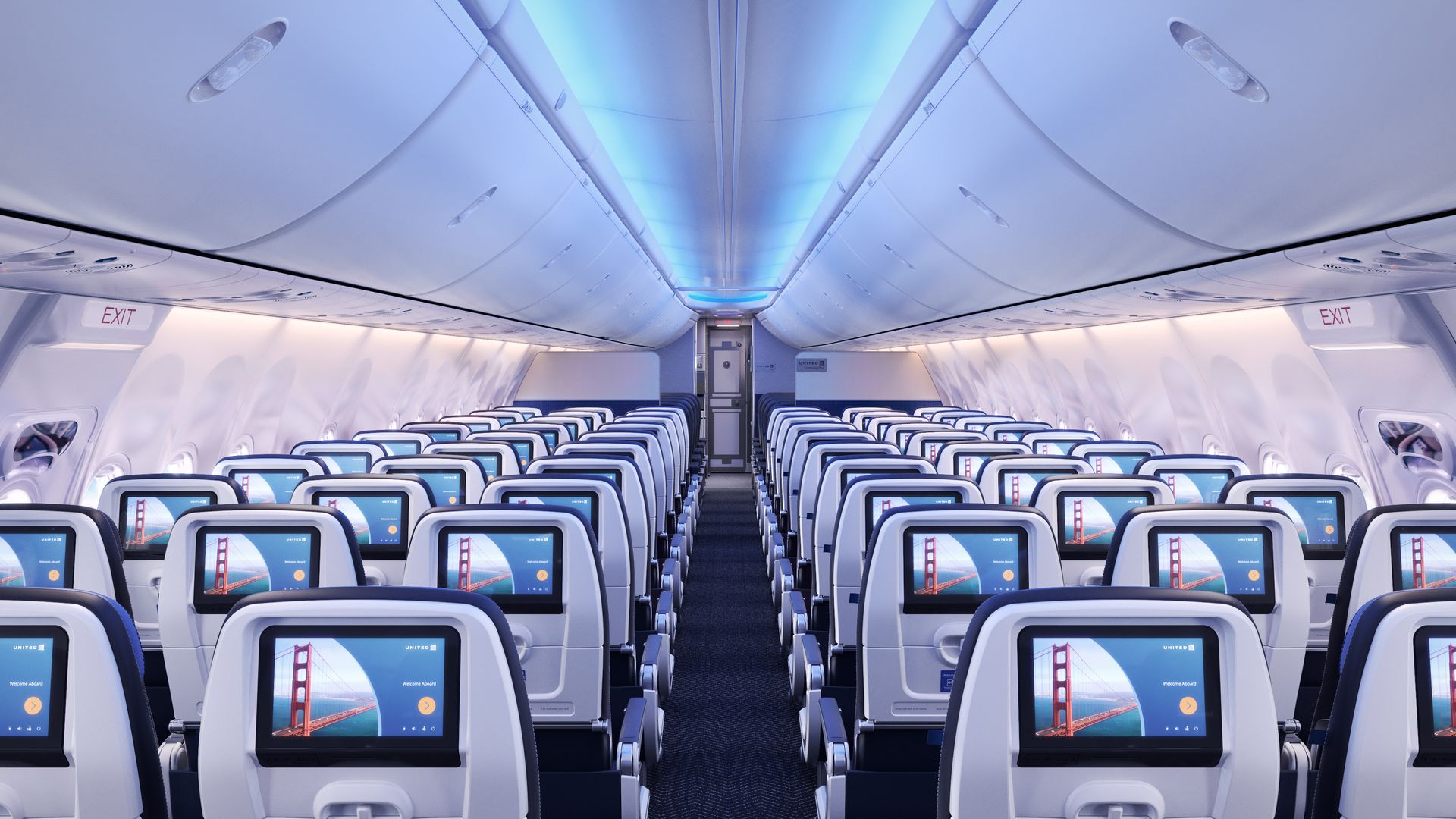 United Airlines just placed the biggest aircraft order in its history and expects to create 25,000 unionized jobs by 2026 in an effort to capitalize on the astonishing rebound in passenger travel.
Why it matters: This is one of those "go big or go home" moments for the airline industry, which was devastated by pandemic-related travel restrictions worldwide. Domestic leisure travel has bounced back, but business and international travel remain depressed, making United's plan a significant bet on future growth.
What they're saying: "Everything we see, every day, tells us that business and international travel will ultimately come back 100%," United CEO Scott Kirby told reporters late Monday.
"What you're seeing in the marketplace is that as people travel more for leisure, the resistance to traveling for business is rolling back quickly," added chief commercial officer Andrew Nocella. That will only accelerate in the fall after kids go back to school in much larger numbers, he said.
"Next summer, travel across the Atlantic is going to be an absolute record-breaker," Nocella predicted.
Details: United announced the purchase of 270 new Boeing and Airbus aircraft — its biggest ever, and the largest by any carrier in the past decade.
Combined with previous orders, United plans to take delivery of 500 new planes between now and 2026, replacing at least 200 smaller regional jets with larger aircraft.
The fleet overhaul means United will increase the total number of available seats across its domestic network by almost 30% per departure.
Flying should become more pleasurable as a result, with more premium seats available in first class and economy plus, giving passengers the opportunity to upgrade with more legroom, said chief customer officer Toby Enqvist.
The new planes will feature seat-back entertainment in every seat, significantly larger overhead bins, better lighting and faster WiFi.
Existing planes will be retrofitted to match the passenger experience of the new ones.
With a 1:1 ratio of overhead bins to passengers, United aims to address one of the biggest pain points of flying — anxiety about stowing carry-on bags.
More and larger bins will mean less crowding at the gate, fewer gate-checked bags and faster boarding, the company said.
What to watch: United plans to add 100 flights per day in Chicago, Denver and Houston, and expects domestic and international growth of 4% to 6% over the next few years.
To support that growth, the airline said it will add up to 25,000 jobs, mostly at its seven domestic hubs.
That includes as many as 5,000 new jobs in Newark, New Jersey, 4,000 in San Francisco and up to 3,000 each in Washington, D.C., Chicago, Houston and Denver. Los Angeles can expect up to 1,400 new jobs.
The bottom line: United is well-positioned for a fast recovery, Kirby said, because it struck a union deal early in the pandemic to keep pilots on staff and maintain their training requirements, unlike other airlines now facing pilot shortages.
Go deeper