Dangerous Pacific Northwest heat wave shifts inland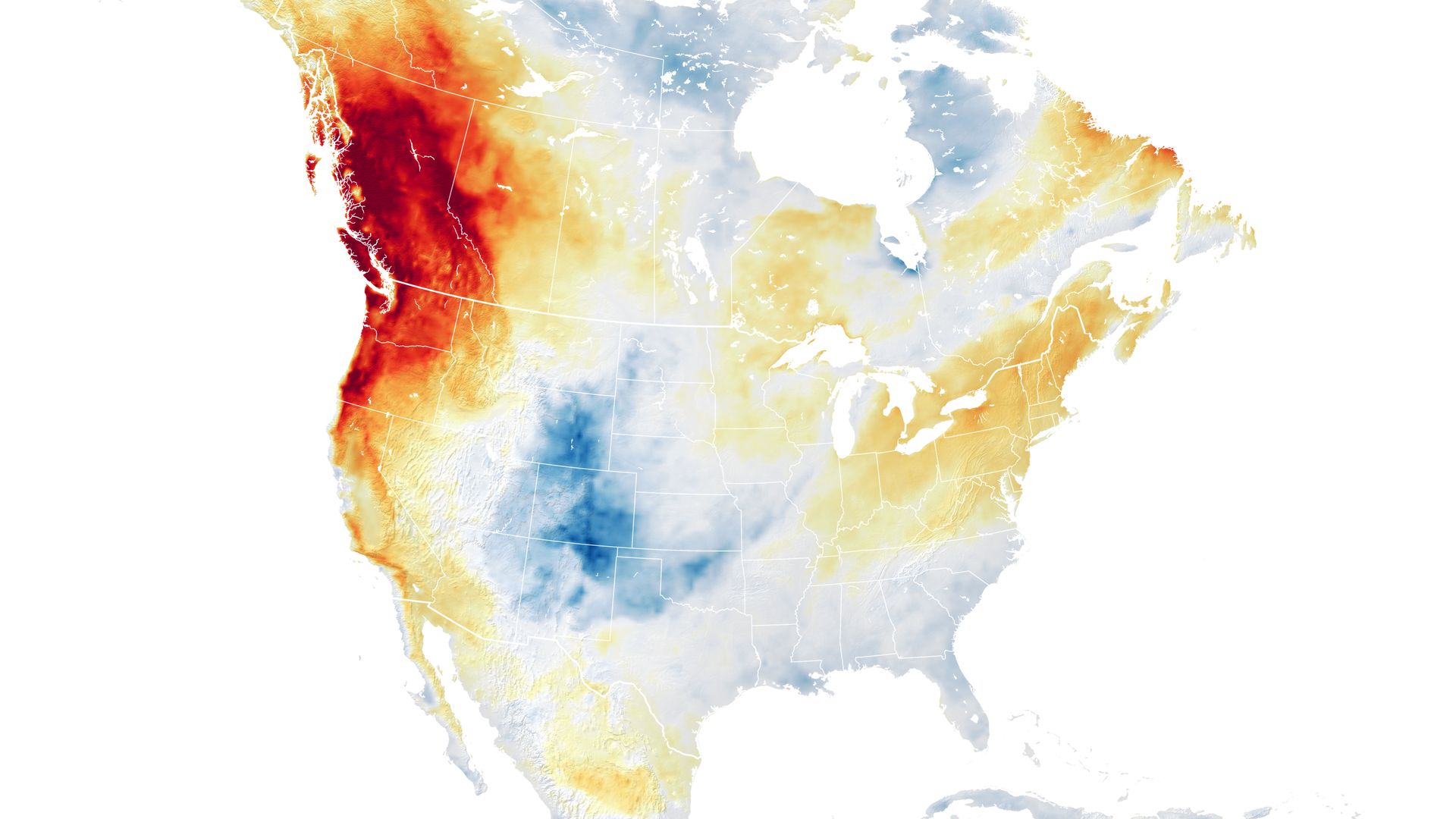 After reaching an unprecedented peak, the ferocious heat wave in the Pacific Northwest is retreating inland on Tuesday, sparing some of the biggest cities, including Seattle, from another day of record-breaking heat.
Why it matters: The worst heat wave on record in the Pacific Northwest has had a wide range of impacts, from damaging public transit infrastructure — rails failed and roads buckled — to public health issues. This event is not over, given the continued record high temperatures in areas further away from the coast.
The big picture: A highly unusual weather pattern that statistically has less than a 1-in-several-thousand-year chance of occurring is starting to shift and weaken slightly over the Pacific Northwest. The area of high pressure aloft is colloquially known as a "heat dome," and it will still yield unusually hot temperatures throughout parts of Canada and parts of Washington, Oregon, Idaho and Montana during the next few days.
On Monday, the heat dome resulted in temperatures as high as 25–50°F above average across multiple states and British Columbia.
This heat, combined with a worsening drought, helped fuel multiple wildfires across Western states Monday.
By the numbers: The heat on Monday shocked meteorologists and climate scientists alike.
Portland, Oregon, set an all-time high temperature of 112°F on Sunday, only to eclipse that on Monday, with a high of 116°F.
Thankfully for the city's residents, cooler winds from the Pacific swept into the city last night, yielding the biggest temperature drop overnight on record there in 24 hours — as temperatures dropped 52°F.
In Seattle, the temperature reached 104°F on Sunday, which broke the existing all-time record. It exceeded this on Monday, reaching 108°F. Tuesday is expected to be tame by comparison, with a high around 90°F.
Canada is also seeing extreme heat, with the country's June high-temperature record tied on Saturday and smashed on Sunday at Lytton in British Columbia by nearly 3°F, with a high of 116°F. This was broken again Monday, with the same location recording 117.5°F.
Incredibly, Lytton got even hotter on Tuesday, however, climbing to 121°F.
According to a bulletin on the heat wave from the World Meteorological Organization (WMO), melting glaciers and high altitude snow cover in the Canadian Rockies pose a landslide risk.
"Yukon and North West Territories have recorded their all-time highest temperatures not just in June, but any point in the year.  We are setting records that have no business in being set so early in the season," said Armel Castellan, a meteorologist with Environment and Climate Change Canada, in a statement.
"Overnight lows being higher than our average daytime highs for late June is a really big deal. Our bodies need to cool off and recover before taking on another day of high temperatures," Castellan said.
Between the lines: People in the region are not used to heat of this magnitude, which has made this event an acute health risk. This is especially the case in Canada.
"Fewer than 40 per cent of homes have air conditioning on the coast, people are having to go to libraries and shopping malls to find a couple of hours of air conditioning. I have been sleeping in a tent to get some respite from the heat," said Castellan.
What's next: Heat warnings and advisories are still in effect for parts of the Pacific Northwest, northern Great Basin and Northern Rockies.
Spokane, Washington and Boise, Idaho could near their monthly or all-time high temperature records on Tuesday.
The heat will be most intense east of the Cascades, where it's possible that a state record for the hottest temperature in Washington history will be tied or broken, at 118°F (a benchmark that was tied on Monday).
Wildfire risks will remain elevated across the West, since the heat wave further dried out the already parched landscape. Two large fires, the Lava Fire and Tenant Fire, have grown significantly on Tuesday in northern California.
Go deeper: "Historic" Northwest heat wave shatters records, poses health risks
Go deeper