In EV era, batteries are the new oil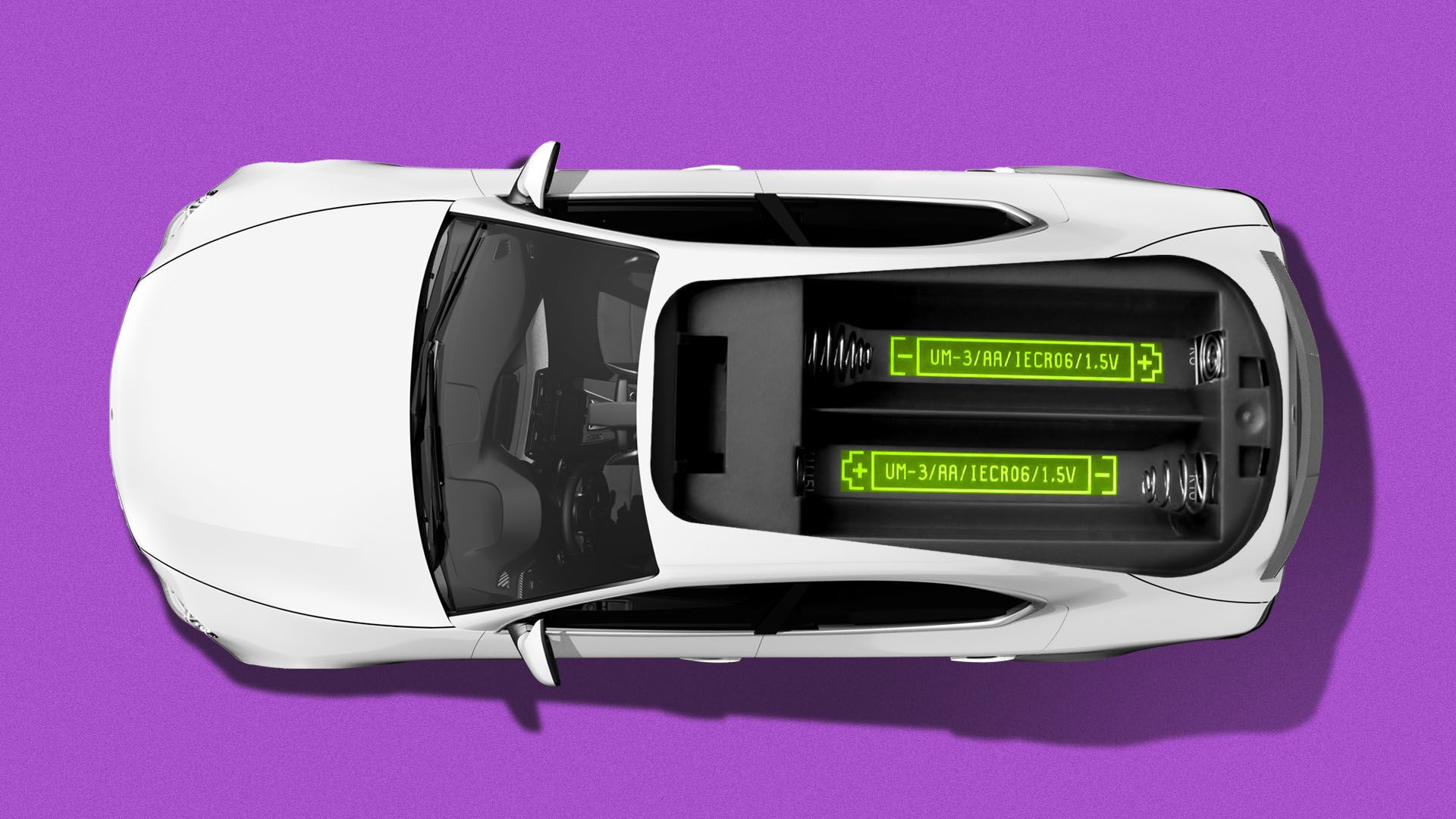 At the very moment the United States is ramping up electric vehicle development manufacturers are running up against the weakest link in the supply chain — a shortage of battery materials.
Why it matters: The bottleneck puts the United States at a major disadvantage to China, which controls most of the world's battery minerals mining and processing.
Without further action, the U.S. risks becoming as dependent on imported batteries as it was on foreign oil — or repeating mistakes of the past with solar panels or smartphones which are now made primarily overseas.
"We are the leading innovators in the world. But the challenge that we face is keeping the production of those future innovations here in the United States," said Doug Campbell, CEO of battery maker Solid Power, at an industry roundtable hosted by Energy Sec. Jennifer Granholm.
The big picture: Amid tougher emissions regulations worldwide, automakers are racing to add more EVs to their lineup, while phasing out internal combustion engines.
Planned EV investments jumped 41% in the past year, to $330 billion globally by 2025, according to AlixPartners.
In the U.S., President Biden has made vehicle electrification a core element of his clean energy strategy.
Those EV goals are at risk, however, without a secure supply of advanced lithium ion batteries — and the raw materials like lithium, nickel, cobalt and graphite that go into them.
The state of play: The U.S. recently laid out a national blueprint for lithium batteries, which aims to establish a secure supply chain for battery materials and technology by 2030.
"It will take a strategic investment by the federal government, in concert with industry, to stand up more domestic manufacturing capability," U.S. Rep. Mike Doyle (D-Penn.) said at the DOE roundtable.
Compared to other countries which invest in manufacturing through public-private partnerships, "we are bringing a knife to a gun fight," said U.S. Energy Secretary Jennifer Granholm.
What's happening: The Energy Department said June 14 it would channel $200 million in funding over the next five years to U.S. national labs to support EV- and battery-related research.
The DOE also said that battery projects can qualify to borrow from the $17 billion available under the Advanced Technology Vehicle Manufacturing loan program, created during the Obama era.
What to watch: The funding could help companies like Urbix, the only U.S.-based processor of graphite widely used in EV battery anodes.
The Arizona company developed a method to process graphite that's simpler, cheaper and less energy-intensive than the one China uses.
The bottom line: "We want to eat a lot of ketchup but we don't have any tomatoes," says Nico Cuevas, CEO of Urbix. "You can't make ketchup without tomatoes."
Nor can you make electric vehicles without batteries.
Go deeper