Pacific Northwest heat dome roasts more than 25M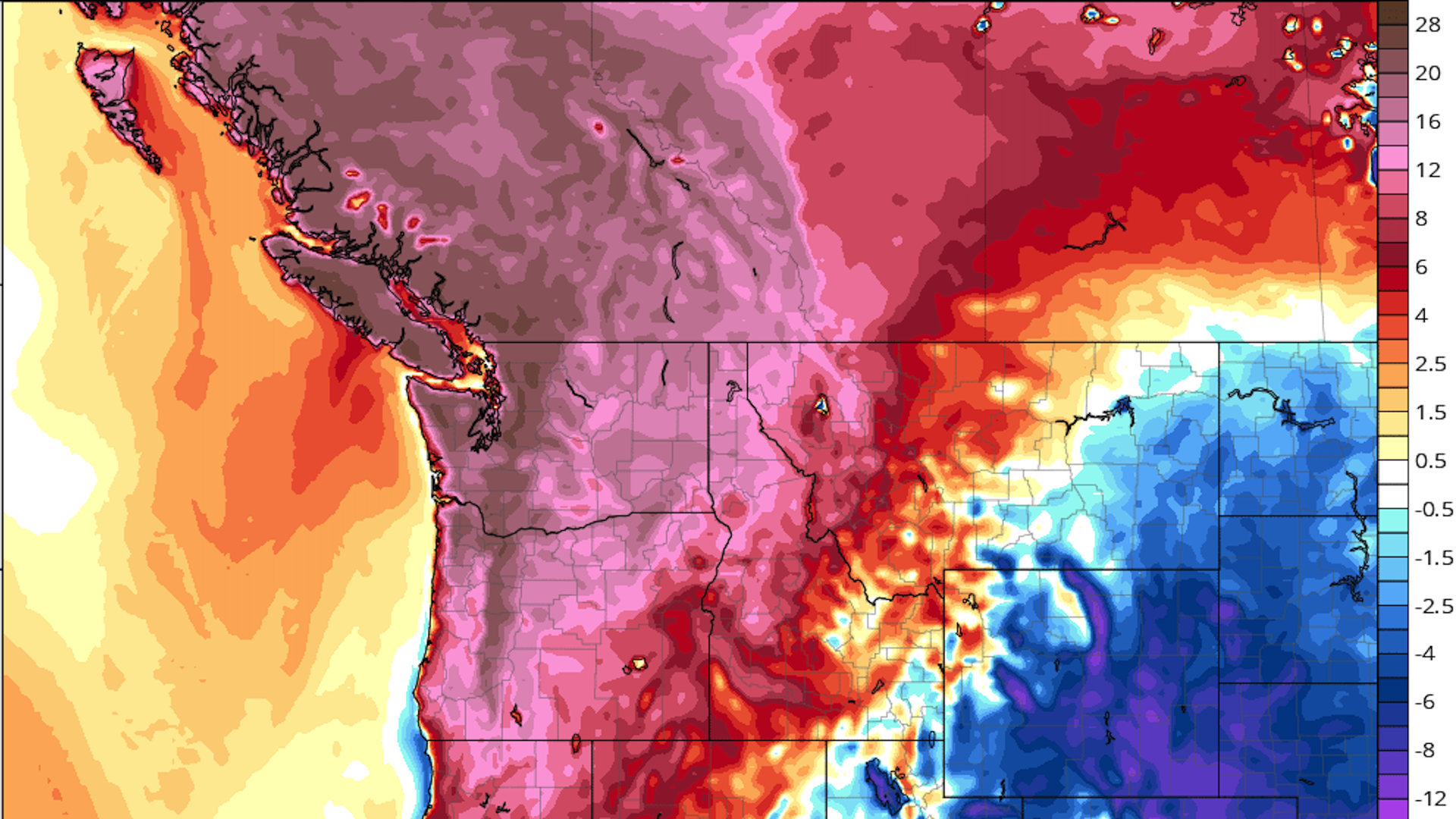 One of the worst heat waves on record to hit the Pacific Northwest and British Columbia is underway, with temperatures soaring into the triple digits Saturday before reaching unprecedented levels Sunday and Monday.
Why it matters: Extreme heat events are dangerous to public health, with heat ranking as the nation's top weather-related killer annually. In addition, extreme heat events such as this one are a clear manifestation of human-caused climate change.
This heat wave is a prolonged event with little overnight relief, and is affecting cities where relatively few people have air conditioning, such as Seattle.
Driving the news: A highly unusual weather pattern is in place over the Pacific Northwest, with a record-strong high-pressure area aloft — known as a "heat dome" — parked over the region and intensifying through Monday.
This heat dome is yielding temperature departures from average of between 25°F to 45°F across multiple states and British Columbia.
This heat, combined with a worsening drought, is raising the risk of wildfires across multiple Western states.
It will also cause power demand to spike at a time when hydropower resources are lower than usual due to drought conditions.
What's happening: Via Axios' Hadley Malcolm in Bend, Ore., who drove from Portland Saturday morning: There was a 20-25 minute wait to fill up at the Fred Meyer gas station on Beaverton Hillsdale Highway around 9:20 a.m. local time. Five lanes at least four cars deep — plus more waiting to turn into the station.
At least one car's trunk was full of coolers, on its way somewhere, anywhere, that promised a respite from the heat.
By 11 a.m., boaters, kayakers and jet skiers were out in full force on Detroit Lake, visible from the car as we drove on Highway 22. Multiple groups of boats were tied up together, with people floating in tubes or just flat mats.
During a brief stop in Sisters around noon, there was a steady line at the Sno Cap, where people were ordering bowls of ice cream as big as their hand.
As we came through downtown Bend, the Deschutes River was packed with people floating on inner tubes.
By the numbers: Virtually all of Oregon and Washington, plus portions of California, Idaho, Montana and Nevada, are under excessive heat watches and warnings.
Portland, Ore., set an all-time high temperature record of 108°F on Saturday, beating the previous record of 107°F. The city is forecast to reach 112°F on Sunday and Monday. (Typically, all-time heat records are only broken by a fraction of a degree.)
In Seattle, the temperature reached 101°F on Saturday afternoon, which set a record for the hottest June day, and was only the fourth 100-degree day in the city's history. Seattle has a forecast high of 104°F on Sunday with an overnight low close to 80°F. The city is expected to reach 109°F on Monday.
Seattle's all-time high temperature record is 103°F, and the majority of city residents lack air conditioning.
The heat will be most intense in inland areas of Washington and Oregon. There, temperatures are forecast to soar to between 100°F and 115°F through Tuesday.
Canada is also seeing extreme heat, with the country's June high temperature record tied Saturday. It's possible the country's all-time high temperature record of 113°F (45°C) will be equaled or eclipsed during this event.
How it works: One of the reasons the Pacific Northwest is so hot is tied to where the center of the heat dome is. The feature is parked to the north-northeast of the region for several days, drifting slowly eastward with time.
Due to the clockwise flow of air around the high, this will produce surges of air moving from high-to-lower elevation areas in Idaho, Oregon and Washington.
When air sinks, such as when it moves out of mountainous regions and into valleys, it compresses, increasing temperatures and getting drier in the process.
Context: Studies have shown that severe heat events such as this one are now on average about 3°F to 5°F hotter than they would without the many decades of emissions of greenhouse gases from fossil fuel burning, deforestation and other human activities.
However, this may understate climate change's influence, since warming may also be altering weather patterns in a way that makes strong heat domes more common and prolonged.
Some recent studies using techniques known as extreme event attribution have shown that certain extreme heat events could not have occurred without the added boost from human-caused warming.
What they're saying: National Weather Service (NWS) forecasters in Seattle said Friday they "have never seen Pacific Northwest data like this." A weather balloon launched Friday afternoon found the freezing level in the atmosphere was at 18,000 feet high.
Such observations have prompted the NWS and Environment Canada to warn of high levels of glacial melt runoff and snowmelt in higher elevations, including the slopes of Mount Rainier, Wash.
"In short, heat of this magnitude has very rarely (if ever) been felt throughout this region, especially this early into the summer season," the NWS' Weather Prediction Center wrote Saturday.
Editor's note: This article has been updated to include new heat records.
Go deeper