Rescuers pull 5th body from Florida condo rubble, 156 people missing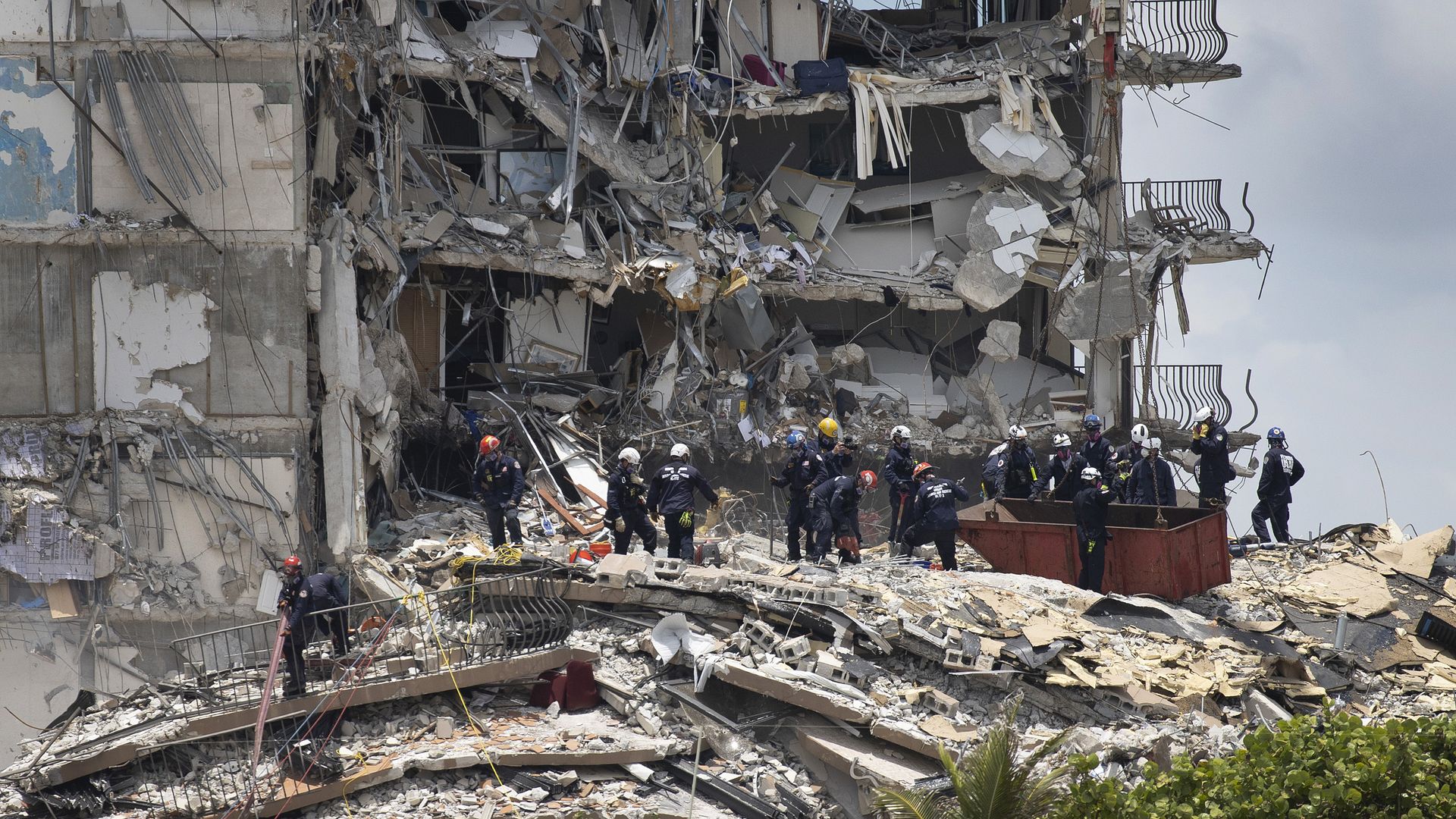 The death toll from the Surfside, Fla., building collapse has risen to five after rescue workers pulled another body from the rubble of the 12-story Champlain Towers South, Miami-Dade Mayor Daniella Levine Cava (D) said Saturday.
The latest: 156 people remained unaccounted for, Levine Cava said. Miami-Dade police on Saturday night identified four of the people who'd lost their lives in the tragedy at the 12-story Champlain Towers South as Stacie Dawn Fang, 54; Antonio Lozano, 83; Gladys Lozano, 79; and Manuel LaFont, 54.
Levine Cava said 130 people had been accounted for following the collapse, which happened about 1:30a.m. Thursday.
In addition to the five bodies pulled from the rubble, other human remains had been found, the mayor added.
The state of play: An engineering consultant at Morabito Consultants in 2018 cautioned building managers of "major structural damage" to the concrete condominium, according to a report released late Friday.
In a statement issued Saturday afternoon, Morabito Consultants said: "We completed our inspection and provided our report to the condominium association on Oct. 8, 2018, detailing our findings and recommendations."
"At that time, we also provided the condominium association with an estimate of the probable costs to make the extensive and necessary repairs. Among other things, our report detailed significant cracks and breaks in the concrete, which required repairs to ensure the safety of the residents and the public."
Miami-Dade Fire Rescue Chief Alan Cominsky said Saturday afternoon that shifting winds spread smoke had made it hard for first responders to breathe and to see, per the Miami Herald.
Driving the news: The report intended to encourage building managers to "provide a safe and functional infrastructure for the future." A "multimillion-dollar" repair plan was set to kick off soon in response to the engineer's concerns, per the New York Times.
Residents had also been complaining of water that was coming through their windows and balcony doors. Morabito noted that balcony concrete was deteriorating due to water infiltration, and because of this he said balcony slab edges needed to be "further investigated and repaired."
Levine Cava told reporters Saturday that she has ordered an audit of all buildings over 40 years old in the area, effective immediately, to be completed in the next 30 days.
Editor's note: This article has been updated with new details throughout.
Go deeper