Biden promises Ghani "sustained" partnership with Afghanistan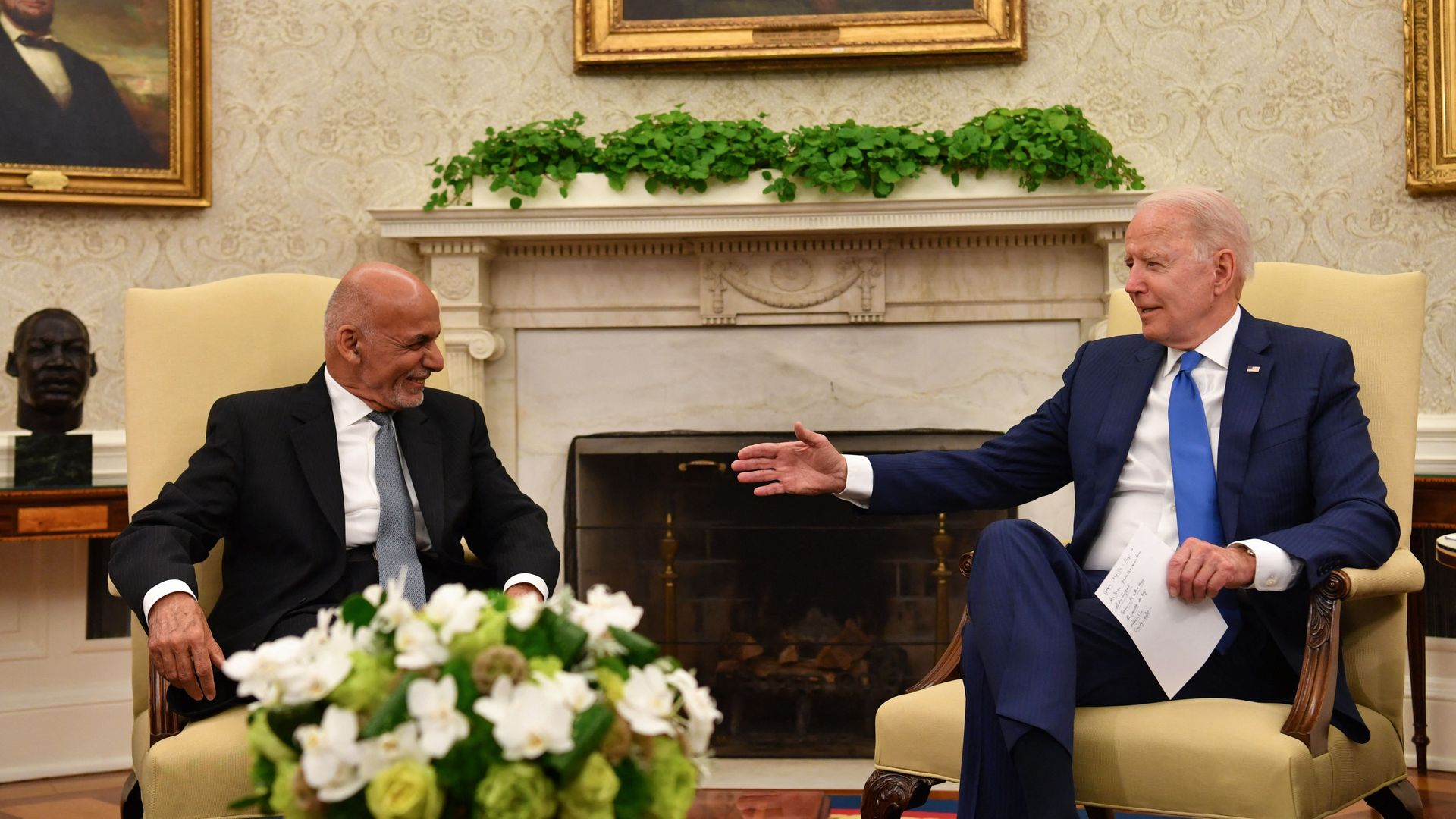 President Biden assured President Ashraf Ghani on Friday that the United States would maintain a "sustained" partnership with Afghanistan following the U.S. troop withdrawal.
The big picture: The oval office meeting comes as Afghanistan faces increasingly dire threats from a violent insurgency.
The U.S. withdrawal — which had a deadline of Sept. 11 — is expected to be completed over the next two weeks, according to the Associated Press.
About 650 U.S. troops are expected to remain in country to provide security for American diplomats, per AP.
The Biden administration announced this week that it plans to evacuate thousands of Afghans who worked with the U.S. military and could now be targeted by the Taliban.
What they're saying: "The partnership between Afghanistan and the United States is not ending. It's going to be sustained," Biden said, per a White House pool report.
"Our troops may be leaving but our support for Afghanistan is not ending in terms of support and maintenance of helping maintain their military as well as economic and political support," Biden added.
"President Biden's decision has been historic," Ghani said. "It has made everybody recalculate and reconsider. We are here to respect it and support it."
"We are entering into a new chapter of our relationship where the partnership of the United States will not be military but comprehensive regarding our mutual interest and we're very encouraged and satisfied that this partnership is taking place," Ghani added.
Of note: Defense Secretary Lloyd Austin and Abdullah Abdullah, Ghani's top political rival and also the government's representative for intra-Afghan peace talks, joined today's meeting. U.S. Agency for International Development Administrator Samantha Power and National Security Adviser Jake Sullivan also attended.
The administration has warned that the Taliban won't receive international aid or recognition if it attempts to take Kabul by force, and argued that the group should thus seek a power-sharing deal, Axios notes.
Go deeper: The future of U.S. counterterrorism in Afghanistan
Go deeper