Pelosi and Schumer agree to push Congress on climate crisis in WH meeting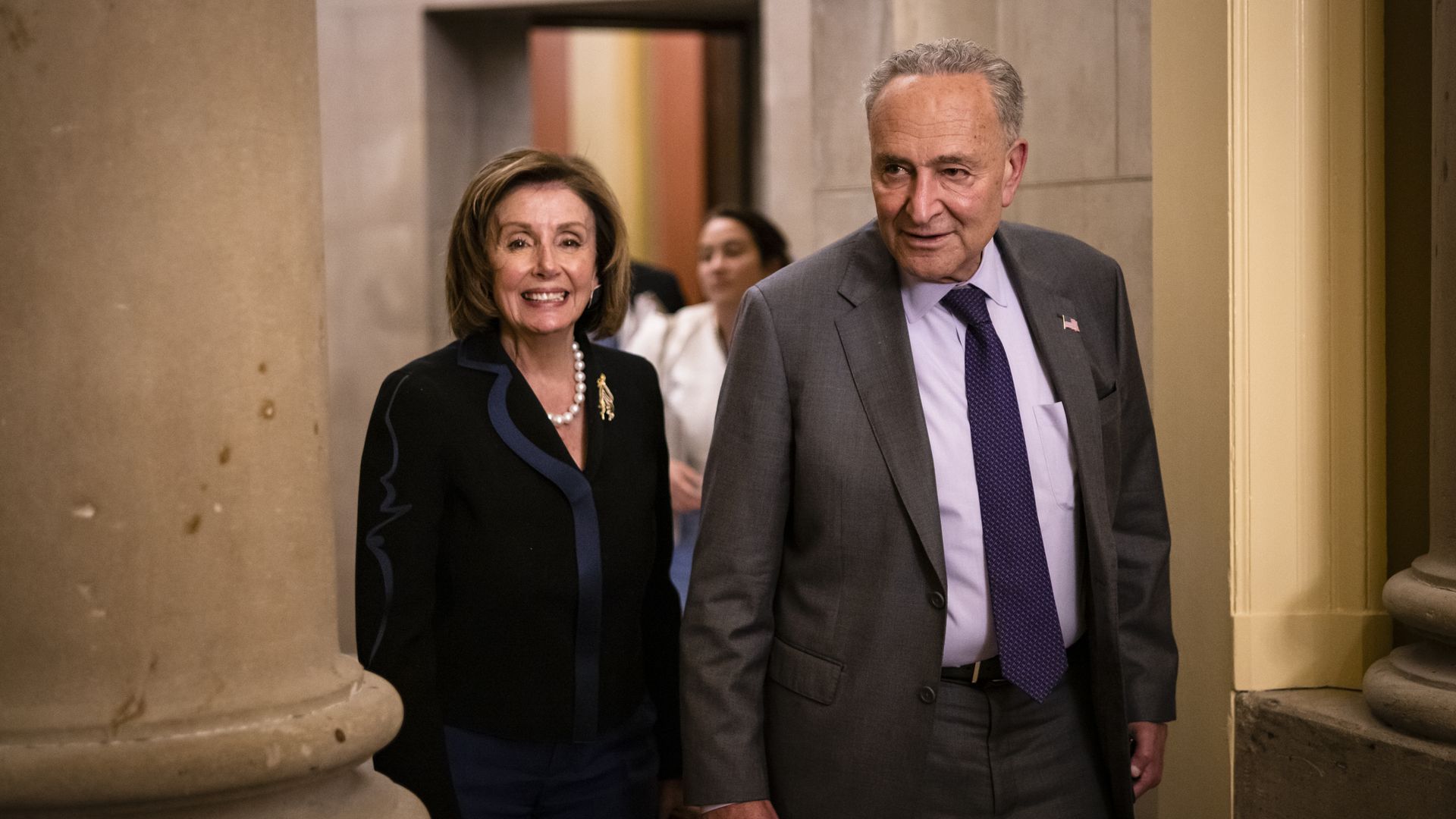 Congressional leaders Nancy Pelosi (D-Calif.) and Chuck Schumer (D-N.Y.) agreed at a meeting with White House officials Wednesday to address President Biden's goals on job creation and addressing the climate crisis.
Details: They agreed that "Congress must meet Biden's goal of "investing in creating a generation of good paying jobs, addressing the climate crisis, and ensuring American workers and businesses can compete globally, while not raising taxes on anyone who makes under $400,000," per a White House readout.
They "underscored the importance of extending the child tax credit, and investing in the care economy, including expanding child care, to help ensure that women can return to the workforce," according to the statement.
Why it matters: The House speaker and Senate majority leader's talks with Office of Management Budget acting director Shalanda Young, National Economic Council director Brian Deese and Domestic Policy Council director Susan Rice comes as progressives push for the Senate to act on a reconciliation bill.
As the White House and a bipartisan group of senators struck a tentative deal Wednesday for the framework of a roughly $1.2 trillion infrastructure package, left-leaning Democrats see the partisan reconciliation process as achieving their goals of bold climate and child care action, per Axios' Alayna Treene.
What they're saying: "The speaker has been clear, and we've been clear that there's not going to be the votes in the House from progressive caucus members for any kind of smaller infrastructure bill, without a separate reconciliation bill," said Rep. Pramila Jayapal (D-Wash.), who leads the Congressional Progressive Caucus earlier Wednesday, per Politico.
"I anticipate that will be a big part of the discussion."
Go deeper: House Republicans form Conservative Climate Caucus
Go deeper