Pacific Northwest soon to be ground zero for record-shattering heat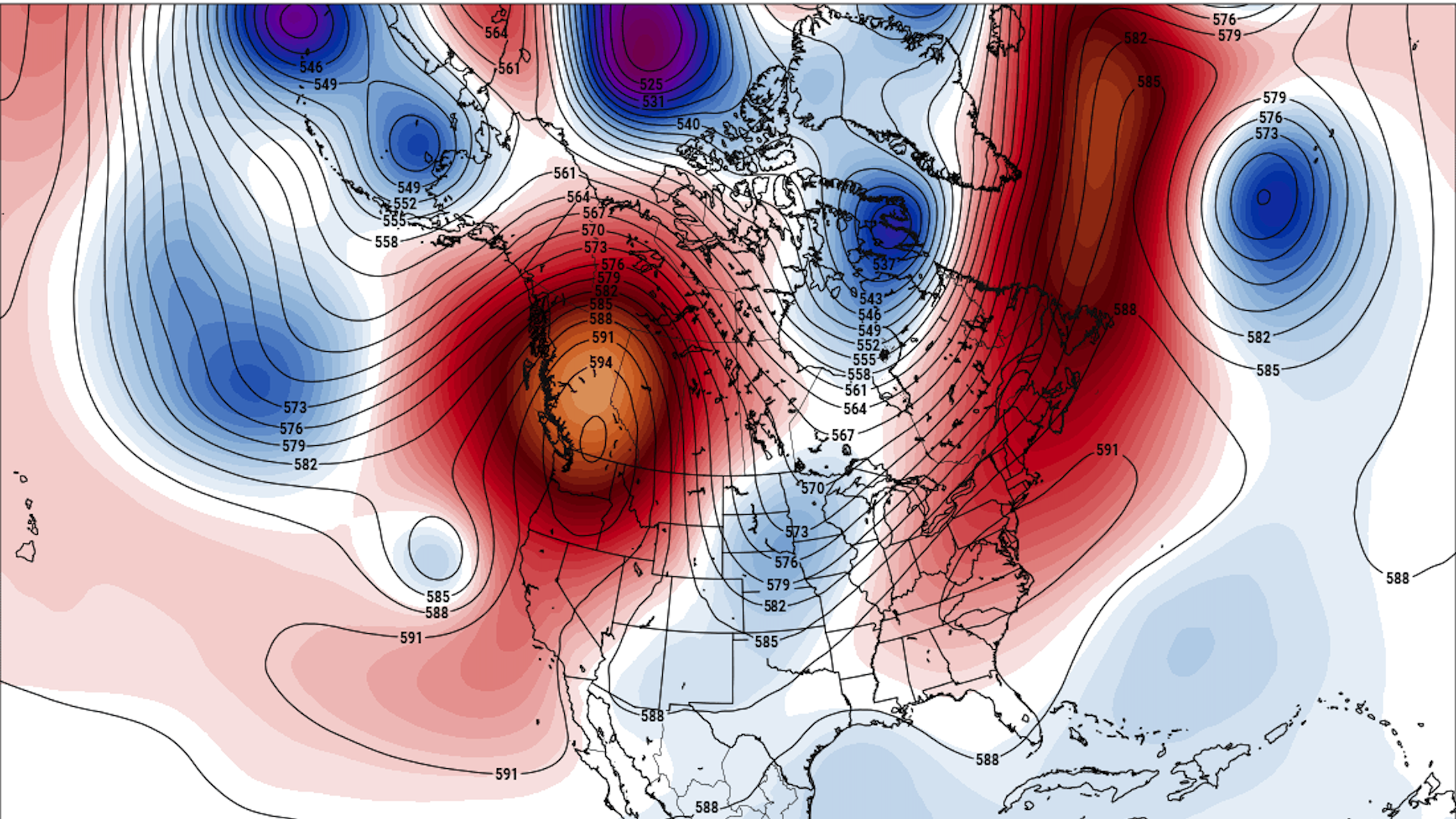 A heat wave is bringing unprecedented high temperatures to the Pacific Northwest — a region of the country typically cooled by the ocean, rather than central air conditioning. The heat will begin Friday and last into early next week.
Why it matters: The heat wave will shatter monthly and all-time temperature records in the Pacific Northwest. Some of the records could break the old milestones by several degrees.
Such warmth can lead to heat-related illness and even death, particularly when overnight temperatures don't provide much relief. Officials across the affected region are announcing plans to open cooling centers to provide relief to residents.
The big picture: Heat waves like this are one of the clearest manifestations of human-caused global warming, with studies showing that climate change boosts the odds of their occurrence and heightens their severity.
Some recent studies, in fact, have shown that certain extreme heat events could not have occurred without an added boost from human-caused warming.
Driving the news: A highly unusual weather pattern is moving into place over the Pacific Northwest, with a record-strong high-pressure area — colloquially known as a "heat dome" — parked over the region. Such a heat dome, if it reaches the intensity computer models are projecting, would break records for this far north at any time of year.
This indicates to meteorologists that this weather pattern is beyond simply highly unusual, and could lead to unprecedented outcomes.
The heat will raise the risk of wildfires across multiple Western states.
National Weather Service forecasters in Spokane, Wash., warned of the compound impacts of this event, stating: "Unprecedented heat will not only threaten the health of residents in the Inland Northwest but will make our region increasingly vulnerable to wildfires and intensify the impacts our ongoing drought."
By the numbers:
Three states may see their all-time high temperatures threatened: Washington, Oregon and Idaho.
In Seattle, where the average high temperature this time of year is in the low-to-mid 70s, the National Weather Service (NWS) predicts a high of 102°F on Sunday, which would break the record for the city's hottest temperature during the month of June.
Seattle's all-time high temperature record is 103°F, and the city has only seen three 100-degree days in its history.
A blend of computer model data shows that Sea-Tac airport has a 98% chance of exceeding 95°F on Sunday, and an 80% chance of doing the same on Monday. These odds are up compared to Wednesday, according to the NWS.
Portland, Oregon, is forecast to reach low triple-digits on Saturday through at least Monday. The city is likely to break its June heat record, its record for most 100-degree days in June, and surpass its all-time high of 107°F, perhaps by a few degrees.
The heat will be most intense in inland areas of Washington and Oregon. There, temperatures are forecast to soar to between 100°F and 114°F on Saturday and Tuesday, and remain extremely hot through much of next week.
Spokane, Washington, is also predicted to break its all-time high temperature record by a few degrees.
Between the lines: One of the reasons why the Pacific Northwest will get so hot is that the heat dome will be parked to the north-northeast of the region for several days. Due to the clockwise flow of air around the high, this will produce multiple surges of air moving from high-to-lower elevation areas in Idaho, Washington and Oregon.
As air sinks it gets compressed, increasing temperatures and getting drier — boosting temperatures further.
What we're watching: Any emerging trends in computer model data that keep the heat in place through all of next week.
The bottom line: This is no ordinary heat wave. It poses a serious risk to human health, will affect agricultural production, potentially lead to devastating wildfires, and will help redirect weather systems all across North America by forcing the jet stream aloft to take a significant detour.
Go deeper