Afghan president visits D.C. amid growing fears of Taliban takeover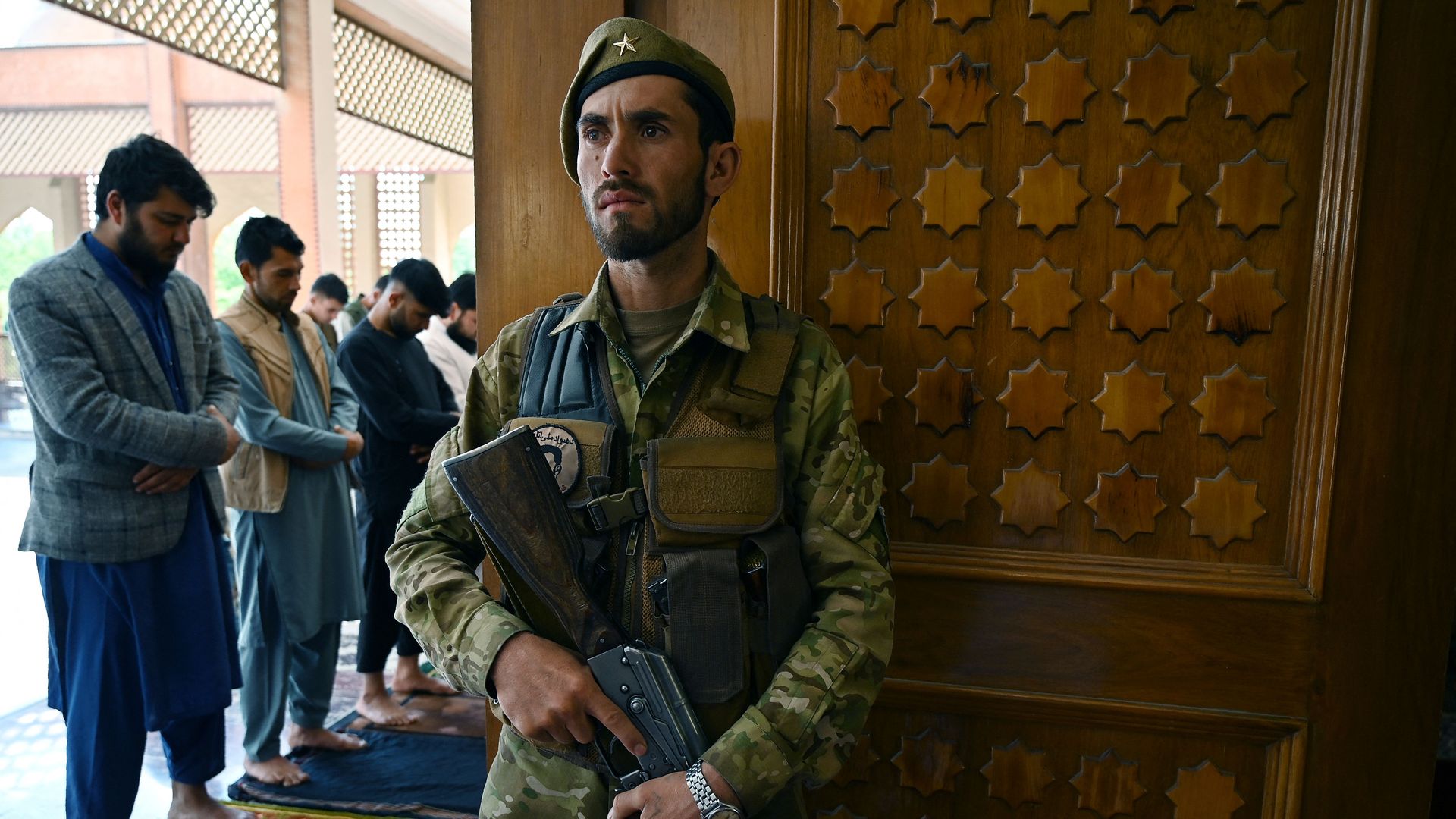 As Afghan President Ashraf Ghani was making his way to Washington to meet with President Biden, the Wall Street Journal revealed that the U.S. intelligence community believes his government may be toppled within six months of America's withdrawal.
Why it matters: As the Taliban gains territory and the U.S. pulls its remaining forces out, hopes of a potential peace deal in Afghanistan are giving way to fears of a rapid Taliban capture of Kabul.
Driving the news: Ghani will arrive at the White House Friday seeking assurances that the U.S. will keep up its diplomatic push for a peace deal and financial support for the beleaguered Afghan military, says Michael Kugelman of the Wilson Center.
The atmosphere leading up to his trip could hardly be more foreboding, with a stream of reports describing checkpoints, towns and U.S.-provided military equipment falling into Taliban hands.
"The combination of large amounts of territory seized, the capture of a border post with Tajikistan and all of these surrenders coming in — it's sort of like a perfect storm of successes for the Taliban" that has the makings of an "unprecedented assault," Kugelman says, though he notes that Afghan security forces have recaptured some ground.
"It's just a matter of how far the Taliban is willing to go and to what degree certain mitigating factors — like continued financial assistance to the Afghan military — prevent it from doing what many fear it'll be able to do in just a matter of months," he adds.
The big picture: When Biden announced that all U.S. forces would depart by Sept. 11, he never claimed to be leaving behind a stable Afghanistan. But now he has to contemplate a scenario akin to the fall of Saigon in 1975.
It emerged Thursday that the administration is planning to evacuate thousands of Afghans who worked with the U.S. military and could now be targeted by the Taliban, but no detailed plan has been released.
The administration has warned that the Taliban won't receive international aid or recognition if it attempts to take Kabul by force, and argued that the group should thus seek a power-sharing deal.
But the Taliban says it won't talk until all foreign troops are out, and offered little indication that international legitimacy is a primary concern. In the meantime, it's strengthening its position by the day.
What to watch: Ghani arrived in Washington along with Abdullah Abdullah, his top political rival and also the government's representative for intra-Afghan peace talks.
They will aim to convey a "unity of purpose to try to ease concerns in Washington that you've got a disunited, dysfunctional Afghan government," Kugelman says.
Even with the Taliban gains, though, the White House has remained committed to a full withdrawal by September.
Go deeper