Stealthy pro-Greitens PAC back for Senate bid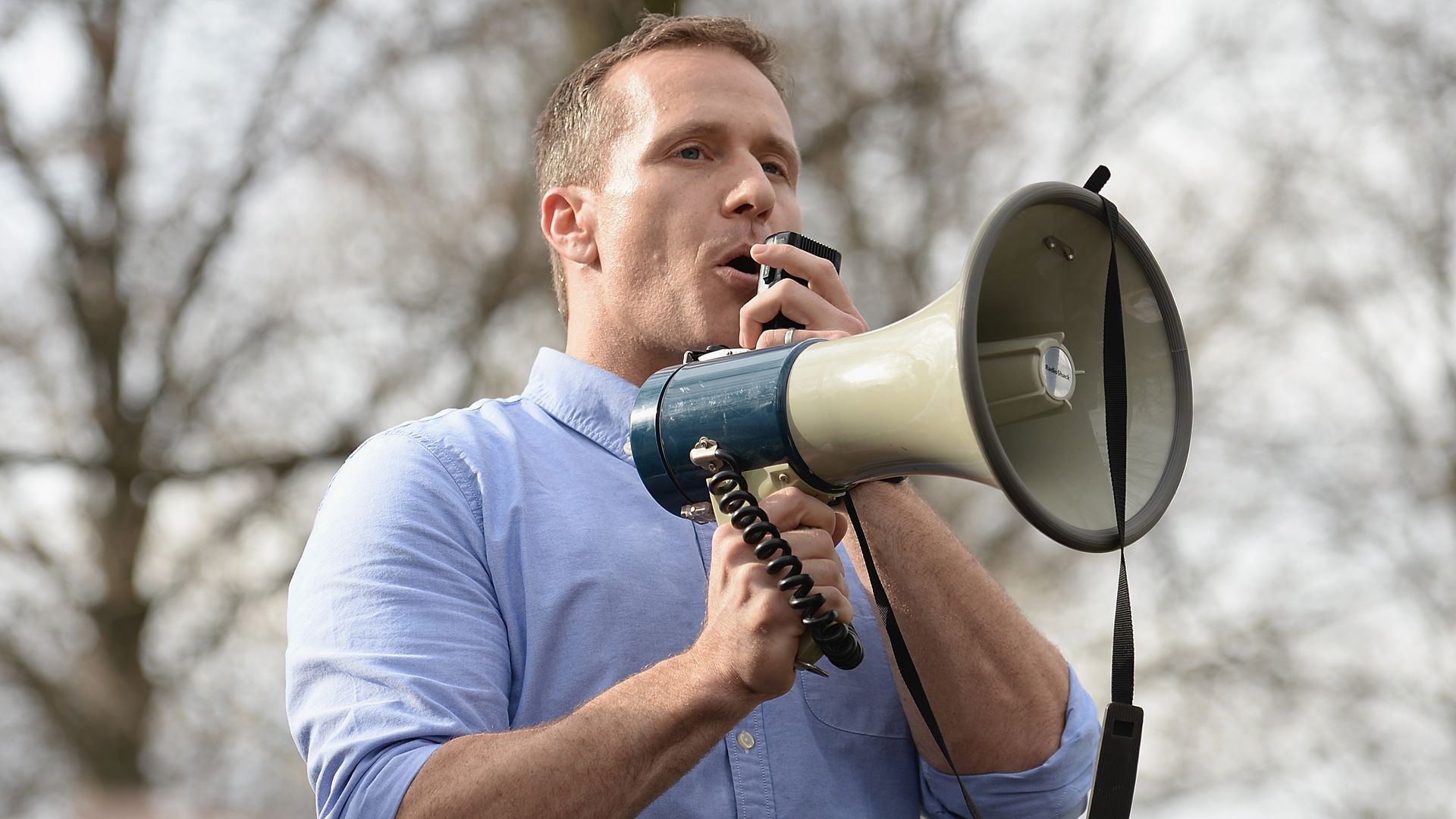 A super PAC that funneled millions in untraceable cash to Eric Greitens' 2016 Missouri gubernatorial campaign has resurfaced as he mounts a bid for U.S. Senate, records show.
Why it matters: "SEALs for Truth PAC" provides a means to funnel huge financial support to Greitens as he seeks the Republican nomination. And its revival has the potential to renew scrutiny of the dodgy tactics that helped elect him governor.
The group also contributed to the legal and ethical travails that forced his resignation.
What's new: In late May, two days after Greitens officially entered the Senate race, SEALs for Truth filed paperwork with the Federal Election Commission signaling it was kicking back into gear.
The super PAC had been largely inactive since Greitens' election in 2016. It tried four times last year to terminate its FEC registration but the commission rejected each effort.
A source familiar with the situation told Axios the termination was denied because of an ongoing FEC review of allegations it illegally hid the sources of $2 million in contributions to Greitens' gubernatorial campaign.
Background The $2 million that SEALs for Truth donated to Greitens' 2016 campaign came entirely from a nonprofit that, in turn, had links to Greitens' staffers and consultants.
The donation was the largest political contribution in Missouri history, and ethics groups have since alleged it was designed to hide the sources of funds for Greitens' campaign.
It followed discussions among the Greitens team — later unearthed by the Missouri Ethics Commission — about using nonprofit "dark money" groups to keep the identities of large campaign donors secret.
Missouri officials determined that Greitens' campaign had illegally used nonprofits to boost his gubernatorial campaign. Greitens himself was cleared of wrongdoing.
Citizens for Responsibility and Ethics in Washington, a left-leaning nonprofit, filed a complaint with the FEC alleging the SEALs for Truth scheme violated federal election laws. It later sued the FEC to compel an investigation. The case is ongoing.
Between the lines: SEALs for Truth hasn't reported any expenditures in the Missouri Senate race. And it hasn't reported any significant income since the $2 million donation it immediately funneled to Greitens in 2016.
Emails to and phone messages left with the contact information on file with the FEC were not returned.
A Greitens campaign spokesperson told Axios, "We have no knowledge of any updates involving this group or their plans, nor have we had any contact with this group."
Be smart: Unlike in 2016, when Greitens' campaign was bound by state instead of federal laws, SEALs for Truth won't be able to donate directly to his 2022 effort.
Federal law, unlike the Missouri statute, prohibits a super PAC from donating directly to candidates or coordinating with their campaigns.
SEALs for Truth can raise and spend unlimited sums on Greitens' behalf, though.
Go deeper