Bosnians' vaccine dilemma: Wait months or take help from a former foe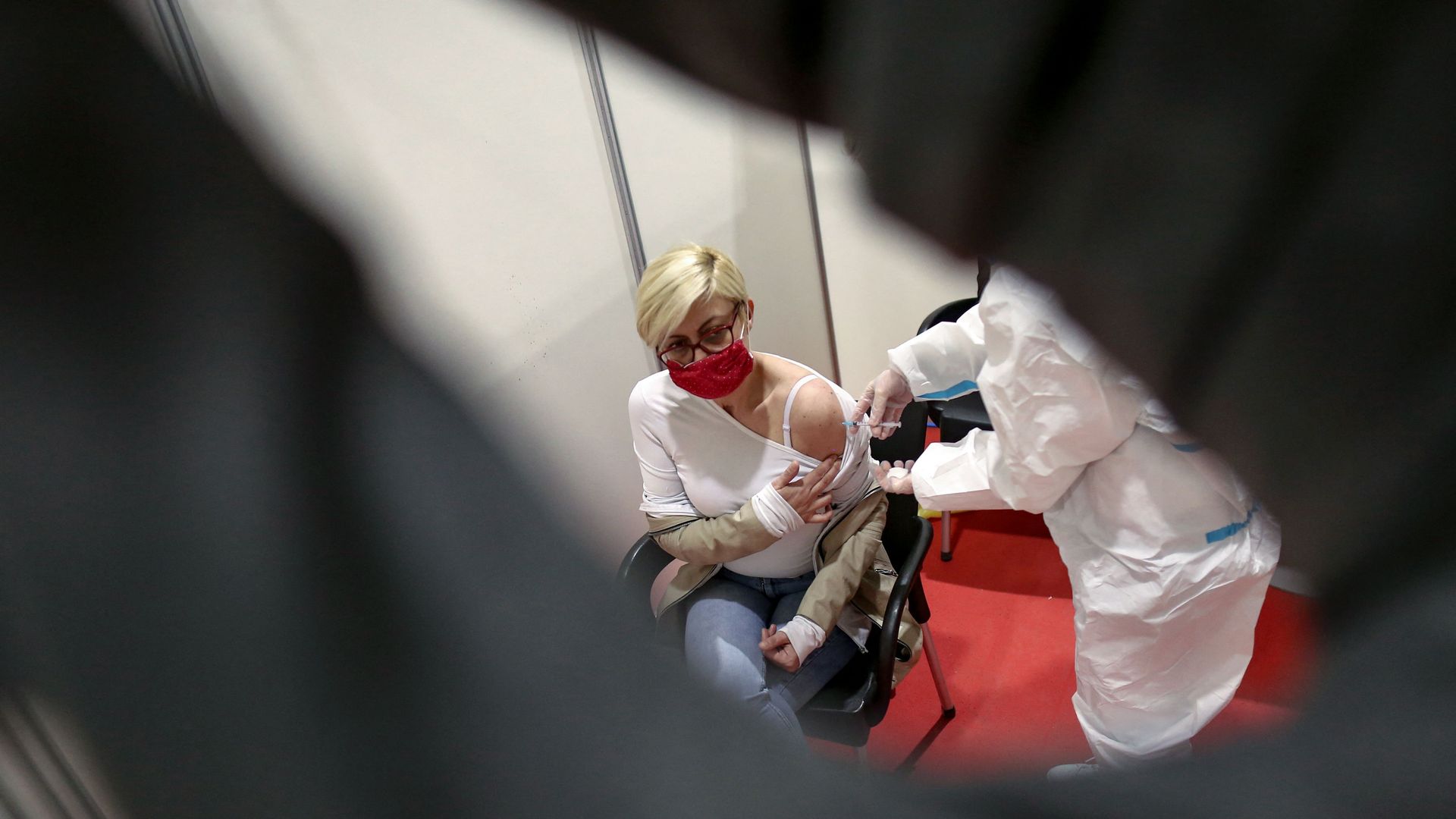 Residents of Bosnia and Herzegovina are desperate for vaccines, but a promise of help from Serbia has left them with a dilemma: receive a vaccine from a former enemy, or wait months to get one at home.
Driving the news: Serbian President Aleksandar Vucic's announced earlier this month that residents of Bosnia and Herzegovina would be able to receive free vaccinations in Serbia. Bosnia is otherwise relying on donations and the WHO-backed COVAX initiative. So far just 7.6% of the population has had even one dose.
It is estimated that more residents of Bosnia and Herzegovina have now been vaccinated in Serbia than in their own country, says Bosnian journalist Mladen Obrenovic, who has been covering the pandemic.
But some refuse to go. "I can assume that the reasons are related to the war," Obrenovic says.
The big picture: Around 100,000 people were killed during the Bosnian War (1992-1995). More than half those killed were Bosniaks, many of whom were victims of ethnic cleansing.
During the war, Belgrade backed a bid by Bosnian Serbs to form their own mini-state and unite with Serbia. Some Serbian leaders and commanders were later charged with war crimes.
What they're saying: Dzeneta Saric says she was ten years old when her father was "killed in captivity by Serbian soldiers."
"But I had no choice now but to get vaccinated in Serbia," she tells Axios. She says she would always "choose my country," and that meant getting vaccinated even if the only option was to do so in Serbia.
Saric traveled more than 5 hours by car from Sarajevo to Novi Pazar, Serbia for her Pfizer-BioNTech shot. She might otherwise have had to wait until next year, she says, a risky proposition since her work as a journalist requires frequent in-person interaction.
The other side: Imran Bezdrob, who at 23 is too young to have experienced the war, compared getting vaccinated in Serbia to switching teams in a football match.
"I see a lot of people are going to Serbia to receive the vaccine, for me it is not ok," he tells Axios. "I think it would be better to wait in my country and to have a shot in my country."
Bezdrob, who is a personal trainer, said he got coronavirus last year and would now wait his turn, though he complained that the rollout was too slow and the government hadn't done much to improve it.
Between the lines: Thanks in part to supplies from China and Russia, Serbia has been far ahead of even most EU countries for months, with 35.3% of the country now fully vaccinated.
Serbia has started donating vaccines to other neighboring nations, including Montenegro and North Macedonia.
What's next: The Bosnian government announced on Thursday that it is expecting more than 500,000 vaccines from the U.S. in July as part of the Biden administration's first wave of donations.
Go deeper