The robotaxi era will require a rethinking of vehicle safety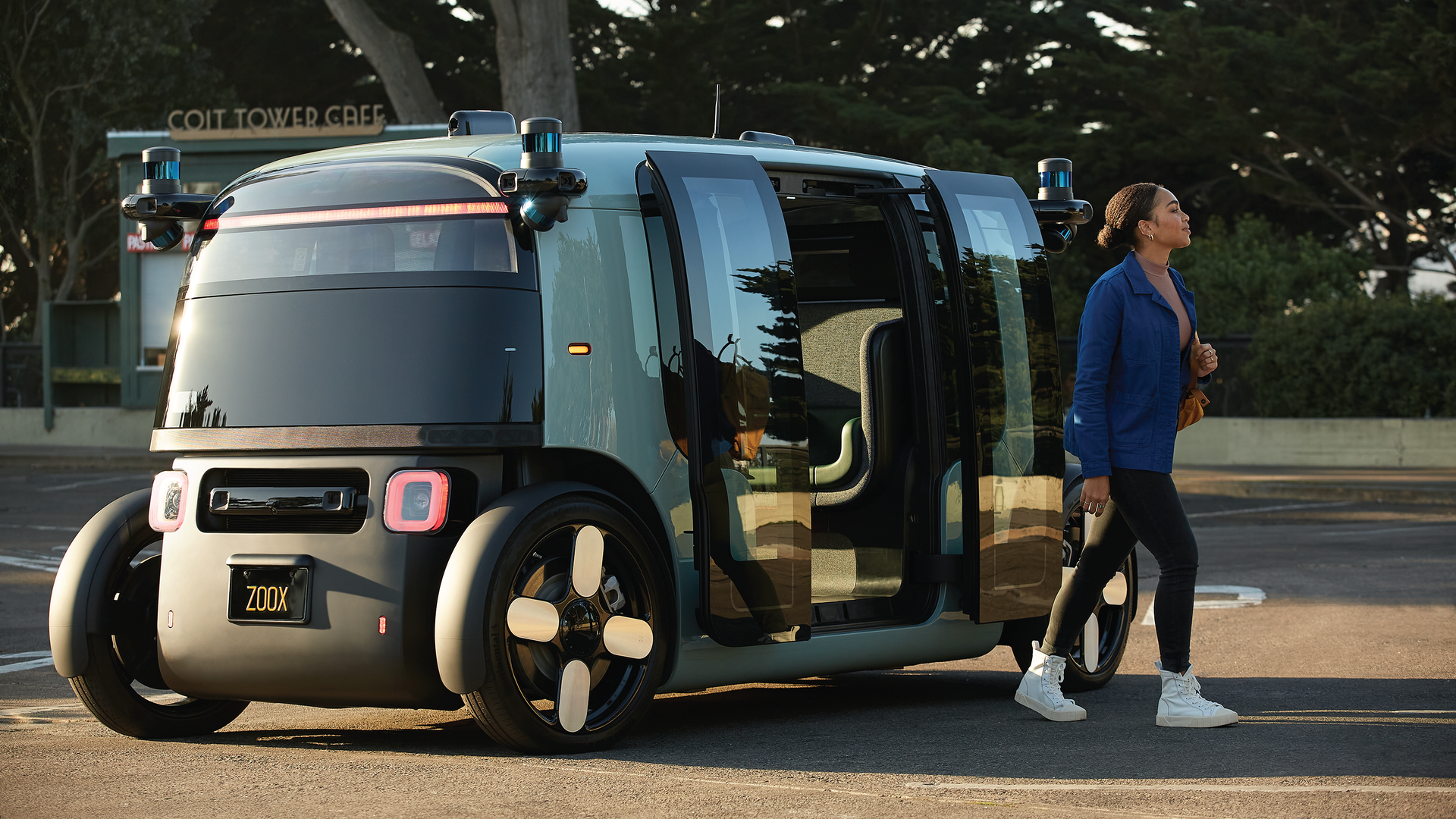 Vehicles are being reimagined as autonomous, electric, toaster-shaped robotaxis. Now their safety has to be reworked too.
The big picture: There's more to self-driving cars than just removing the steering wheel and pedals. The entire vehicle needs to be redesigned for riders, not drivers, so their safety can be assured even when they're not in control.
The federal government has issued guidance but no firm safety regulations to companies developing autonomous vehicles, and Congress has been trying to advance an AV bill since 2017, with no success.
For now, a patchwork of state regulations governs the testing and deployment of AVs, and it's up to the AV industry to prove the safety of its vehicles.
Driving the news: Zoox, the San Francisco-based robotaxi startup, is highlighting the safety innovations in its AV as part of a voluntary safety self-assessment submitted this week to the National Highway Traffic Safety Administration.
Details: The company says its purpose-built robotaxi, unveiled in December, has more than 100 safety innovations that don't exist in today's conventional cars. The big ones:
The four wheels are independent, so the speed, power and direction of each wheel are individually controlled.
That translates into more precise steering and shorter stopping distances, giving the vehicle more time to react.
And because the wheels steer independently, the vehicle can maneuver sideways into curbside spaces in a way ordinary cars cannot.
It's also bidirectional, meaning there's no front or rear and it never has to make a U-turn. Headlights can become tail lights, and vice versa.
There's no single point of failure. If something goes wrong, backup systems automatically kick in so the vehicle continues operating or is brought to a safe stop.
Besides redundant steering and driving controls, there are also two batteries and two motors, but the vehicle can still operate with one battery or one motor.
Riders are equally protected, whether facing forward or backward.
Zoox had to design a new array of airbags, including a new "horseshoe" curtain airbag that works in concert with front, rear and side airbags deploying from the ceiling or sides of the vehicle depending on the direction and severity of a crash.
The Zoox vehicle won't move if sensors and cameras detect passengers aren't properly wearing seatbelts.
Yes, but: The robotaxi era is still a ways off, and Zoox can't say when its vehicle will be deployed.
Waymo was first to operate a robotaxi service, in Arizona, but it's limited. And Cruise recently got permission to carry passengers in California but not as a commercial service.
"What people really want to know is, 'When do I leave my building, take out my app, and call a Zoox to go to the store?'" said former NHTSA administrator Mark Rosekind, now chief safety innovation officer at Zoox.
"That kind of everywhere is 20 to 30 years away."
Go deeper