Team Trump's Facebook ads circumvent ban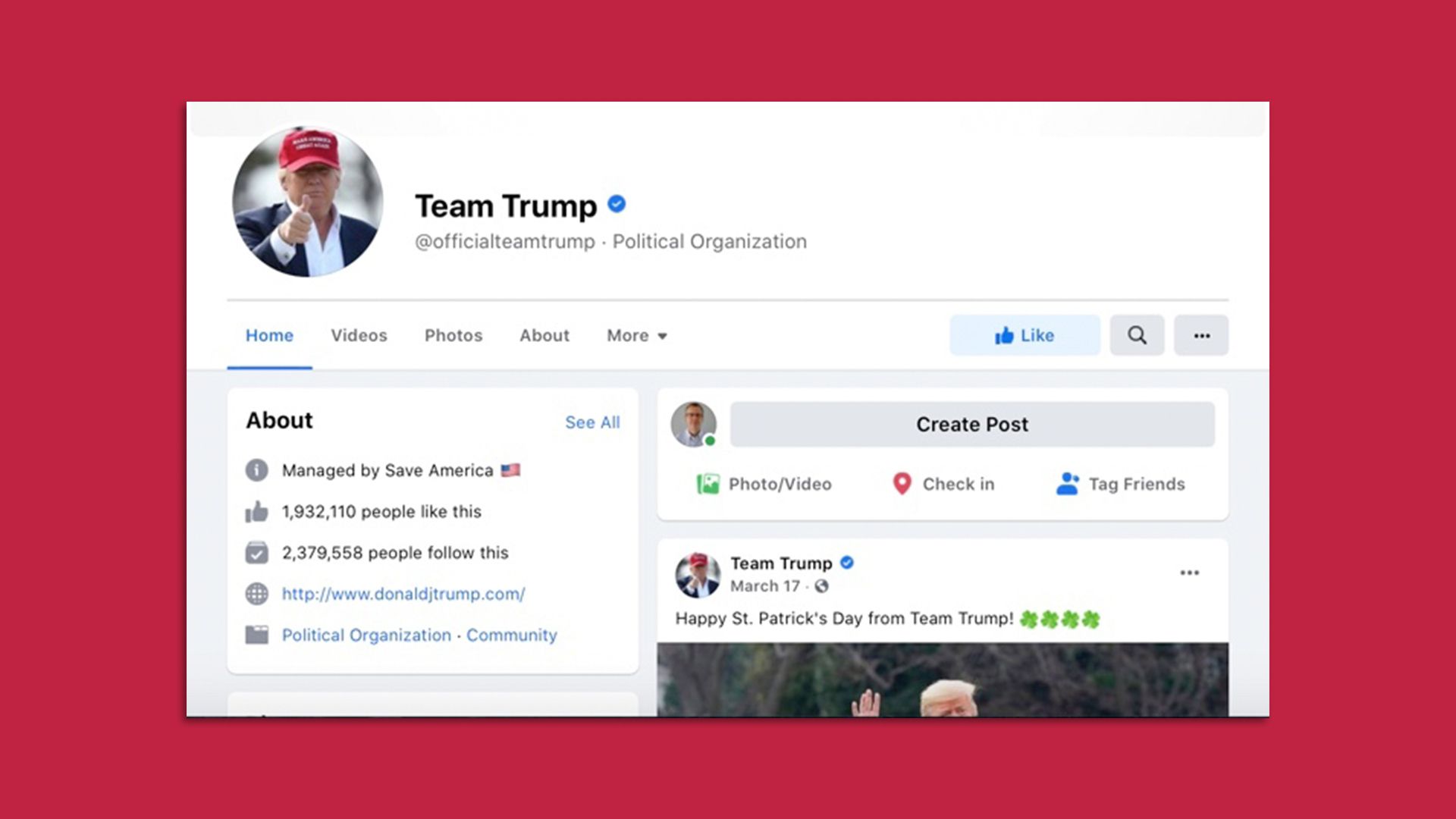 Former President Trump may be banned from Facebook, but his political operation continues using it to raise money, records show.
Why it matters: A new round of ads purchased by a political group associated with him shows how the former president can continue tapping the world's largest social network even as Trump himself is barred from the platform.
The ads were first reported in the progressive digital firm ACRONYM's newsletter.
What's happening: The sum Team Trump is spending on its new Facebook ad campaign is minor: just over $3,500 since Friday, according to the site's political ad archive.
The ads notably avoid any messaging in Trump's voice, instead asking for donations "to stand with President Trump" and "stop Kamala (Harris) and Joe Biden."
The ads ran on the page "Team Trump" and directed supporters to an online donation page benefiting a Trump-controlled fundraising group, Save America JFC.
The big picture: Trump himself is banned from Facebook until early 2023 following his routine promotion of false conspiracy theories alleging the 2020 election was stolen.
"President Trump is suspended from Facebook, so he can't post at all. Groups affiliated with the former president are not barred from posting on Facebook, so long as they are not posting in his voice," Facebook spokesperson Andy Stone told Axios.
He noted that some Team Trump ads were rejected for linking to the former president's website, DonaldJTrump.com.
What they're saying: "I think it's a clear gap/loophole in the policy," said Katie Harbath, a fellow at the Bipartisan Policy Center and Facebook's former public policy director.
"I think it shows we need more detail from FB and Twitter about what it means when you de-platform a politician and which of their connected entities also get banned because of their connection," Harbath wrote to Axios.
Between the lines: Team Trump's Facebook ad buy comes as the former president kickstarts other parts of his formidable political operation.
Trump is once again hitting up supporters via email asking for donations.
He's also back on the rally circuit, his signature form of political campaigning.
Go deeper