Another billionaire space battle is brewing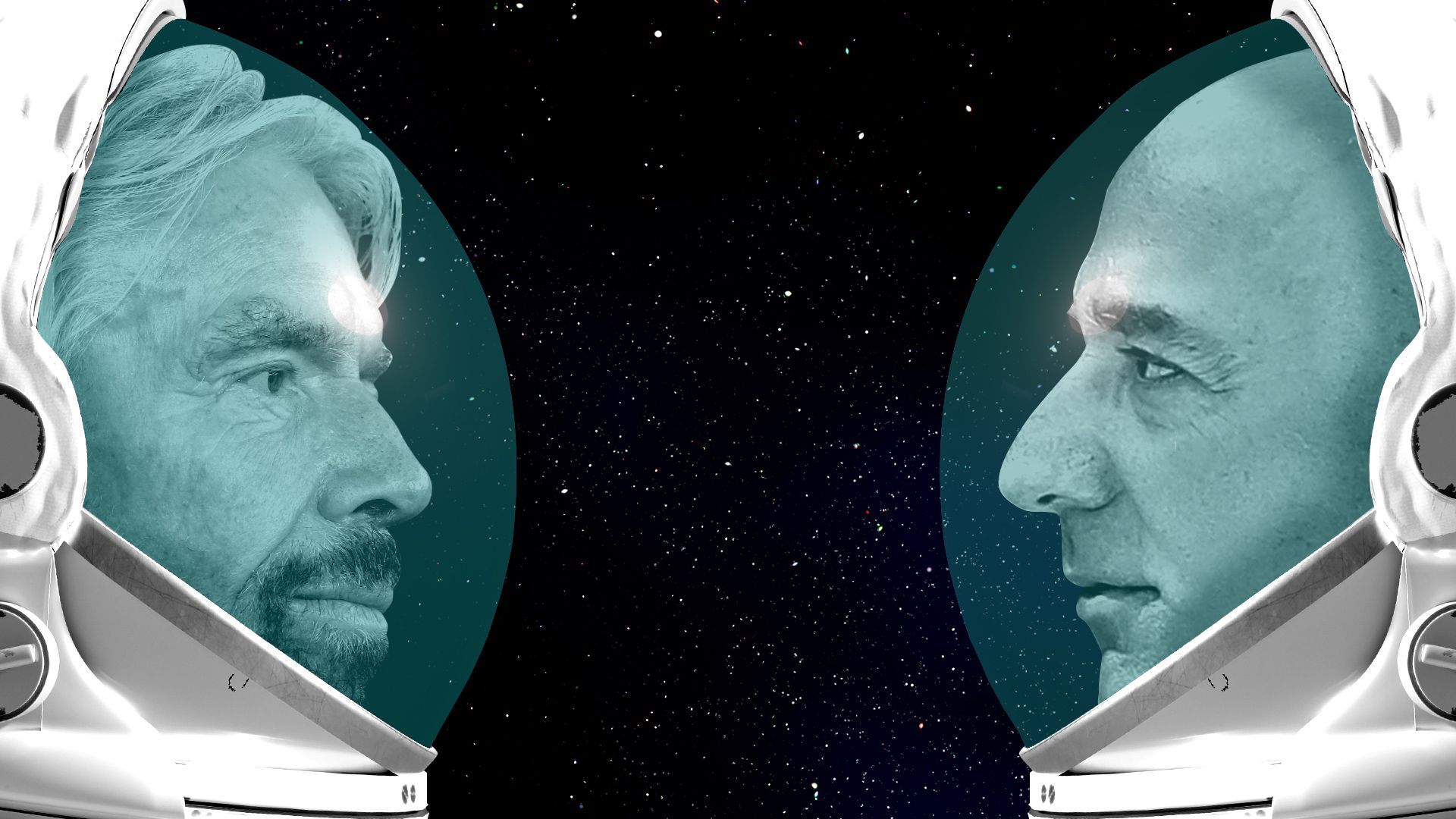 The race between billionaires Jeff Bezos and Richard Branson to make suborbital space tourism a viable business is heating up.
Why it matters: The disagreements between Bezos and Elon Musk capture the limelight, but the competition between Bezos' Blue Origin and Branson's Virgin Galactic could soon make space a destination for ordinary citizens.
Driving the news: Bezos announced earlier this month that he's planning to fly with his brother and two other passengers on the first crewed mission for Blue Origin's New Shepard space system on July 20.
If that happens, they will have leapfrogged Virgin Galactic, a company that many expected to fly its founder first.
Branson has long been expected to fly on one of the first operational flights for his company, and the blog Parabolic Arc recently reported he's going to try to beat Bezos to the edge of space.
"I think part of how they're shaping the competition is by putting themselves on the line as part of the face of the competition," Victoria Samson of the Secure World Foundation told me.
What's happening: The two companies go about getting people to suborbital space differently.
Blue Origin uses a rocket to launch a capsule carrying its passengers up to about 62 miles above the Earth. From there, the crew will experience minutes of weightlessness as they start their descent. The capsule's parachutes will deploy, allowing for a soft landing.
Virgin Galactic uses a carrier aircraft to fly its space plane high above Earth. The plane drops from the carrier and its rocket engine kicks on, sending passengers on a flight to the edge of space before gliding back to the planet.
Neither of these systems are fast enough to go orbital, so unlike SpaceX's Dragon capsule and Falcon 9 rocket, which brings astronauts to the space station, suborbital flights only last a matter of minutes.
The intrigue: It's not yet clear how many members of the public will be interested in these rides to the edge of space or whether the market for suborbital space travel will be sustainable in the long term.
"We're really at the early stages in terms of expanding how we're using space ... There's a possibility that there's room for both [Virgin Galactic and Blue Origin]," Samson said, adding the market may not be clear for another five to 10 years.
What's next: Virgin Galactic — a publicly traded company — is squarely focused on suborbital tourism, but Blue Origin is looking to diversify its business and start sending payloads into orbit with its own heavy lift rocket that's in development.
What to watch: The billionaire competitions can affect the way the public understands and interacts with space in the future, for better or for worse.
Some are already voicing concerns that, if suborbital tourism does take off, it will interfere with the everyday lives of regular Americans because of the restricted airspace these flights require.
But the competitions between these billionaires also keeps space in the public conversation, and that could get more people interested in flying.
"In general, every mission that goes up, every rocket that's launched, every bit of progress we make does drive down costs, makes space more affordable [and] accessible to everybody," Jared Isaacman, the commander of the all-civilian Inspiration 4 mission to orbit with SpaceX, told me.
Go deeper