Sanders: bipartisan infrastructure plan "mostly good," questions funding model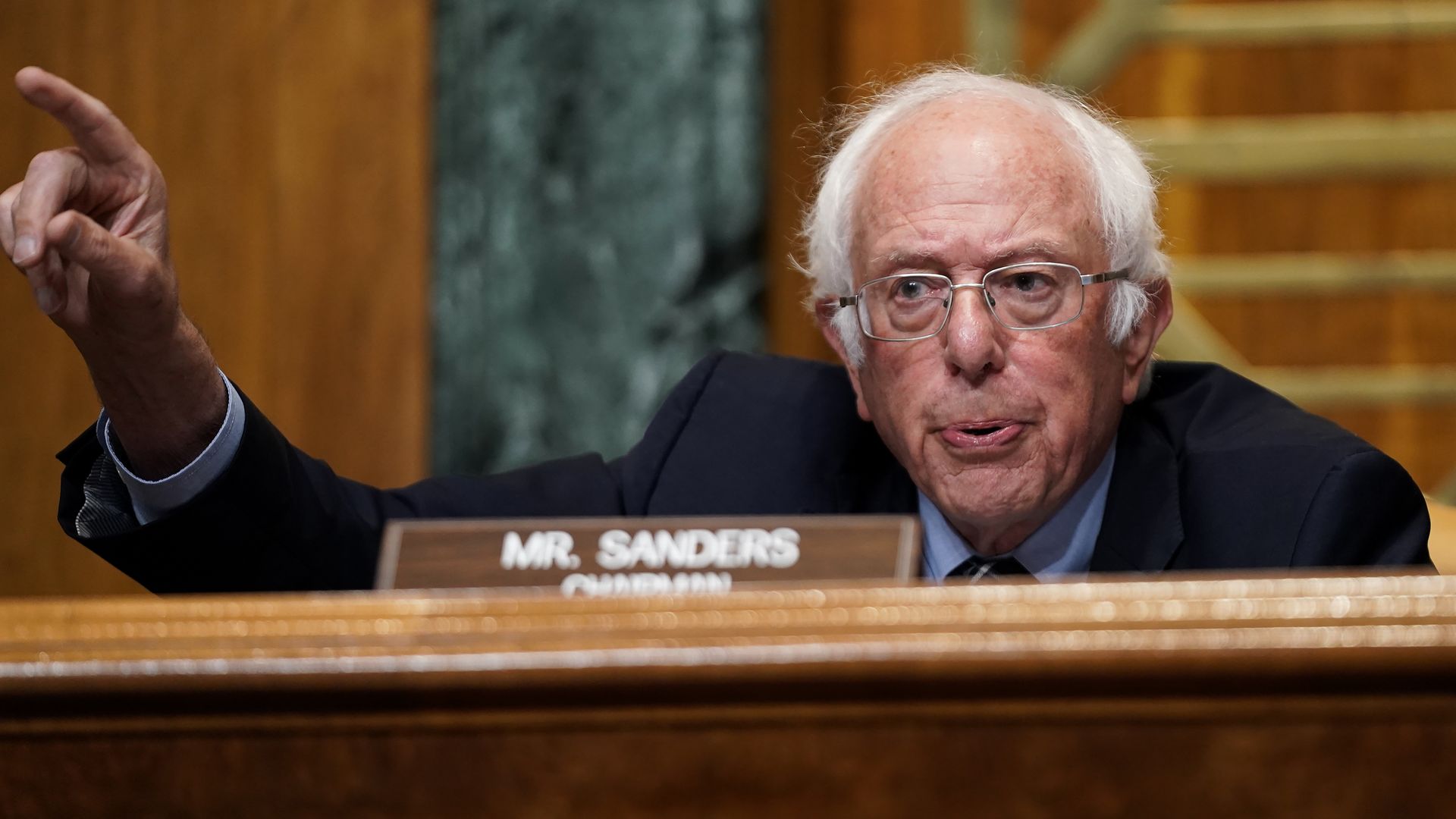 Sen. Bernie Sanders (I-Vt.) told Sunday's "Meet the Press" that the content of the bipartisan infrastructure deal is "mostly good" but expressed concern about how the deal would be funded.
Why it matters: Sanders threw cold water on some of the funding avenues proposed by Sen. Susan Collins (R-Maine) last week, which included a tax on electric vehicles and repurposing leftover COVID-19 funding.
The big picture: The proposed infrastructure deal comes from a splinter group of the so-called G20 bloc of bipartisan senators focuses on "hard" infrastructure and doesn't touch on the more ambitious parts of Biden's package — the provisions outlined in the American Families Plan.
Sanders, chairman of the Senate Budget Committee, has said a separate reconciliation bill should include both Biden's American Jobs Plan and American Families Plan.
What they're saying: "What is in the bipartisan bill in terms of spending is, from what I can see, mostly good. It is roads and bridges, and we need to do that. That is what we are proposing in our legislation, but in much greater numbers," said Sanders.
"One of the concerns that I do have about the bipartisan bill is how they are going to pay for their proposals, and they're not clear yet," he added.
"I don't know that they even know yet, but some of the speculation is raising a gas tax, which I don't support, a fee on electric vehicles, privatization of infrastructure. Those are proposals that I would not support."
The other side: Sen. Rob Portman (R-Ohio) also made an appearance on Sunday's "Meet the Press" to discuss the infrastructure deal.
Portman reiterated that 21 Senators were still on board despite disagreements over how to pay for it, and criticized the Democratic plan as a ""$6 trillion grab bag of progressive priorities," per NBC News.
Portman said the bipartisan plan is about "core infrastructure" and that it would be paid for without raising taxes through "creative" initiatives.
He added that indexing the gas tax to inflation and instituting a user fee for electric vehicles were "appropriate" initiatives.
If they are not included in the final package the Biden administration would need to propose alternative funding models without raising taxes, Portman said.
"What we don't want to do is hurt the economy right now, as we are coming out of the pandemic, by raising taxes on working families," he said, arguing that the Democratic plan would so.
Go deeper