Juneteenth forces U.S. to confront lasting impact of slavery economy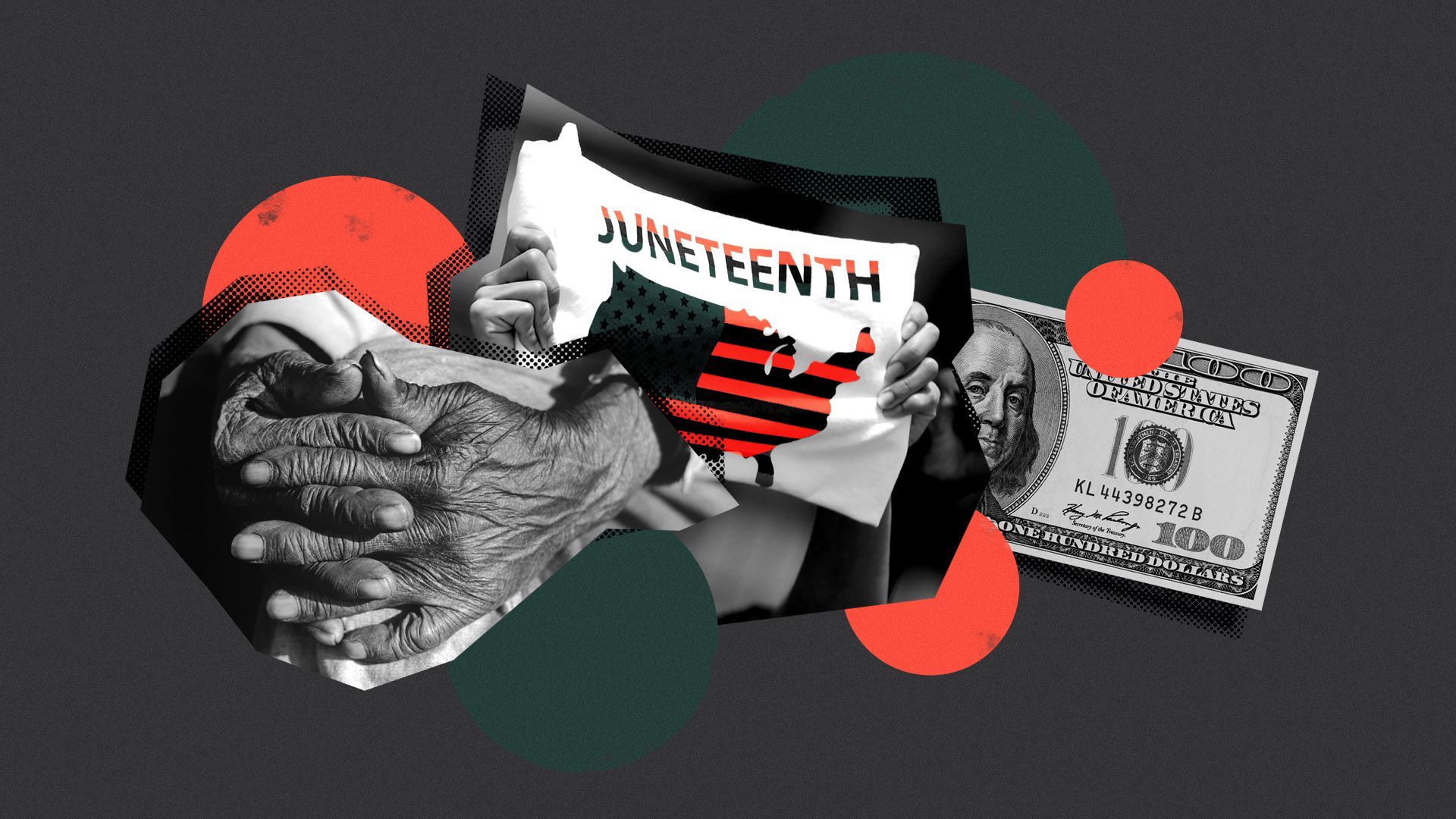 Juneteenth, a once-obscure commemoration of emancipation of enslaved people in Texas, has transformed into an annual reminder about how slavery robbed Black Americans of generational wealth.
Why it matters: That lack of generational wealth still denies Black families the economic security that many white families take for granted.
By the numbers: Around $50 trillion of economic resources and labor has not been paid to Black people since slavery, Rochester told Axios. Advocates say this legacy of slavery must be addressed to tackle systemic racism.
By the end of 2020, the homeownership rate for Black families stood around 44%, compared with 75% for white families, U.S. Census numbers showed.
A Washington Post analysis found that a typical middle-class black household had $13,024 in wealth, compared to $149,703 for the median white household in 2016 — a larger percentage gap than in 1968.
Black households had $8,762 in cash or equivalent liquid assets, compared with $49,529 for white households in 2016, an Economic Policy Institute analysis of government data found.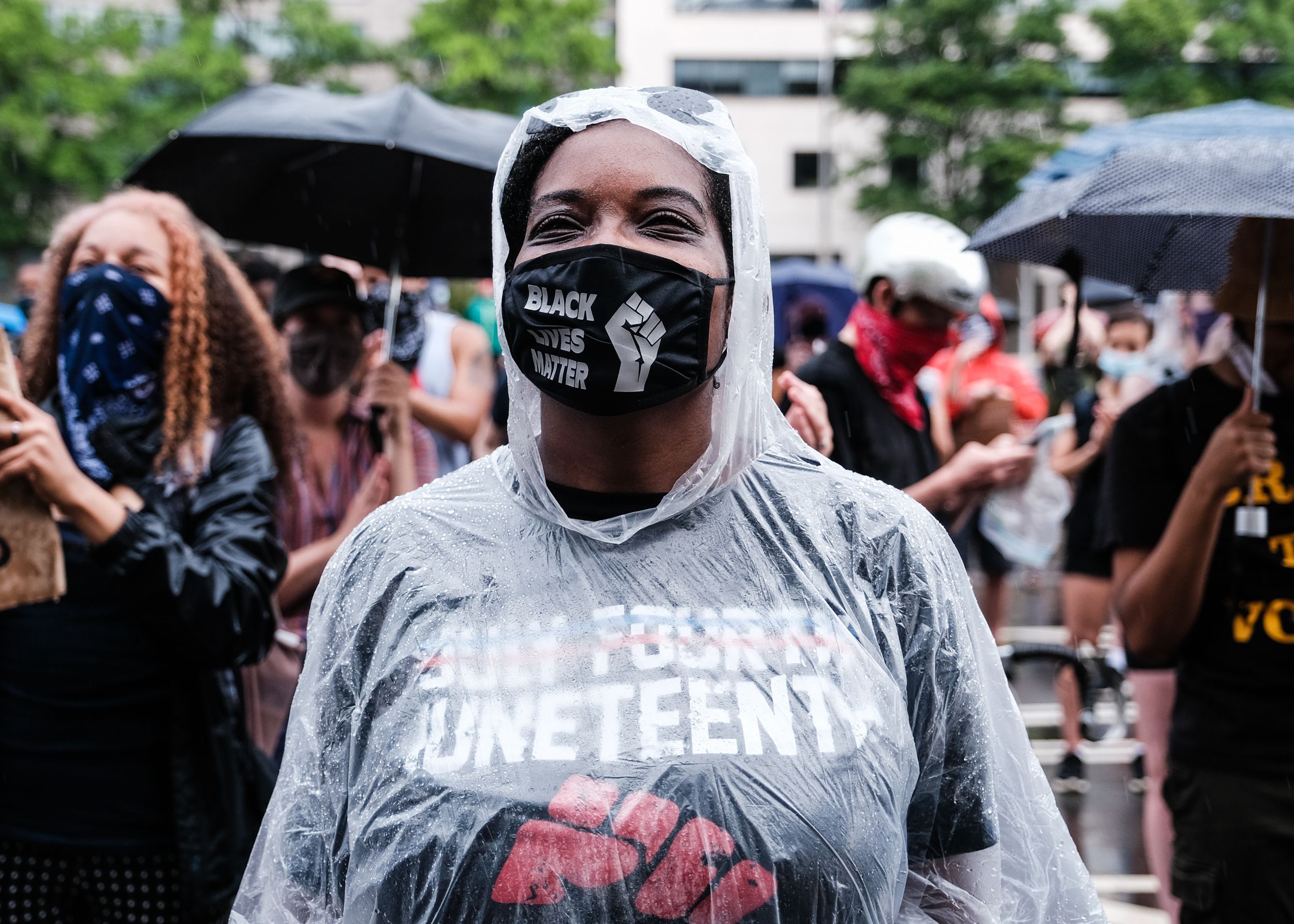 Context: In the 1800s, the U.S. became an economic power because of the use of enslaved labor in the growing cotton industry.
Enslaved Black people built the Capitol building, the White House, roads and infrastructure, and various universities across the country with little to no compensation.
The selling of enslaved people also financed universities like Georgetown.
By 1860, the value of the enslaved people was "roughly three times greater than the total amount invested in banks," and it was "equal to about seven times the total value of all currency in circulation in the country," Steven Deyle wrote in Carry Me Back: The Domestic Slave Trade in American Life.
Right before emancipation, Black Americans — free and enslaved — owned only one-half of 1% of the national wealth.
In the decades after slavery, Black Americans were often banned from buying property, limited in pursuing legal claims, prevented from voting, and banished to segregated schools.
Successful Black businesses thrived in enclaves like Tulsa, Okla., and East St. Louis, Ill., only to be destroyed by white mobs. Those business owners that had insured their enterprises were unable to collect on their premiums.
Driving the news: The death of George Floyd last year forced a national reckoning on social justice, and this year more Juneteenth events are coinciding with forums on how the nation financially benefited from enslaved Black lives, and how the labor of all people of color came to valued less than their white counterparts.
The Movement for Black Lives is using Juneteenth celebrations to discuss reparations as a means to build wealth and address racial disparities in education, housing, and business ownership.
Georgetown Law School's Institute of International Economic Law and the Black Economic Alliance hosted members of Congress this week at a Juneteenth forum on including Black Americans in the digital economy.
And the McKinsey Global Institute and the McKinsey Institute for Black Economic Mobility this week released a report that detailed Black economic participation in the U.S. economy and disparities that remain after generations of exclusion.
The intrigue: A focus on the economic effects of slavery and segregation comes as Republican-controlled legislatures are passing bills that prohibit schools from studying systemic racism as part of the U.S. legal framework, an area known as critical race theory.
Don't forget: For years, Juneteenth has been celebrated in Houston and Galveston, Texas, to commemorate General Order No. 3, issued by U.S. Major General Gordon Granger a month after the formal end of the Civil War.
Galveston one of the last places in the U.S. where enslaved people learned of their emancipation.
Go deeper