Red Cross asks for blood donations amid "severe" national shortage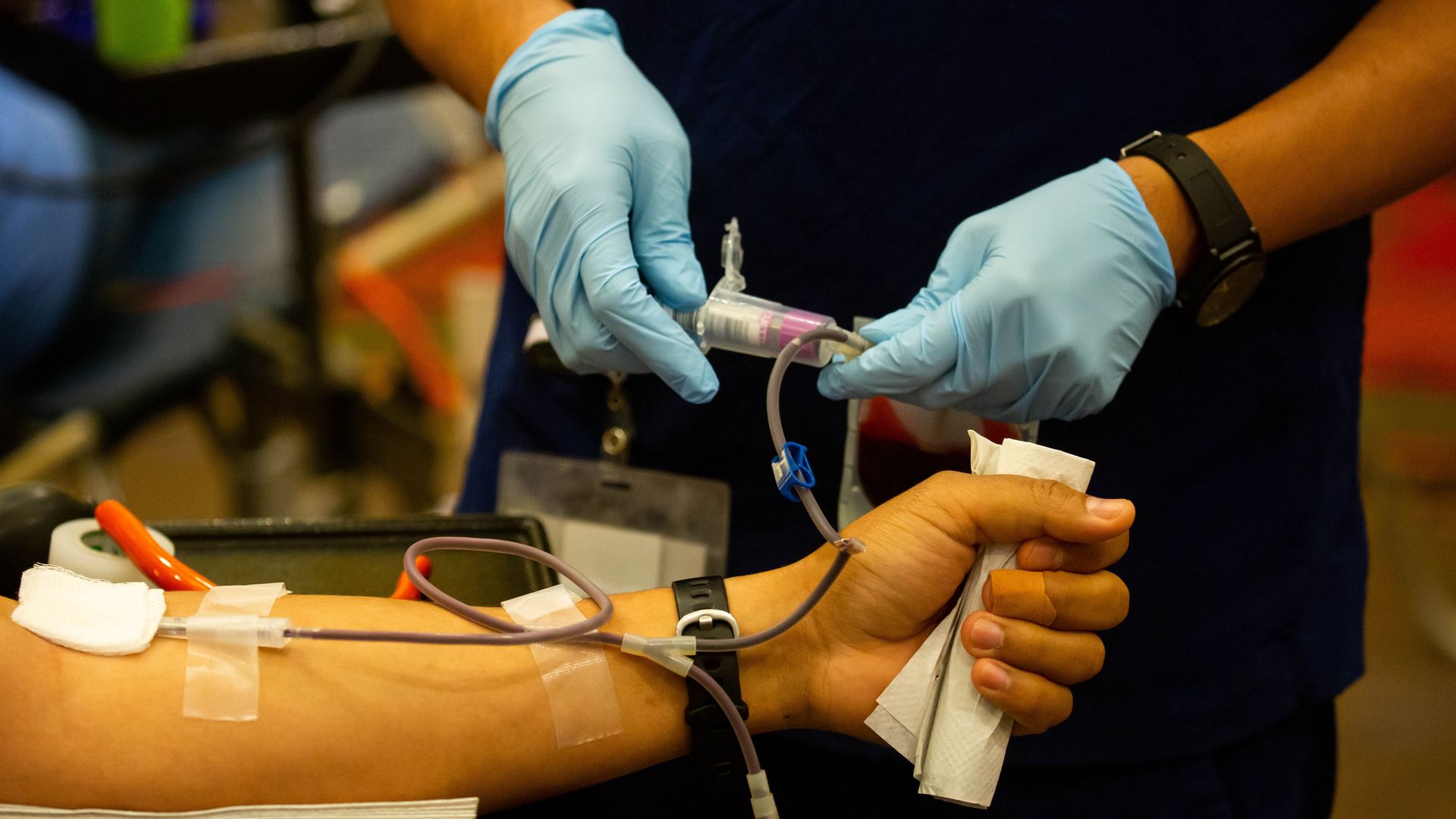 The American Red Cross asked the public this week to help replenish the United States' depleted blood inventory amid a "severe" national shortage.
Why it matters: The non-profit said the shortage is likely driven by a recent surge in trauma cases and emergency room visits, as well as advanced disease progression from patients deferring care throughout the coronavirus pandemic.
Because coronavirus vaccinations have steadily increased in the U.S. and new cases have dropped to their lowest level since the start of the pandemic, the Red Cross has relaxed its restrictions on giving blood.
Fully vaccinated blood donors will no longer need to wear a mask or socially distance at drives.
What they're saying: "Some hospitals are being forced to slow the pace of elective surgeries until the blood supply stabilizes, delaying crucial patient care," Chris Hrouda, president of Red Cross Biomedical Services, said in a statement.
"As we return to pre-pandemic activities and resume travel to visit loved ones, we want people to remember the needs of patients this summer and the power so many of us have to help save lives," Hrouda added.
By the numbers: Hospitals around the country are currently responding to an abnormally high number of trauma events and emergency room visits.
The Red Cross said blood demand from hospitals with trauma centers has increased by 10% in 2021 compared to 2019 levels.
The big picture: Blood centers in central Iowa, Rhode Island, western South Dakota, Montana, Wyoming, Washington, Oregon, Idaho, Ohio and many other states have sent out urgent calls for donations.
The Red Cross said there was a specific demand for platelets, which quickly expire, and type O blood, since it can be used in transfusions for almost all other blood types.
Red Cross donors will receive a $5 Amazon gift card if they give by June 30.
Go deeper: HHS to invest $3 billion for antiviral pills against COVID-19
Go deeper