Drought, record heat wave in West tied to climate change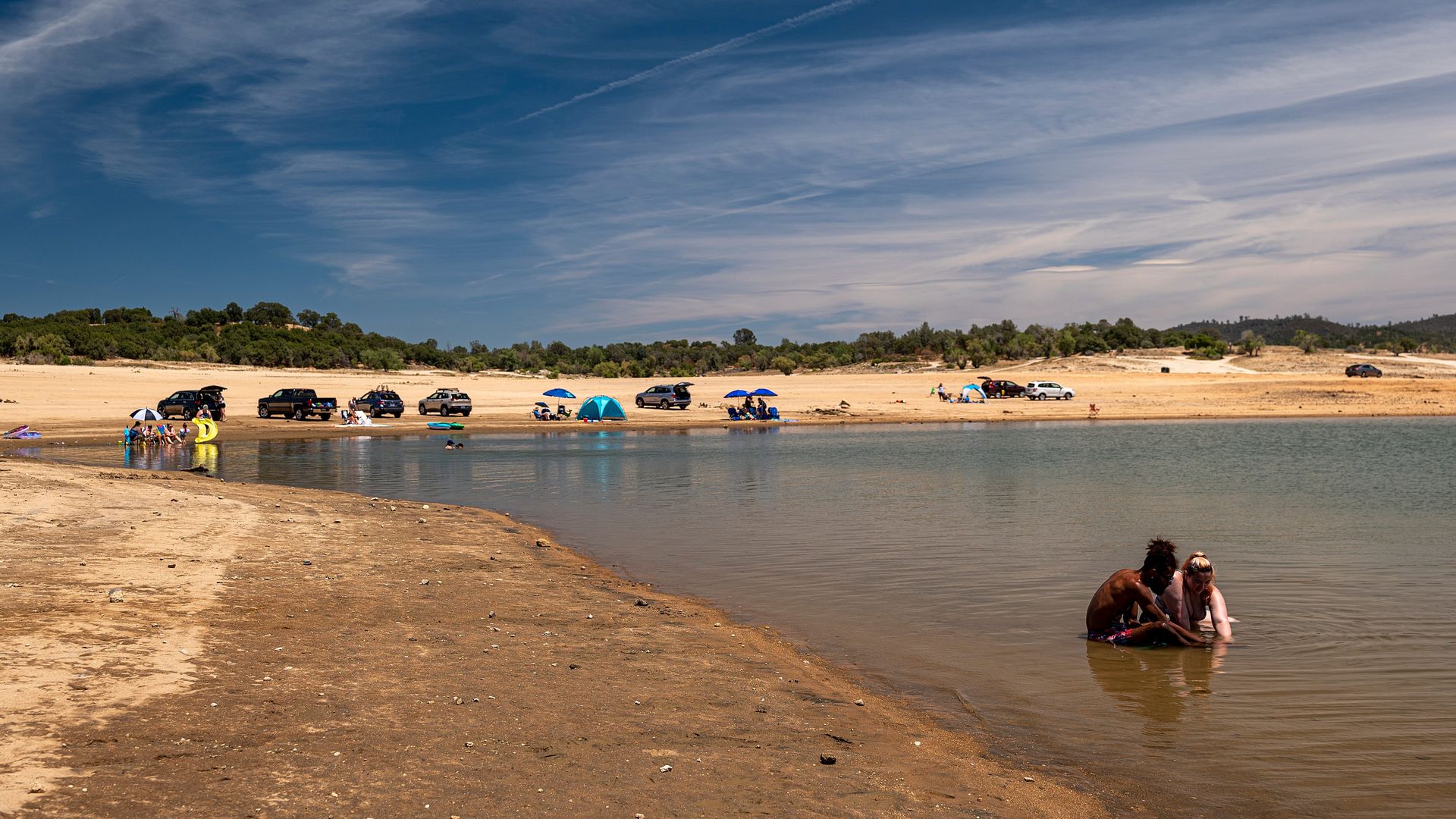 The prolonged and widespread heat wave in the West, along with the region's increasingly severe drought, is a sign of how climate change has already tilted the odds in favor of such extremes, studies show.
Why it matters: The rapidly growing Southwest, in particular, is also the nation's fastest-warming region. The combination of heat and drought could lead to a repeat, or even eclipse, the severity of 2020's wildfire season in California and other states.
State of play: Temperatures are likely to climb well into the triple digits across most of California through the weekend, and in a half-dozen Western states.
Records will keep falling. By the end of this particular heat wave, it's likely that they will tally in the hundreds, with several all-time temperature records tied or broken well before what is typically the hottest time of year.
The other side: While the West is dealing with record heat and drought, the eastern U.S. will see the opposite problem -- too much water, as a tropical depression or possibly a named storm, to be called "Claudette," comes ashore along the Gulf Coast.
By the numbers:
Tucson, Arizona, on Thursday set a record daily high temperature of 111°F, which was the sixth straight day with a high temperature above 110°F, tied for the most on record. That milestone is likely to fall on Friday.
Phoenix, Arizona, saw a high temperature of 118°F on Thursday, its fifth straight day at or above 110°F.
Death Valley, California, hit 128°F on Thursday, a degree short of its all-time record for June.
Palm Springs, California, hit 123°F Thursday, tying its all-time temperature record. The city has only reached that sizzling point three other times in recorded history, but they were in the typically hotter months of July and August.
Las Vegas reached 116°F on Wednesday, just 1°F shy of tying its all-time warmest temperature on record.
Salt Lake City, Billings, Montana, and Laramie, Wyoming, matched their highest temperatures observed at any time of year on Tuesday.
Threat level: The California ISO, which operates the state's electrical grid, is asking residents to conserve power amid expected spikes in demand.
The 128°F high temperature Thursday in Death Valley, reached a level never seen prior to June 29, according to Meteo France meteorologist Etienne Kapikian. It was just 1°F shy of the location's hottest temperature on record during June.
The National Weather Service is predicting a "critical fire risk" in New Mexico, Arizona, Colorado and Utah Friday, with the risk of fires starting in other states due to dry lightning ignitions from thunderstorms that fail to deliver much rain to the parched landscape.
Context: Human-caused climate change already makes present-day heatwaves about 3°F to 5°F hotter than they otherwise would be, according to climate scientist Michael Wehner of Lawrence Berkeley National Laboratory.
Numerous studies also tie the ongoing drought in the West to human-caused climate change, both due to increasing temperatures, which enhances evaporation, as well as shifting weather patterns that boost the odds of such events.
The big picture: A study published Thursday in Nature Climate Change found that in the Southwest, there's increasing overlap between extreme heat and very dry days, and that soil moisture conditions during June play a particular important role in this trend.
It follows research published last year showing that extreme heat events are getting progressively drier across the Lower 48 states as the climate warms overall. That's bad news for managing wildfires, which thrive during hot, dry and windy days.
A study published in late May found that high elevation forests in the West are burning more frequently and severely than they used to, which the researchers attributed in large part to shifting climate conditions.
What to watch: At the same time as brutal heat and drought is affecting the West, the East will be experiencing the opposite problem -- too much water.
A brewing tropical weather system, which may earn the name Tropical Storm Claudette prior to making landfall in coastal Louisiana this weekend, is forecast to dump between 10 and 15 inches or more of rain along the Gulf Coast.
Once it makes landfall, the storm will quickly lose any strong winds associated with it, but it could be a prolific rainmaking as it moves northward toward the Mid-Atlantic.
Flash flooding is likely on Saturday across Mississippi, parts of Alabama, Georgia, South Carolina, and extending into North Carolina by Sunday.
Go deeper