Biden signs bill making Juneteenth a federal holiday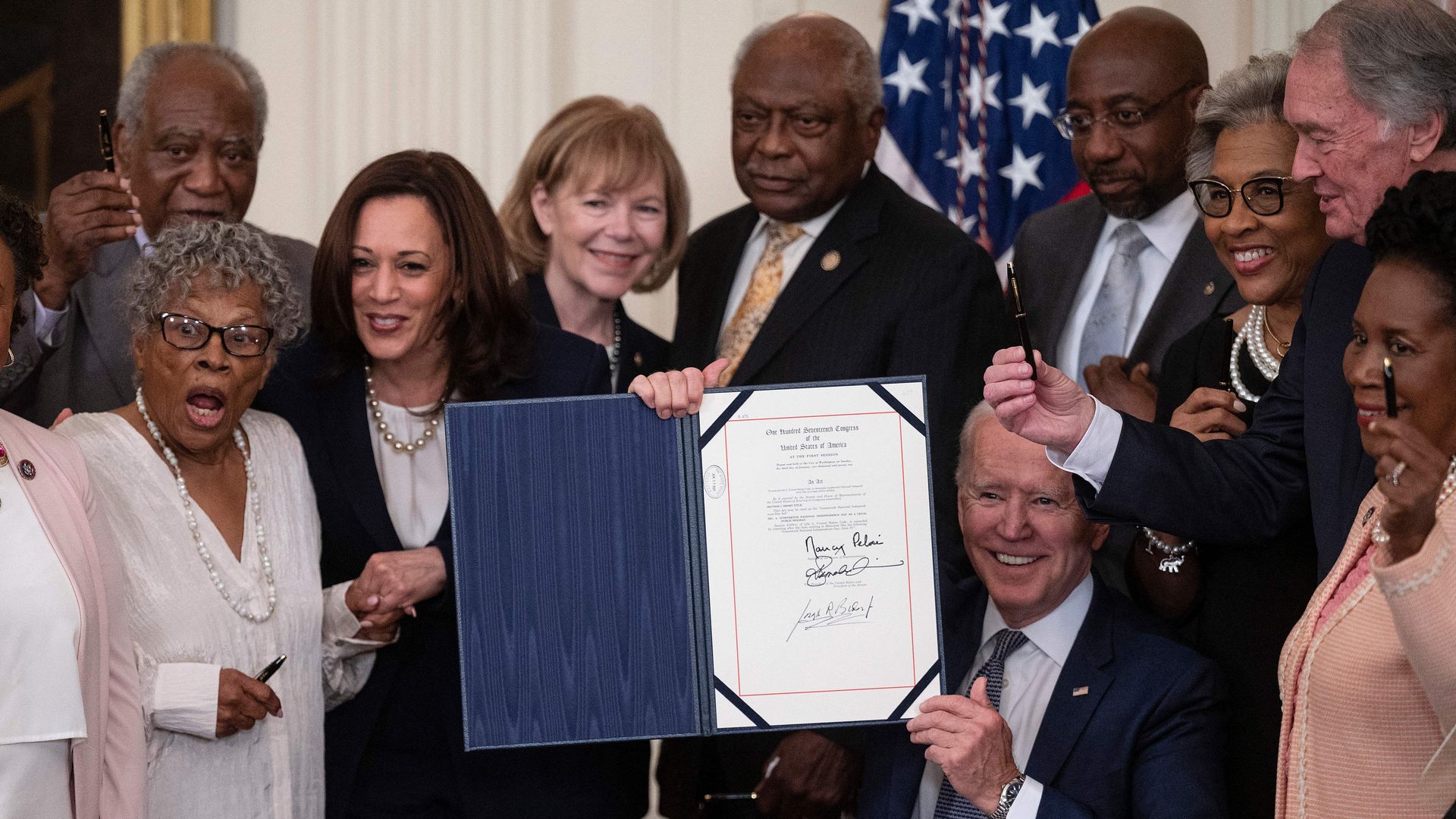 "Great nations don't ignore their most painful moments," President Biden said before signing legislation Thursday that establishes Juneteenth as a federal holiday, just two days before the occasion.
Why it matters: The holiday, which will be known as Juneteenth National Independence Day, is now the 11th annual federal holiday and the first one established since the creation of Martin Luther King Jr. Day in 1983.
Juneteenth, celebrated on June 19, memorializes when the last enslaved people in Texas learned about their freedom under the Emancipation Proclamation in 1865.
Almost the entire country — 49 states and D.C. — had already commemorated the date before it became a federal holiday.
The Senate unanimously passed the bill on Tuesday, and the House voted 415-14 on Wednesday to approve it.
Biden called signing the bill "an enormous, enormous honor."
What they're saying: "Great nations don't ignore their most painful moments," Biden said before signing the legislation. "They don't ignore those moments in the past. They embrace them. Great nations don't walk away. We come to terms with the mistakes we made."
"Juneteenth marks both a long, hard night of slavery and a promise of a brighter morning to come," the president added.
"This is a day of profound weight and profound power. A day which you'll remember the moral stain, the terrible toll that slavery took on the country and continues to take."
Harris said before the signing, "When we establish a national holiday, it makes an important statement. National holidays are something important. These are days when we as a nation have decided to stop and take stock, and often to acknowledge our history."
"So, as we establish Juneteenth as our newest national holiday, let us be clear about what happened on June 19th, 1865, the day we call Juneteenth. Because, you see, that day was not the end of slavery in America," she added.
"Yes, on that day the enslaved people of Galveston, Texas, learned that they were free, but in fact two and a half years earlier, the Emancipation Proclamation ended slavery in the Confederacy."
Between the lines: The U.S. Office of Personnel Management announced Thursday that since June 19 falls on a Saturday this year, most federal employees will observe the holiday on Friday, June 18th.
Government offices are closed and federal employees will get paid time off for the day.
The big picture: The bill becomes law at a time when Congress can't agree on a police reform bill following the killing of George Floyd and new voting legislation in response to multiple states creating laws that restrict access to the ballot box.
Go deeper