Palestinian leaders are wary of Bennett but happy to see Netanyahu go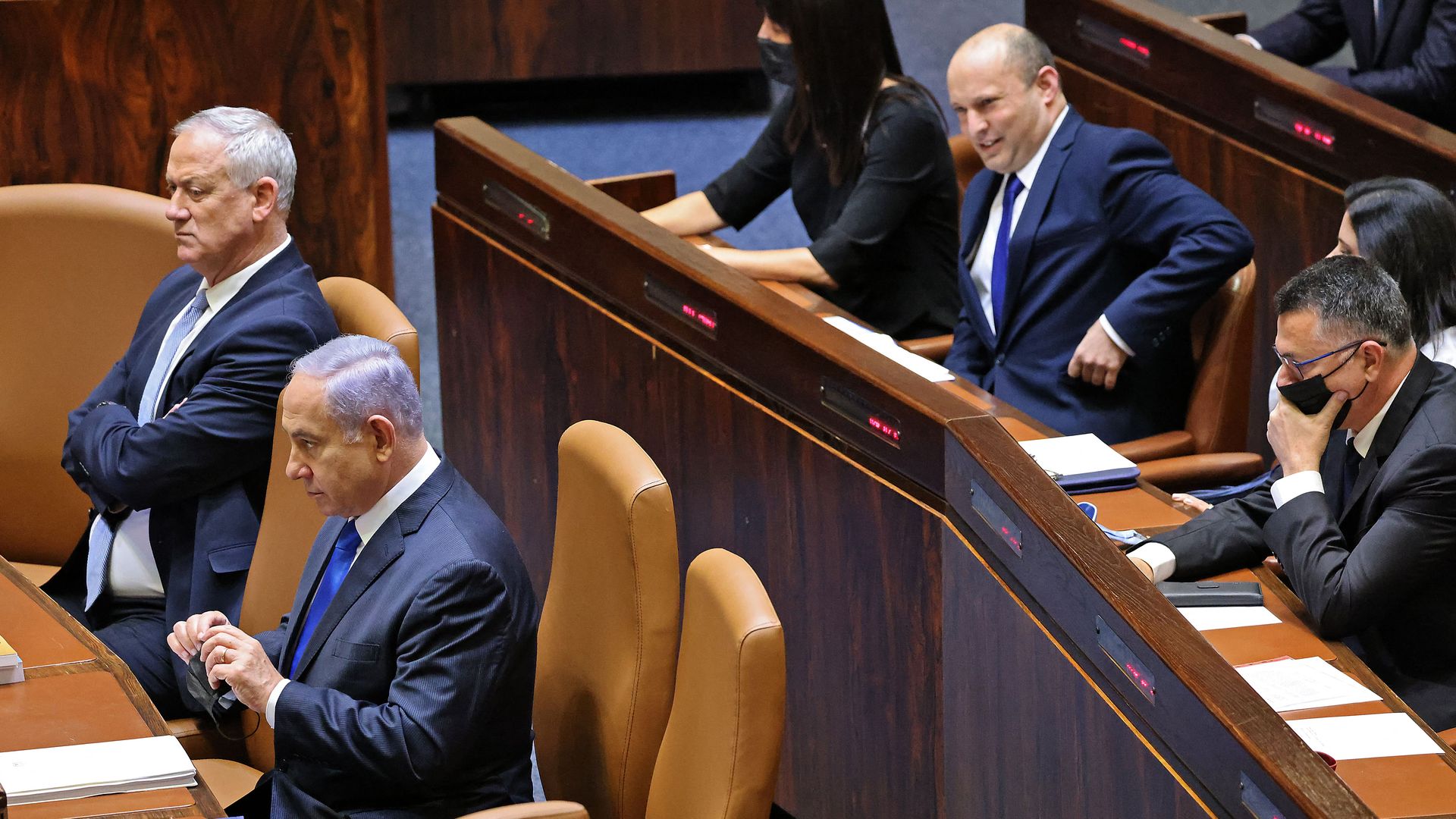 Ramallah — Palestinian leaders had hoped for a long time to get rid of Benjamin Netanyahu, but they didn't want to end up with Naftali Bennett as Israel's prime minister.
The big picture: The Palestinian leadership in Ramallah considers Bennett a hardliner because he has opposed the establishment of a Palestinian state and previously called for Israel to annex Area C, which constitutes 60% of the West Bank.
One Palestinian official who asked to remain anonymous told me that Bennett is an "extremist," but he's also inexperienced and surrounded by centrist and left-wing ministers. That could make it difficult for him to make decisions that were easy for Netanyahu to make, the official said.
What they're saying: The Palestinian official told me "the end of the Netanyahu era is good news."
"His only desire was to stay in power, and thus his 12-year term was a political stalemate, field escalation and settlement expansion in an attempt to maintain the right-wing support for him," the official added.
Driving the news: Contrary to the norm in such cases, no official statement on the swearing-in of the new government was issued by the office of Palestinian President Mahmoud Abbas, though Abbas' aides were watching the process closely.
One of the only Palestinian officials who went on the record regarding the new Israeli government was Hussein Al-Sheikh, chair of the Palestinian Civil Affairs Commission. He criticized Foreign Minister Yair Lapid's remark that the new government would "improve the lives of the Palestinians and the dialogue with them on civil issues."
"Palestinians are not looking for better living conditions nor for civil dialogues!! Our people are seeking their salvation from occupation, freedom and independence in their state, with East Jerusalem as its capital," Al-Sheikh tweeted.
What to watch: The Palestinians are currently watching how Bennett will deal with a number of burning issues, including the potential expulsions of Palestinian families from their homes in Sheikh Jarrah and Silwan in East Jerusalem.
"The U.S. is speaking against the eviction ... and Meretz party, which has ministers in the government, had been calling to stop the eviction. Will this stop the eviction? This is a big question mark for us," one Palestinian official told me.
What's next: Palestinian officials say they don't know whether progress on a political solution will be possible with Bennett at the helm, but that their attitude toward Bennett will be decided by his actions, not his words.
The Palestinian leadership isn't ruling out working with the new Israeli government on confidence-building measures to improve the lives of the population, but not as a substitute for working toward establishing a Palestinian state.
Go deeper