U.S. buys 200 million additional doses of Moderna's COVID vaccine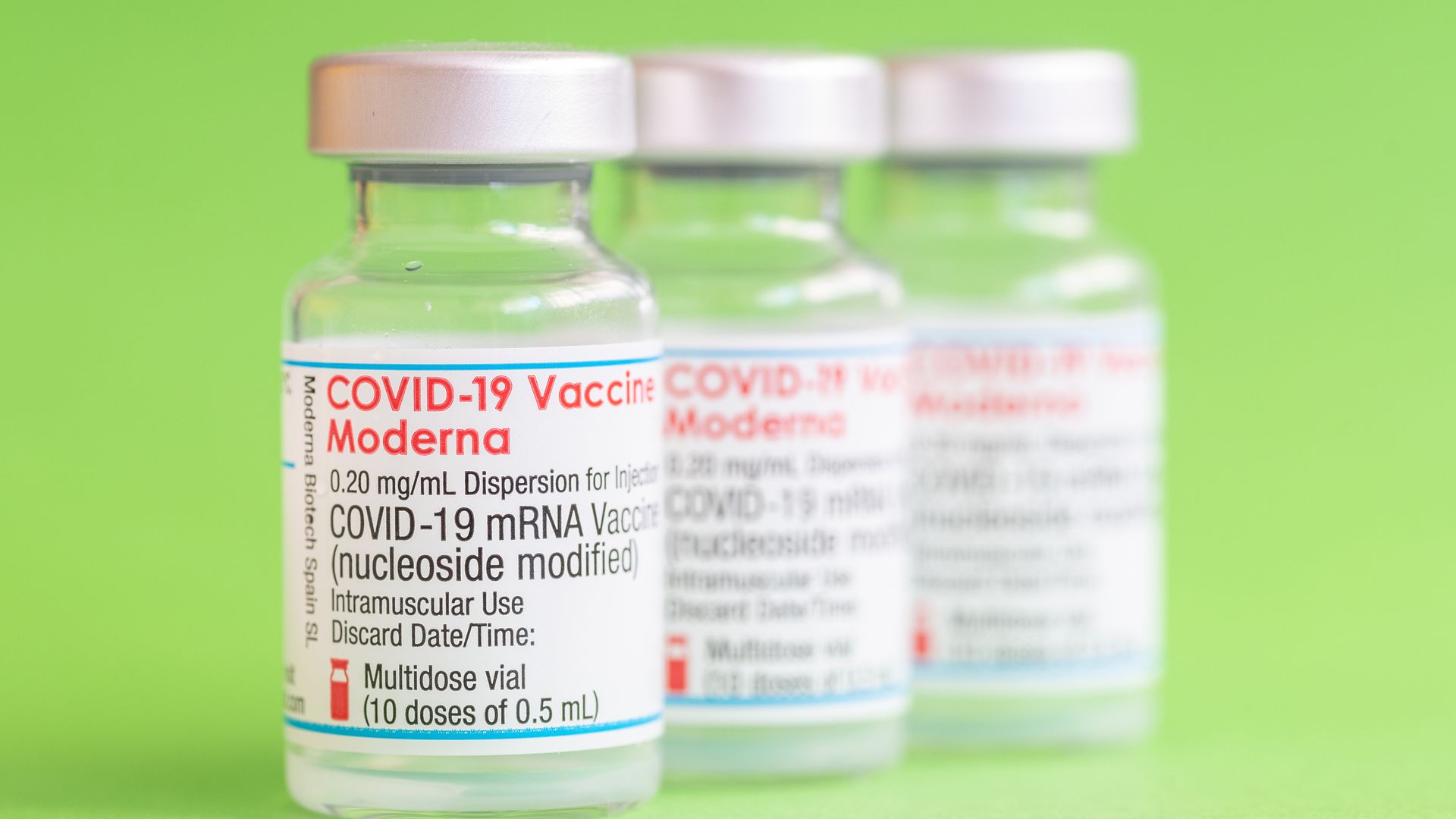 The Biden administration has purchased an additional 200 million doses of Moderna's coronavirus vaccine, the biotech company announced Wednesday.
Why it matters: Moderna and the Biden administration say the additional doses could be used to vaccinate children or — if necessary — as a booster shot.
Moderna said it plans to deliver 110 million doses in the fourth quarter of 2021 and 90 million in the first quarter of 2022.
The purchase bumps the total number of Moderna doses ordered by the U.S. to 500 million, 217 million of which have already been delivered.
What they're saying: "Importantly, the agreement gives the United States flexibility to choose which type of vaccine we will receive from Moderna if Moderna adjusts its formulation, for example, for pediatric vaccines or to address variants, and at the same price the U.S. has paid for the original vaccine," a Biden administration official told Axios.
The big picture: The U.S. and other Group of Seven nations pledged to provide 1 billion doses to help vaccinate people around the world during their summit in the United Kingdom last week.
The Biden administration has already purchased 500 million Pfizer vaccine doses to share with the world, with the option to buy an additional 200 million.
It's unclear whether any of the Moderna doses will eventually be exported.
What they're saying: "We appreciate the collaboration with the U.S government for these additional doses of the Moderna COVID-19 vaccine, which could be used for primary vaccination, including of children, or possibly as a booster if that becomes necessary to continue to defeat the pandemic," Moderna CEO Stéphane Bancel said.
"We remain focused on being proactive as the virus evolves by leveraging the flexibility of our mRNA platform to stay ahead of emerging variants."
Go deeper: Vaccine boosters could be necessary as soon as September
Go deeper