Hungary passes law banning LGBTQ content for minors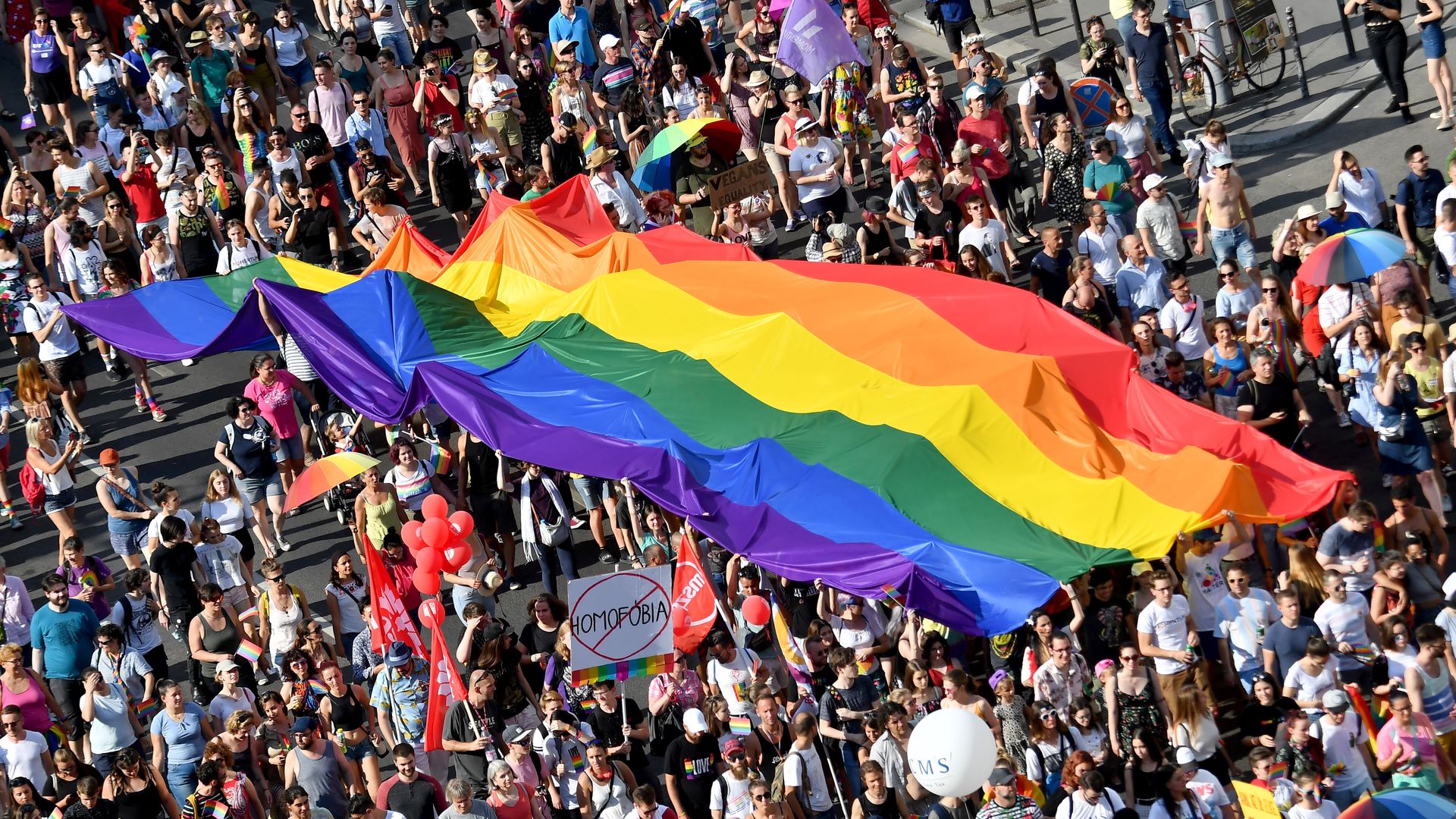 Hungarian lawmakers on Tuesday passed legislation that bans sharing content with minors that features gay characters or any sort of support for the LGBTQ community, AP reports.
The big picture: The ban is part of a law that looks to increase sentences for pedophilia. Critics say the ruling Fidesz party is wrongly conflating LGBTQ people with sex crimes against minors and that the bill will reinforce anti-LGBTQ prejudices.
What happened: The bill was changed last minute, with Fidesz including "restrictions against showing or 'popularizing' homosexuality and content that promotes a gender that diverges from the one assigned at birth," the New York Times writes. Fidesz lawmakers supported the bill overwhelmingly, while opposition parties boycotted the vote in protest.
Hungarian Prime Minister Viktor Orbán has become significantly more radical ahead of the country's 2022 elections, as he has spoken out against the LGBTQ community and against immigration, in hopes that it will gain him conservative support, per the Times.
The new bill follows a series of sex scandals by Hungarian officials, including one that was convicted on possession of child pornography and another who was accused of participating in an all-male orgy, the Times notes.
Details: Any content that depicts LGBTQ relationships, transitioning to another gender, or a shot of the rainbow flag will now be labeled as "not recommended for those under 18 years of age" and will be allowed to air on television only between the hours of 10 p.m. and 5 a.m. local time.
The law also extends to sexual education, with only teachers and organizations who are approved by the government allowed to teach the subject.
What they're saying: "There are contents which children under a certain age can misunderstand and which may have a detrimental effect on their development at the given age, or which children simply cannot process, and which could therefore confuse their developing moral values or their image of themselves or the world," a Hungarian government spokesperson told the Guardian.
Lawmaker Gergely Arato, an opposition lawmaker, "said the changes violate the standards of parliamentary democracy, rule of law and human rights," AP writes.
Go deeper