The G7's billion-dose pledge, heralded by Biden, doesn't add up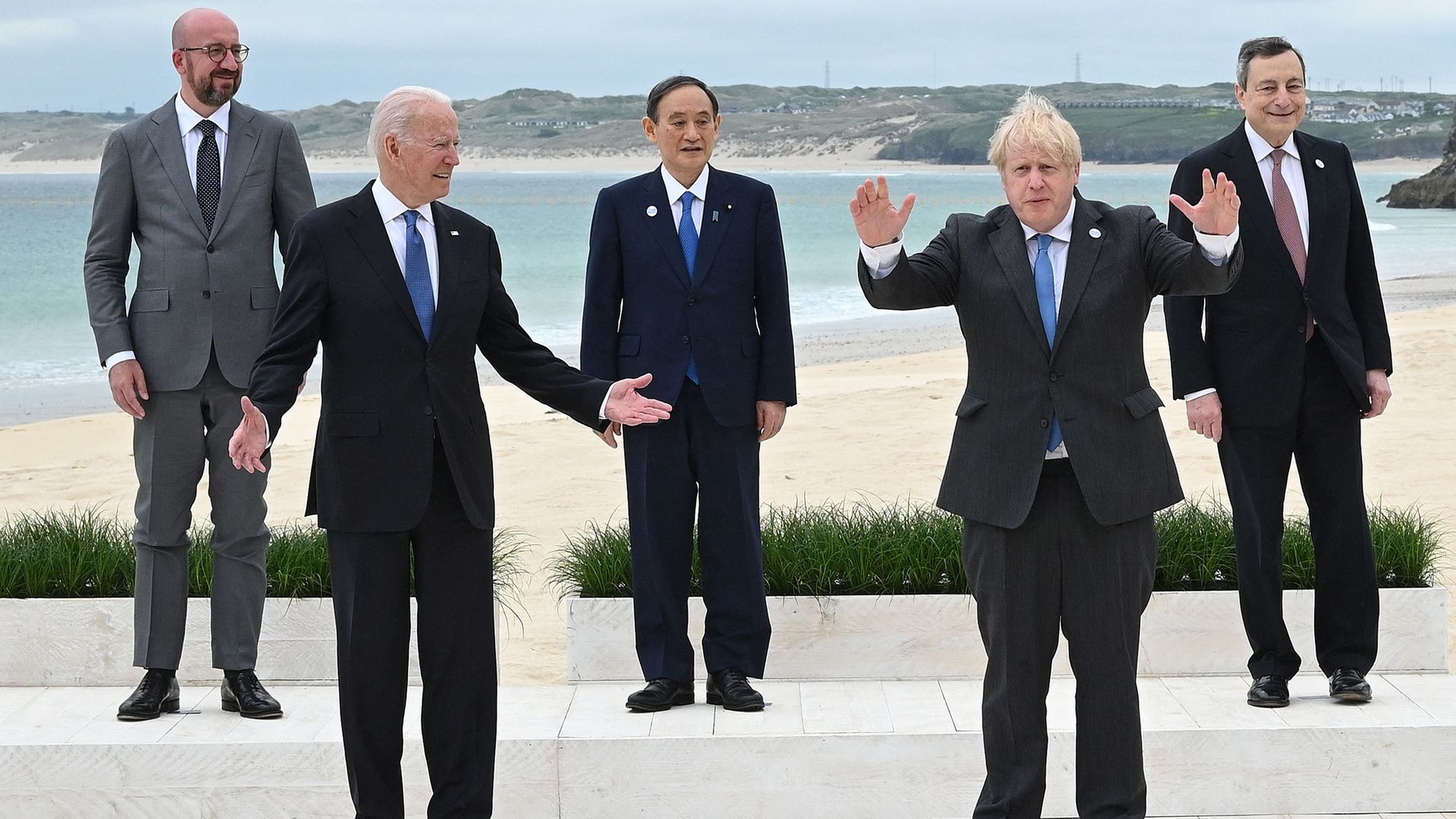 President Biden claimed at the conclusion of the G7 summit on Sunday that his plan to buy 500 million Pfizer doses to share with the world had "generated a commitment by the rest of our colleagues in the G7 that they would provide another half billion."
Why it matters: The 1 billion-dose pledge was the headline announcement from the summit — a signal that the U.S. return to the global table was producing results. But the numbers don't add up.
Breaking it down: In addition to the U.S. commitment, the U.K. promised to donate 100 million doses over the next year while Canada promised 13 million (plus another 87 million to be purchased later, using funds already contributed to COVAX).
France had already promised to donate 30 million doses by the end of the year, and President Emmanuel Macron doubled that to 60 million.
That's a total of 143 million new doses pledged over the course of the summit by countries other than the U.S., a fraction of the 500 million Biden and others in the administration claimed were "generated" by the U.S. pledge.
The joint communique released at the end of the summit seems to incorporate some pre-existing pledges to wind up with a promise that G7 countries will "share at least 870 million doses directly over the next year."
The document also says the G7 members will be "providing for one billion doses over the next year," without offering further details.
The Biden administration has been trumpeting the 1 billion figure, with Secretary of State Tony Blinken calling it "a powerful demonstration of democracy delivering."
Asked to explain how it was calculated, a Biden administration official told Axios it included "both financial contributions, converted to doses, and dose contributions."
Between the lines: There's a big difference between contributing money and doses. The WHO-backed COVAX initiative has been short of doses, not because it lacks the money to buy them, but because it has been unable to sufficiently tap the global supply, much of which has flowed to rich countries like the G7 members.
Biden's pledge involves some recycling: $2 billion of the $3.5 billion price tag will be covered by funds previously promised to the COVAX initiative, which would have otherwise been used to buy doses or fund their distribution.
What they're saying: The WHO has noted that the commitments fall well short of the 11 billion doses needed to end the pandemic, and aid groups and dignitaries leading the charge on vaccine sharing have lambasted them as far too modest. Former U.K. Prime Minister Gordon Brown, for example, called the 1 billion figure an "unforgivable moral failure."
Still, the U.S. pledge in particular is many times larger than what any rich country had previously committed.
Biden said in his press conference at the end of the summit that the U.S. may be in a position to donate another 1 billion doses — beyond the 500 million committed by mid-2022 — "over 2022 going into 2023."
The bottom line: That timeline reflects just how long some around the world will be waiting for access.
Go deeper