Dangerous heat wave underway in West, will shatter records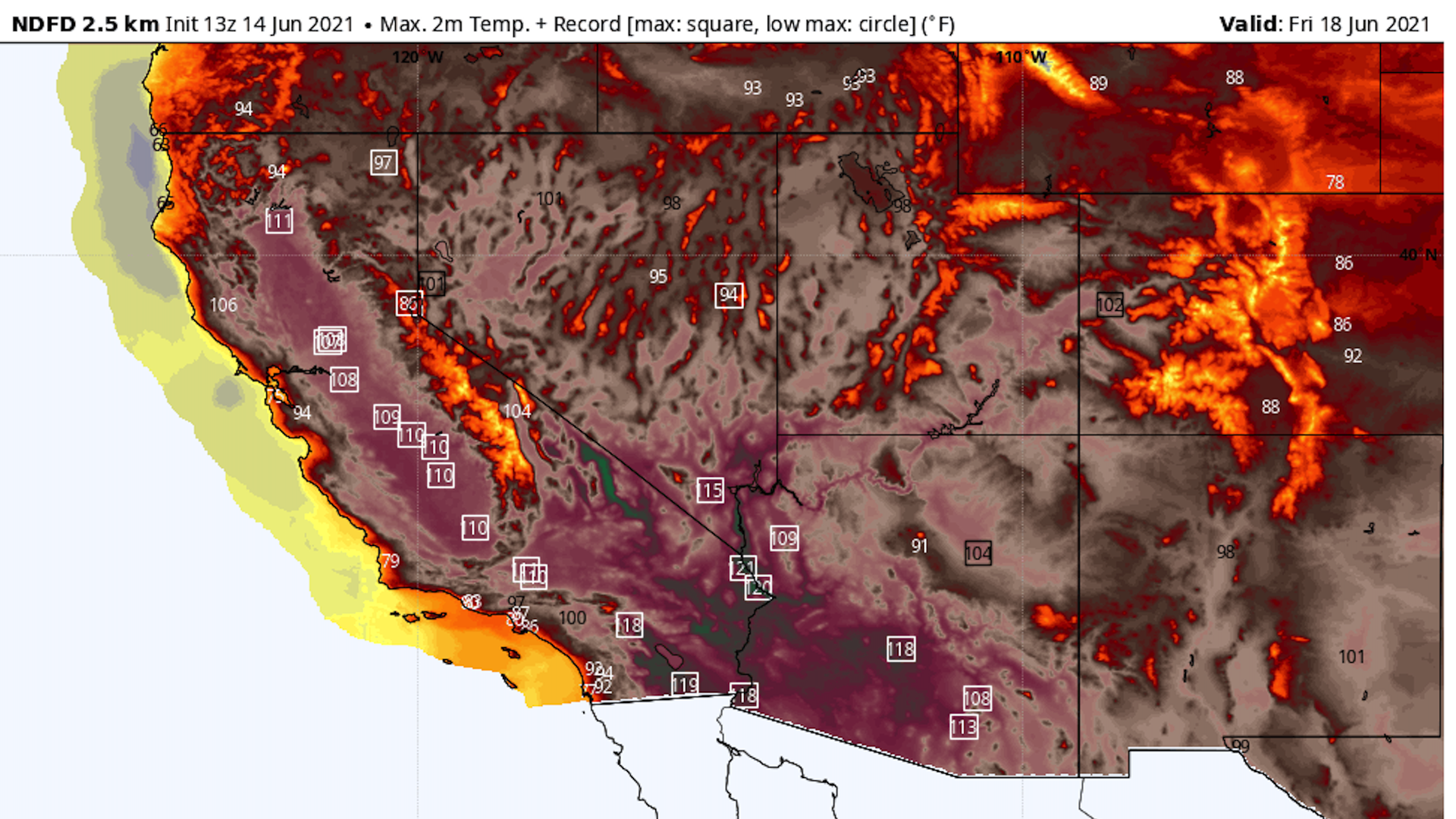 A punishing mid-June heat wave is set to scorch much of the Southwest and West this week, with Las Vegas potentially eclipsing its highest temperature on record, which stands at 117°F.
Why it matters: The heat will build in a region that is experiencing a record drought, leading to dangerous fire weather conditions, high power demands, and causing water supplies to dwindle further. The heat itself could prove deadly.
Details: Heat warnings and advisories are in effect from the California coast to Utah, northward to the border with Canada and south to the U.S.-Mexico border as monthly as well as all-time high temperature records could be tied or broken through Saturday.
Death Valley, Calif., which holds the U.S. record for hottest temperature ever recorded, could eclipse 120°F for several days, and reach 127°F, close to the June temperature record for that location.
In addition to the Las Vegas record, statewide high-temperature records for Arizona (128°F), set in Lake Havasu City, and Nevada (125°F), set in Laughlin, could be in jeopardy.
In Las Vegas, overnight low temperatures are not expected to drop below 85 to 90°F, posing a health threat to anyone without working air conditioning.
Threat level: The National Weather Service forecast office in Las Vegas is warning of significant threats to life and infrastructure from Monday through Saturday as the heat builds and refuses to relent.
NWS forecasters note the last time heat of similar magnitude and duration occurred there was late June to early July 2013. "During that event, Southern Nevada saw nearly 30 fatalities and over 350 heat-related injuries as well as temporary power outages." Heat is America's biggest weather killer each year.
In Sacramento, Calif., high temperatures could reach 110°F by Thursday as heat builds across the heart of the Golden States' agricultural belt.
Even downtown Los Angeles could see highs eclipse 100°F on Wednesday, as areas that are just a few miles inland from the cooling influence of the Pacific Ocean roast under the influence of a sprawling heat dome.
With the drought and scorching heat, wildfire danger is elevated in many southwestern states, with large fires already burning in Arizona and California, for example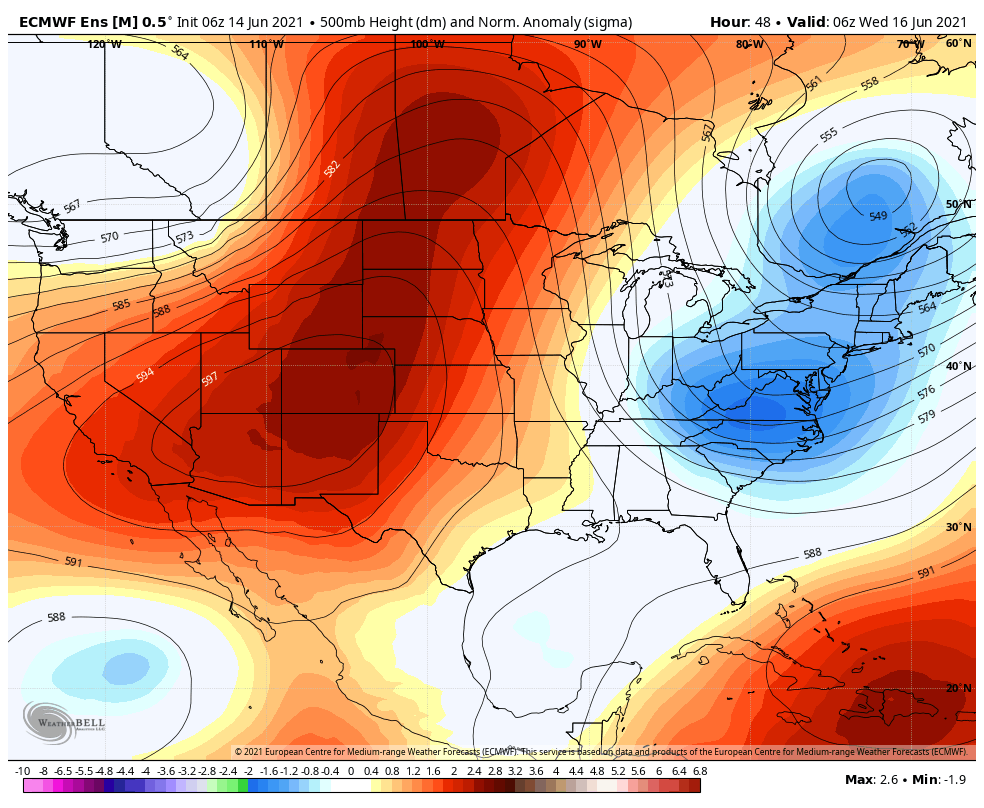 Of note: The heat will raise power demand at a time of decreased output at hydroelectric plants. It will also dry soils further, expanding the area of "extreme" to "exceptional" drought, the worst categories.
Already, Lake Mead, the nation's largest reservoir by volume, has hit its lowest level on record, and this heat wave is likely to evaporate more water.
Red flag warnings for hazardous fire weather are in effect in the Sierra Nevada Mountains, which are normally still covered with snow at this time of year.
By the numbers: For Phoenix, the NWS is projecting a 55-75% chance that the city would reach 115 degrees each day during the Tuesday through Friday time period.
Context: The heat wave and drought are working in tandem. Given the antecedent drought conditions, more solar radiation can go directly into heating the air, rather than evaporating moisture in soils, lakes, and rivers. This boosts temperatures higher than they might otherwise be.
In addition, one of the most robust conclusions of climate science is that heat waves are becoming more intense and longer-lasting as the climate warms overall.
In recent years, there has also been a trend toward stubborn and sprawling areas of high pressure aloft, known as heat domes, that block storm systems and keep hot weather locked in place for days at a time.
Such a weather pattern is currently in place across the West, and will be through the coming weekend.
Go deeper