A one-of-a-kind UEFA European championship
The UEFA European Championship, still called Euro 2020 despite a one-year delay, kicks off today as Italy hosts Turkey at Rome's Stadio Olimpico (3pm ET, ESPN).
What's happening: Unlike any of the previous 15 iterations, this year's tournament will be a pan-continental affair, with Rome acting as just one of 11 host cities.
The cities: London; Rome; Munich; Baku, Azerbaijan; St. Petersburg; Budapest; Seville; Bucharest; Amsterdam; Glasgow; and Copenhagen.
The big picture: Even before the pandemic, this was going to be a uniquely challenging event to organize.
A continent-spanning tournament to celebrate Euro's 60th anniversary was admirable in theory, but it was a logistical nightmare to oversee operations in such wide-ranging countries with their own laws and politics.
The pandemic, in addition to causing a delay, made everything that much more difficult with countries' discrete safety protocols, travel requirements and infection rates.
The backdrop: In 2012, Turkey was the only nation to bid on Euro 2020, but because they also bid on the 2020 Olympics, UEFA feared it might ultimately withdraw from hosting Euro if it secured the Olympics.
As a hedge, then-UEFA president Michel Platini proposed the novel concept of multiple host cities, and though he was ultimately sacked amid the 2015 FIFA corruption scandal, his idea lived on.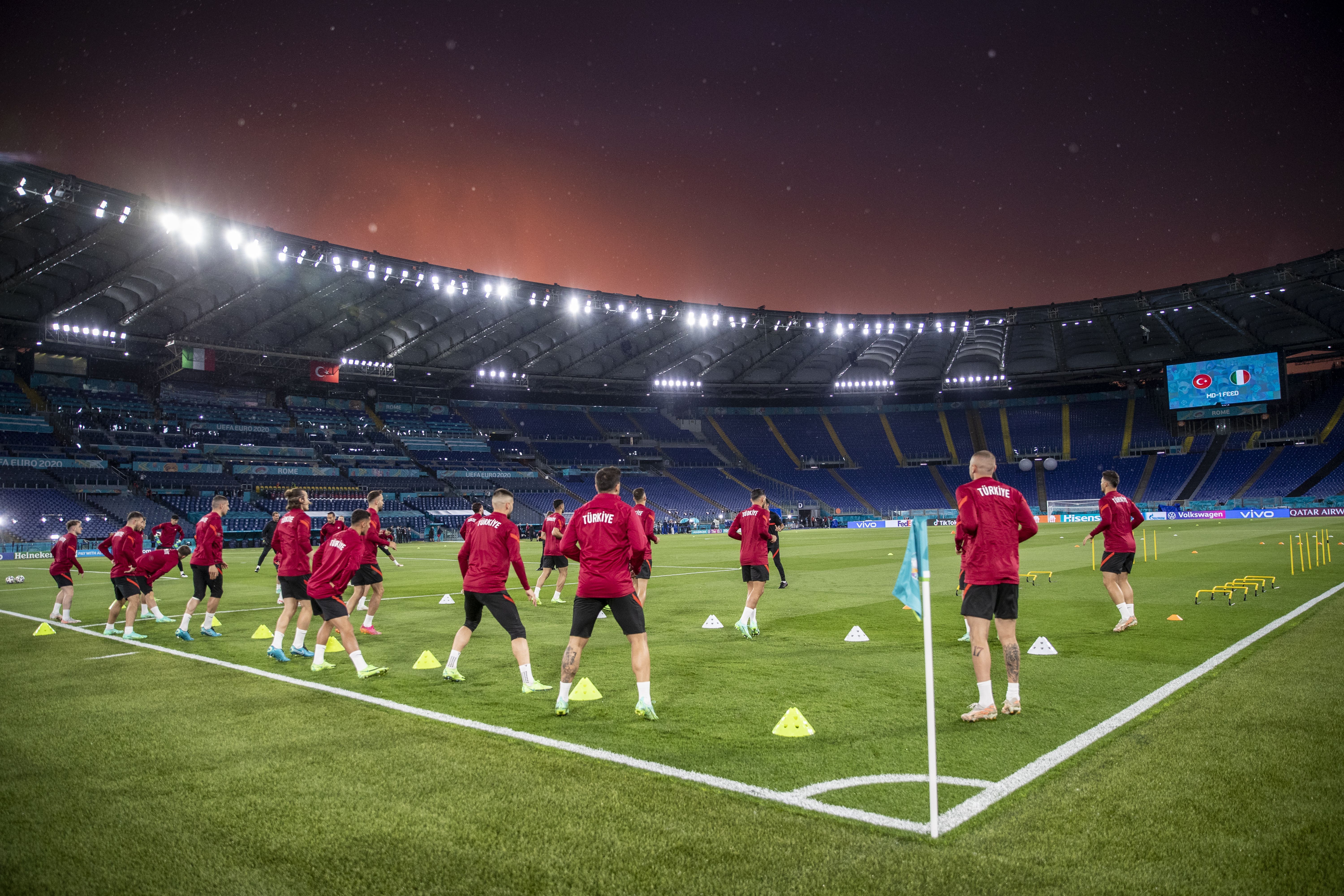 The state of play: All their hard work has paid off, and today's kickoff is definitely worth celebrating as these 24 nations begin a month-long, 51-match battle for the title of best on the continent.
Format: The top-two finishers in each group, plus the four best third-place finishers, advance to the knockout round — a 16-team, single-elimination race to the finish. Full schedule and tournament details.
Fan capacity: Venues range from 20% (Munich) to 100% (Budapest). London's Wembley Stadium is currently at 25%, but UEFA hopes they'll be able to increase that when they host the semis and finals.
Between the lines: Here are the teams and players to watch as the tournament unfolds over the next month.
France, the reigning World Cup champs, are the betting favorite and have one of the world's premier players in 22-year-old striker Kylian Mbappé.
Belgium are a popular pick as well, with three of SI's four experts choosing them to reach the final behind Manchester City superstar Kevin de Bruyne.
Portugal are the reigning Euro champs and still have some guy named Cristiano Ronaldo.
Go deeper:
Go deeper