Study: Take-out food, drink litter make up vast majority of plastics in oceans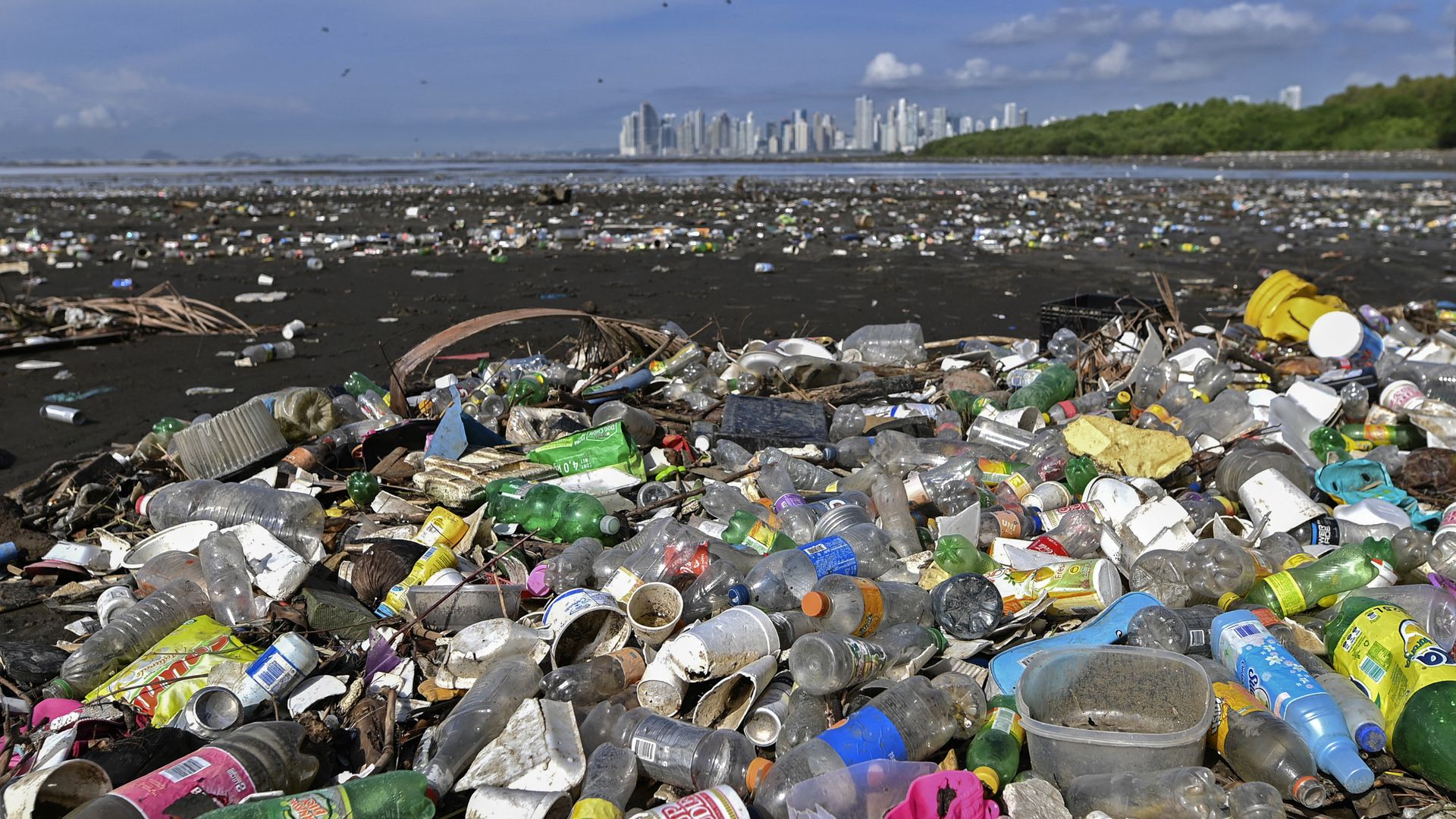 Take-out food and drink litter make up the vast majority of the plastics polluting the world's oceans, according to a study published in the journal Nature Sustainability on Thursday.
Why it matters: Plastics' widespread use and slow degradation regularly contribute to major environmental damage. Plastic litter also enters the food chain, disrupts the ecosystem and kills massive numbers of marine animals every year.
What they found: Researchers collected data on litter across seven major aquatic environments. The findings, which the Guardian called the "most comprehensive study to date," show that just 10 plastic products — including plastic lids and fishing items — comprise 75% of all items polluting the seas.
Single-use bags, plastic bottles, food containers and food wrappers, in particular, dominate global ocean litter.
Litter was most highly concentrated in shorelines and sea floors near coasts, where litter regularly accumulated due to winds and waves.
"The world differences in the composition of the nearshore litter sink reflected socioeconomic drivers, with a reduced relative weight of single-use items in high-income countries," noted the study, which was funded by the BBVA Foundation and Spanish science ministry.
What they're saying: Identifying the sources of ocean plastic is the first step toward reducing litter, the study's authors told the Guardian. They recommended bans on avoidable single-use plastic bags and require producers to take more responsibility for collection and safe disposal of more essential plastic products.
The big picture: Plastic production is expected to double in the next two decades, according to the World Economic Forum.
Of note: The Department of Energy announced last month it will invest up to $14.5 million in research and development to help reduce single-use plastic waste.
Go deeper... Deep Dive: Our plastic planet
Go deeper