Arizona Senate candidate poured millions into voter registration group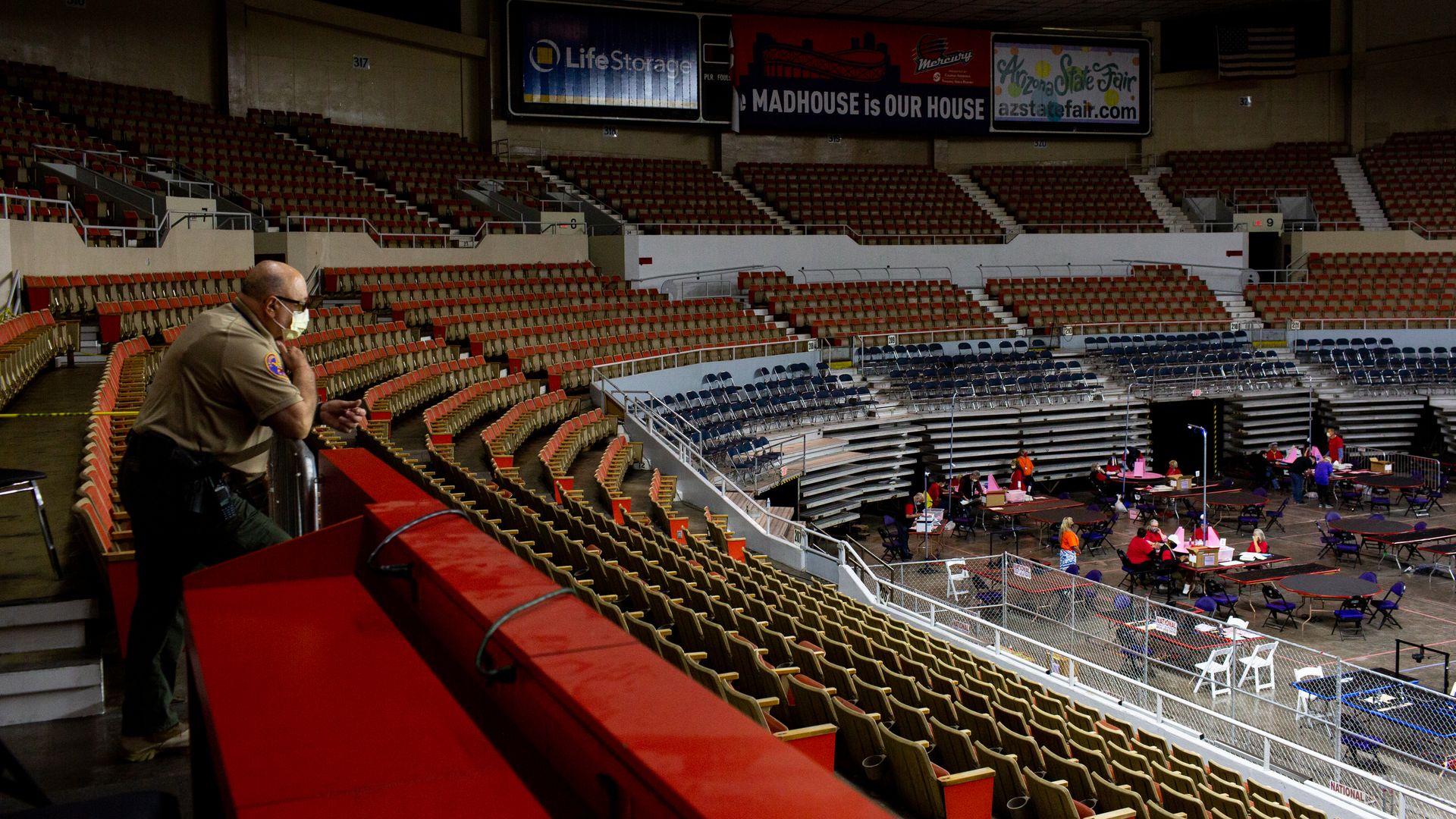 Days before the first Republican candidate jumped into next year's Arizona Senate race, he poured millions into an ostensibly nonpartisan voter registration operation affiliated with prominent election fraud conspiracy theorists.
Why it matters: GOP candidate Jim Lamon embraces many of these theories, and a drive to register voters with the same inclination has the potential to benefit his candidacy. Lamon also stands to get a substantial tax break from his $2 million effort to turn out conservative voters.
What's happening: In late April, Lamon, a renewable energy executive, announced his donation to the nonprofit Look Ahead America, designed to help register "tens of thousands of new conservative voters."
A week later, Lamon officially entered the race to challenge Sen. Mark Kelly, a Democrat.
Records indicate Lamon had been laying the groundwork for his run by the time he donated to LAA: his campaign website's domain was registered in March, and its social media pages were created in April.
LAA is officially a nonpartisan charity and can legally engage in voter registration activities as long as they're not geared toward benefitting a specific candidate or party.
The group said it planned to use Lamon's $2 million to register and turn out "America First patriots."
The big picture: LAA was formed as a 501(c)(3) nonprofit in 2017 but had its tax-exempt status revoked last year for a persistent failure to file annual reports with the IRS.
LAA executive director Matthew Braynard told Axios the group is in the process of reapplying for tax exemption. If it's granted, Lamon's donation to the group will be retroactively tax-deductible.
"We take our nonpartisan obligation extremely seriously," Braynard said in an email. "We do not have any direct contact with Mr. Lamon or anyone working with him regarding our activities in AZ other than sending the reminders for payment to his accountant (it's a monthly commitment)."
Between the lines: Efforts by Braynard's group to root out supposed voter fraud last year were cited in multiple failed lawsuits seeking to overturn election results in states carried by Joe Biden in his matchup with President Trump.
The group has turned its attention this year to lobbying state and local governments to abandon contracts with voting machine companies at the center of Trump-backed conspiracy theories about the 2020 election.
Lamon has pushed many of the same conspiracy theories. He joined Arizona Republican Party chair Kelli Ward late last year in unsuccessfully suing to block Biden's victory in the state.
Lamon's company donated $300,000 to the Arizona GOP in March, as the state party used a Republican-led "audit" of the state's 2020 election results to boost its fundraising substantially.
Go deeper