NZ report recommends drastic methane emissions cuts to meet climate goals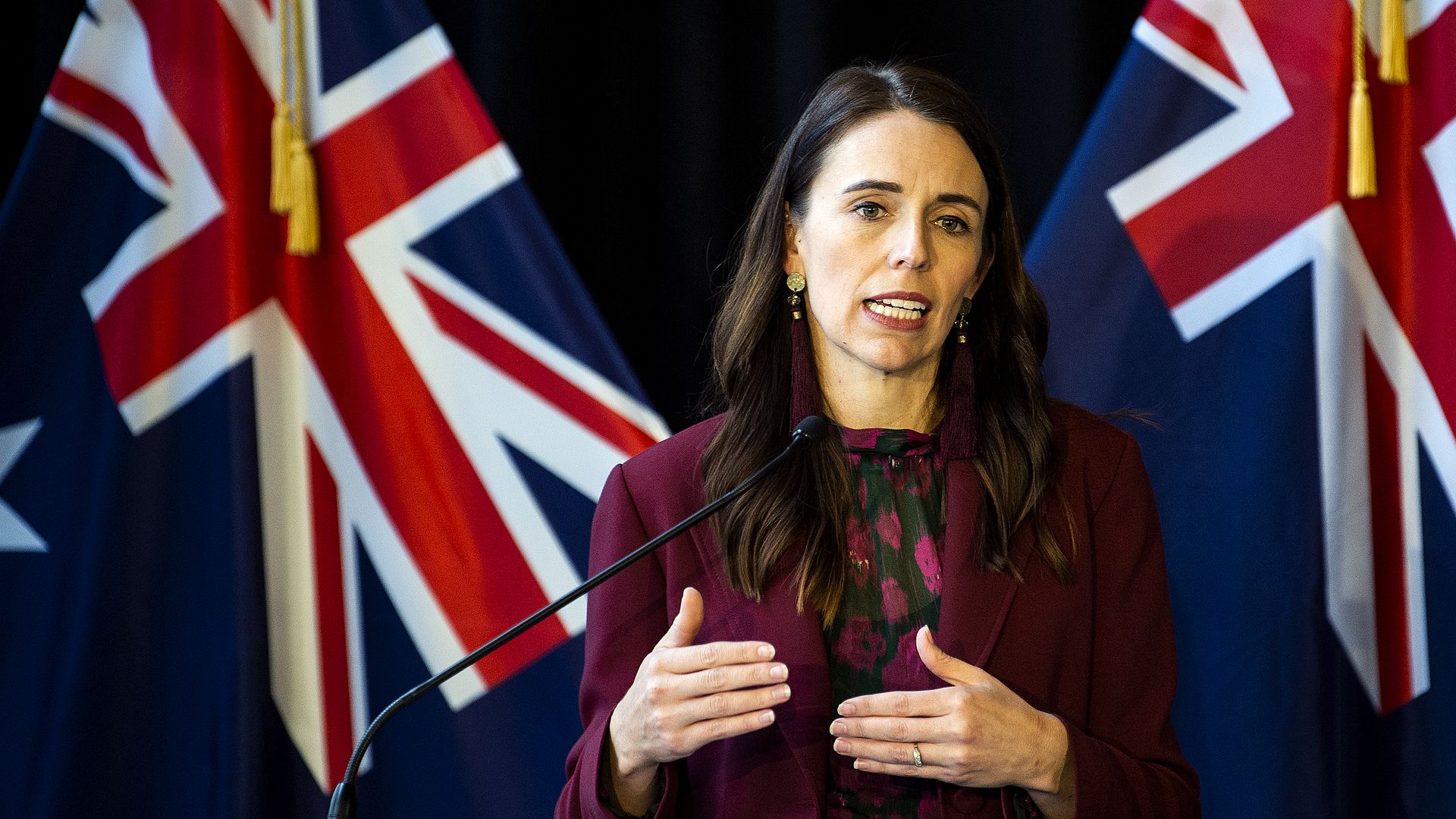 New Zealand Prime Minister Jacinda Ardern said in a speech Wednesday that the climate crisis was a matter of "life or death," as a blueprint for meeting her government's ambitious green targets was unveiled.
Driving the news: The Climate Commission, an independent body advising the government, outlines in its report what the country needs to do to meet its target for 2050 of producing zero carbon emissions — including reducing biogenic methane emissions by 24% to 47%, with no new household gas connections by 2025.
Why it matters: While the goals are ambitious, what's particularly notable is it's unusual for a nation to have a methane target (the U.S. doesn't have one) — especially a country like NZ, where agriculture is the largest sector of the tradeable economy, contributing to 5.1% of the GDP in the 12 months to September 2020.
Per a government statement, New Zealand is the "first country ... to legislate for a price on agricultural emissions and we'e currently building the world's only farm-level emissions measurement, management and pricing system, which will come into effect in 2025."
For the country to meet its methane target, herd sizes would have to decrease by 10% to 15%, according to the report.
Zoom in: The commission provides three pathways for the government to follow to keep within the proposed emission budgets.
For biogenic methane, this means cuts of 8% by 2025, 12% by 2030 and 17% by 2035.
It also recommends phasing out fossil-fuel-powered vehicles by 2030 to 2035, when almost all cars imported should be electric, according to the report.
Of note: This 2035 phase-out target for sales of new internal combustion engine vehicles is in line with several other governments, including California's.
Yes, but: For New Zealand to meet its electric vehicle target, the country would have to increase its market share from the current 1-2% to 50% in the next 10 years, the Guardian notes.
What they're saying: Ardern said in her speech that the report "reminds us that meeting our climate targets is achievable and affordable with existing technology."
She said in a separate statement that the commission "makes clear for the first time that delaying action will only make the effort harder and more expensive for the economy in the long run."
Ardern noted the report "predicts that not taking action now will cost us 2.3% of GDP by 2050, almost double the cost to our economy of acting now."
What's next: The government will announce its final Emissions Reduction Plan, based on the commission's guidance, by the end of this year.
Go deeper: Prime minister pledges 100% renewable energy generation in New Zealand by 2030
Go deeper