Study: Greenhouse gases from food systems vastly underestimated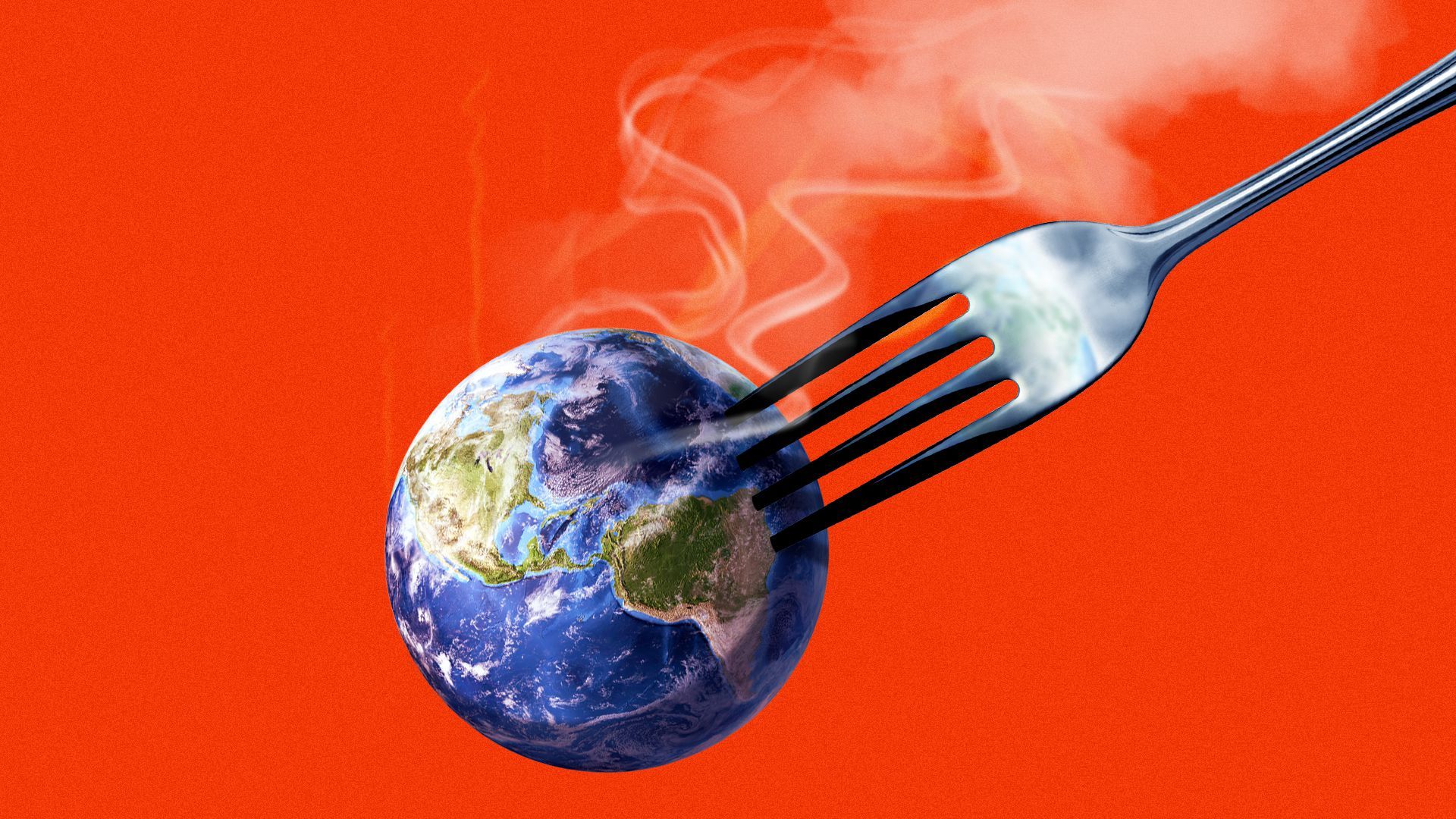 Emissions of planet-warming greenhouse gases from activities connected to growing and consuming food have been significantly underestimated, and may be twice as large as previously thought, new research finds.
Why it matters: Agriculture is already known to be one of the largest contributors to human-caused global warming. If the sector's emissions are larger than thought, it could mean the world will see more warming than anticipated.
Driving the news: Through a series of research reports and commentary published in the journal Environmental Research Letters on Tuesday, scientists mapped out which parts of the food system are the most emissions intensive, which provides a blueprint for prioritizing emissions reduction efforts.
The analysis of global food system emissions finds that activities connected to food production and consumption -- everything from chopping down forests to clear land for cattle to transporting food from a farm to the grocery store, amounted to the equivalent of 16 billion metric tons of carbon dioxide in 2018.
This was one-third of the human-produced total that year, with the majority coming from the burning of fossil fuels for energy. It was also an increase of about 8% compared to 1990.
The analysis, which includes country-specific emissions inventories, was produced by scientists at the U.N. Food and Agriculture Organization, NASA, New York University, and Columbia University.
The findings: The study looks at all emissions linked to the life cycle of food, from growing it to putting it on your plate. It therefore considers emissions from food-adjacent activities.
Researchers found that the largest source of food system-related emissions between 1990-2018 was converting natural ecosystems to agricultural croplands or pastures, at about 3 billion metric tons per year.
During the 1990 to 2018 study period, land use change emissions decreased while pre- and post-production emissions, which includes making fertilizers, transporting food, disposing of waste, as well as refrigeration, increased.
Per capita emissions from food systems emissions decreased during the study period, but was nearly twice as high in developed countries as they were in the developing world.
In total, global emissions of greenhouse gases that are connected to the food sector may comprise between 20 to 40% of global emissions, the study found.
Of note: The emissions categories that countries use to report their data to the U.N. Intergovernmental Panel on Climate Change (IPCC) tends to significantly underestimate the contribution of food sector emissions by stove piping information and obscuring the broader impacts of the food sector, the researchers note.
The next IPCC report, which will start rolling out in August, may suffer from the same problem.
The bottom line: While the recent attention focused on the consumption of meat has made it seem like supply-side interventions are all that is needed, the reality is more complicated.
There are a variety of other emissions interventions that scientists say should be used to help limit the pace and severity of global warming, including, for example, improving the disposal of farm wastes and making food supply chains more efficient.
Go deeper