EA tries again with a new "Battlefield" game
Electronic Arts unveiled its next "Battlefield" game Wednesday, as it aims to compete more effectively with Activision's seemingly unstoppable "Call of Duty."
Why it matters: Multiplayer shooter games, fueled by "Call of Duty," "Fortnite" and more, constitute one of the most lucrative markets in gaming.
Some 500,000 people tuned in at 11am ET to watch EA's debut trailer for "Battlefield 2042."
Eschewing a single player campaign or battle royale mode, "2042" will focus on the series' traditional chaotic multiplayer military action, enabling up to 128 players on PC and newer consoles (64 on the old ones) to compete against each other in maps set in Qatar, Egypt, Antarctica, and more.
Players control soldiers who fight on foot and in vehicles in a near-future world beset by ecological disaster and societal collapse.
But the story is only of limited importance, as games like "Battlefield" largely use it as a backdrop for the sport of their multiplayer competition.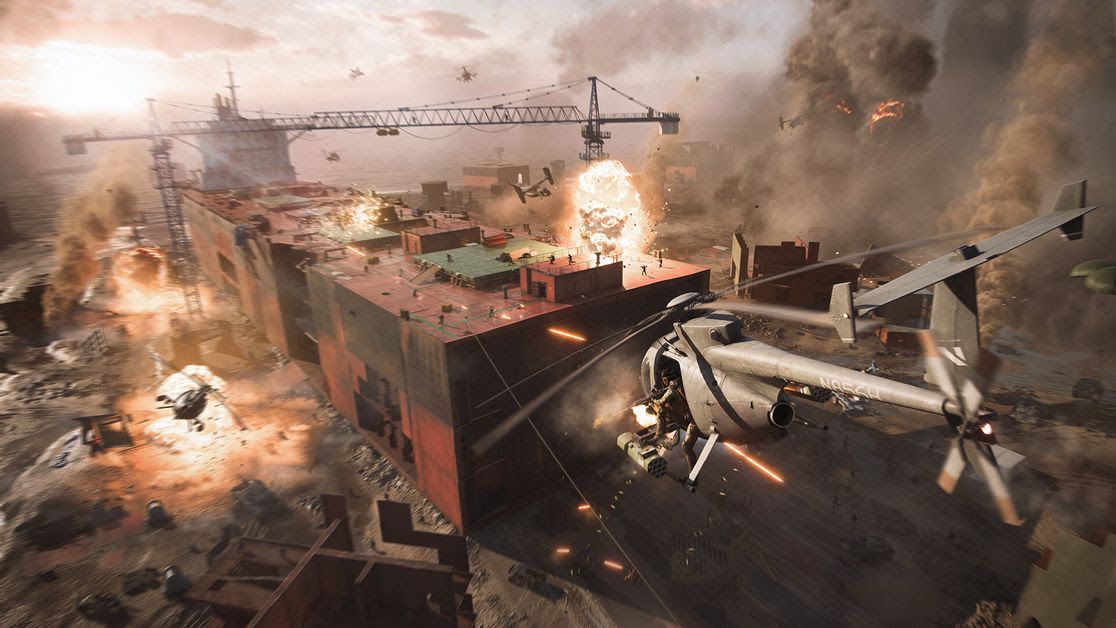 Flashback: Back in 2010, then-CEO John Riccitiello predicted that EA would win its competition against "Call of Duty:" "Over time we can take the lead."
But dominant "Call of Duty" has barely wobbled in the 11 years since, as its annual releases continue to thrive (2020's "Call of Duty" was the year's best-selling game in the U.S., according to NPD)
Activision even successfully reacted to the rise of "Fortnite" with the "Call of Duty: Warzone" battle royale game that draws some 100 million players.
Meanwhile, EA's attempted revival of its "Medal of Honor" shooter series flamed out and the last big release in the franchise, "Battlefield V," missed its 2018 sales target by a million copies.
EA seems to have figured some things out.
Abandoning a failed "Battlefield" battle royale, it has instead succeeded in that subcategory with "Apex Legends," which it says has 100 million players.
It shifted "Medal of Honor" to a virtual reality side project, and won an Oscar for a movie included with the game.
In a move whose consequences won't be known for a while, it just put the "Battlefield" series under the leadership of Byron Beede, a new EA hire who spent the last two years running a different major gaming franchise: "Call of Duty."
What's next: "Battlefield 2042" will be unveiled gradually this summer, with more hype events scheduled for mid-June and late July, leading up to an Oct. 22 release.
Go deeper