DOJ says it can defend exemption to anti-LGBTQ discrimination laws for religious schools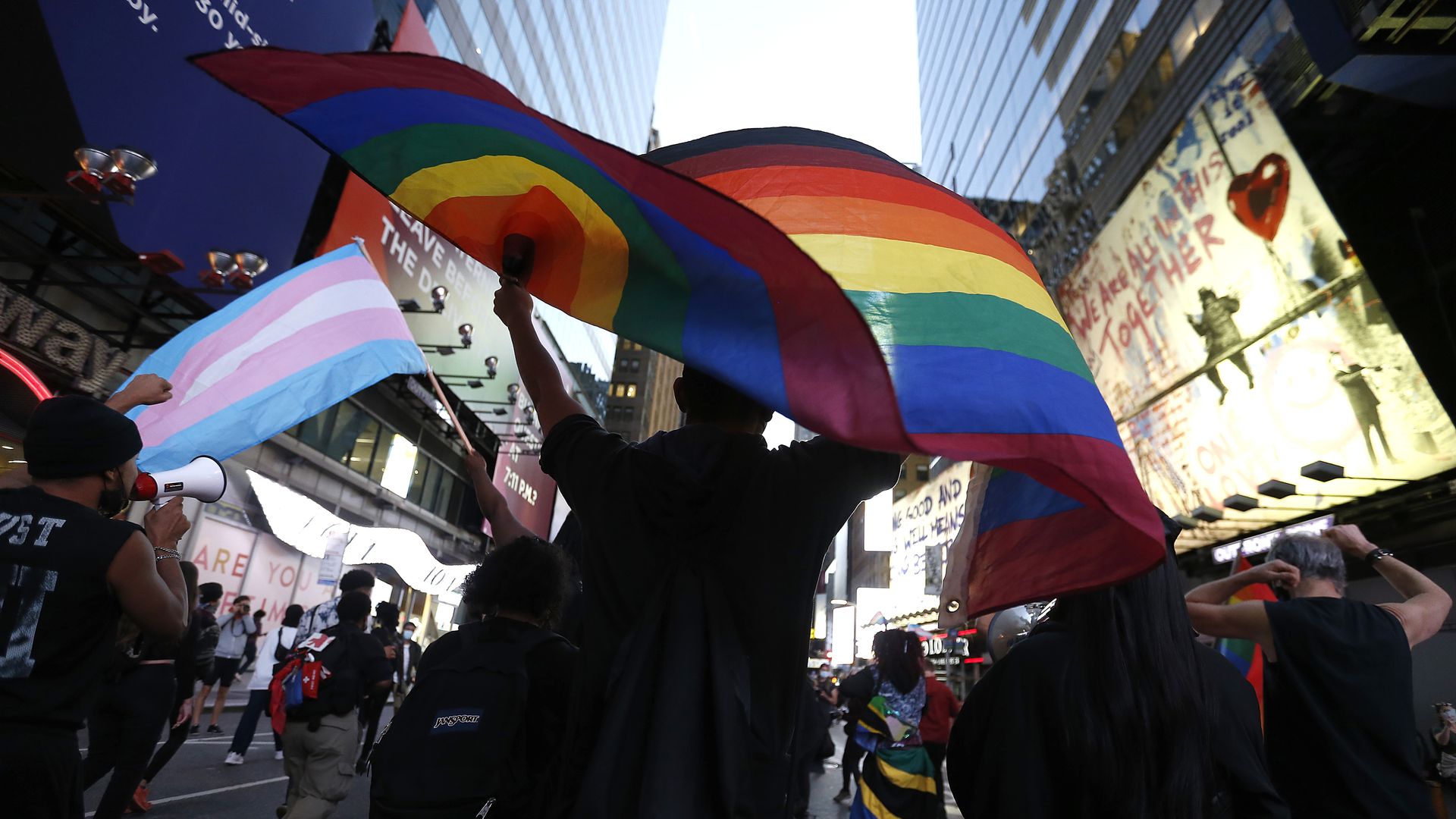 The Justice Department said in a court filing this week it is capable of defending an exemption in federal law allowing federally-funded religious schools to discriminate against LGBTQ students.
Why it matters: The DOJ is beholden to defending federal laws, but the filing, which initially said the department could "vigorously" defend the exemption, angered some LGBTQ advocates who said it conflicted with the Biden administration's pledge to protect LGBTQ rights.
Of note: An amended filing on Wednesday omitted the word, "vigorously," and some of the other language in the initial filing that LGBTQ advocates had criticized.
Driving the news: Forty LGBTQ students at conservative religious colleges and universities are suing the government for providing funding to schools with anti-LGBTQ policies.
"The Plaintiffs seek safety and justice for themselves and for the countless sexual and gender minority students whose oppression, fueled by government funding, and unrestrained by government intervention, persists with injurious consequences to mind, body and soul," the March lawsuit reads.
The schools claim First Amendment rights but sought to intervene in May, arguing that the Biden administration "may be openly hostile to" the schools and cannot be trusted to adequately defend the religious exemption.
What they're saying: In its amended filing Wednesday, the DOJ rejected those concerns and said the Education Department's "objective is to defend the constitutionality of the statutory exemption."
The filing noted the Department of Education is currently reviewing regulations related to discrimination on the basis of sex, sexual orientation or gender identity, but "until that process is complete, it would be premature to conclude that the government is an inadequate representative" in the case.
The motion does not touch on the merits of the case. The DOJ declined to comment on the case beyond the filings.
"My clients feel betrayed by an administration [that] promised to protect LGBTQ+ students," Paul Carlos Southwick, director of the Religious Exemption Accountability Project which represents the students, told CNN about the initial filing.
"The Biden administration did not need to defend this unconstitutional religious exemption," he added.
In an email to Axios, Southwick said that while the amended filing "removes some of the most extreme language," the Justice Department's commitment to defending the exemption is "in conflict" with the Biden administration's pledge to protect LGBTQ rights.
Some experts say, however, that the DOJ is simply carrying out its obligation to defend federal laws.
Failing to do so "would amount to the nuclear option, one that presidents typically resort to only when they are convinced a law is blatantly, invidiously unconstitutional," writes Slate courts reporter Mark Joseph Stern.
The DOJ's filing is also an attempt to "prevent a Christian organization from taking over the defense and mounting extreme arguments that could lead to a devastating subversion of civil rights law," Stern adds.
Go deeper