Private equity firms strike $30 billion deal for Medline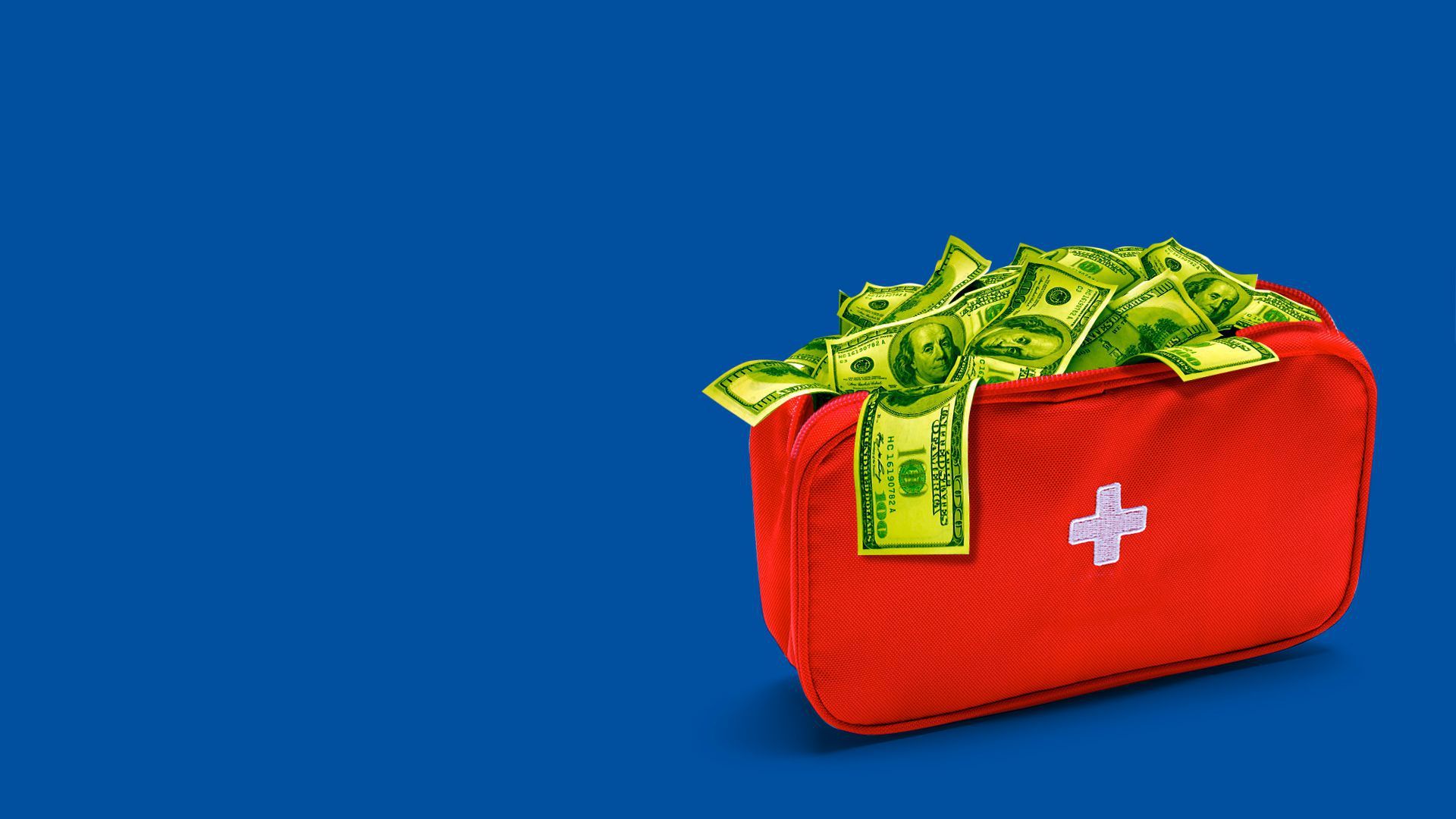 When news broke last month that groups of buyout firms were bidding around $30 billion to buy medical supplies firm Medline Industries, we speculated that it could kick off a new "Golden Age" of private equity, an era that directly preceded (but didn't cause) the financial crisis.
Driving the news: Medline has picked its patrons, a consortium led by The Blackstone Group, The Carlyle Group and Hellman & Friedman. But the details make this feel more like a growth equity deal on steroids than a mega-LBO of yesteryear.
Background: The Illinois-based company is massive, with around $17.5 billion in annual sales. Its products include everything from wheelchairs to PPE to those blue and pink baby blankets that are ubiquitous in hospital nurseries.
Some private equity firms have been gently kicking its tires for years — going back to when Medtronic put its own medical supplies business on the block in 2017 — but the actual process got underway earlier this year when Medline hired Goldman Sachs to find it a buyer.
Several big-name firms expressed interest, but the second and final round of bidding only included the winning group and Canadian investor Brookfield Asset Management.
Every suitor needed to spend extra time assessing what parts of Medline's 2020 financials were pandemic-specific, and which parts were sustainable. For example, it sold tons of PPE last year, but many fewer surgical supplies.
What's the same: Despite some protestations from sources close to this transaction, it is most certainly a "club deal." It might not have six or seven firms participating, but three counts (particularly once you add in LP co-investors). There's a bunch of leverage, even though not nearly as lopsided as some pre-crisis deals.
What's different: No changes to management, this isn't a take-private and Medline's founding family will remain the company's single largest shareholder.
Everyone I spoke with said the investment thesis is entirely about growth.
Some of that is product line expansion via acquisition, but more is geographic. The vast majority of Medline's business is currently in the U.S., but the PE firms want it to go hard at hospital customers in Europe and Japan.
Context: This seems to be the largest buyout since the financial crisis, and the largest-ever healthcare LBO. But put giant asterisks next to both of those, given the massive inflation of capital markets dollars.
Hospital operator HCA, for example, was taken private for $21 billion and is now valued at north of $70 billion.
There doesn't seem to be a pipeline of other Medline-sized deals, per conversations with several mega-buyout investors, which means this is unlikely to kickstart a gold rush. Instead, expect big PE deals going forward to be more in the $10 billion to $15 billion range.
Look ahead: Medline's family owners likely could have gotten a higher price in the public markets, but wanted to remain private. In the end, though, they may just be delaying the inevitable, as the PE buyers will want an exit and there isn't a strategic with enough scale to buy Medline.
Go deeper